Moda Blockheads 4 (Block 11)
Hello friends, happy Wednesday! It's time for a new block for Moda Blockheads 4. Block 11 is "Moda Block-Berry" by Jackie MacDonald of Sweetfire Road. Are you familiar with Jackie? She is a newer designer for Moda and has absolutely gorgeous designs. Definitely check out her blog today to download this week's free block and get more about Jackie's inspiration for this Block 11.
Block 11 "Moda Block-Berry"
Can you believe this is a 4.5″ finished block? Lots of tiny pieces in this one. I made one change to the pattern to simplify things for myself… instead of making the leaves from half-square triangles, I used rectangles and easy corner triangles instead. (For the 4.5″ finished size: Cut two 1″ x 1-1/2″ rectangles of leaf print + four 1″ x 1″ background squares. For the 9″ finished size: Cut two 1-1/2″ x 2-1/2″ rectangles of leaf print + four 1-1/2″ background squares.) From there, I laid out all the pieces and sewed the units into rows, alternating the pressing direction of each row. This allowed me to "nest" the seams together sew one row to the next below it. I sewed the rows together in pairs and pressed those seams open to help reduce bulk.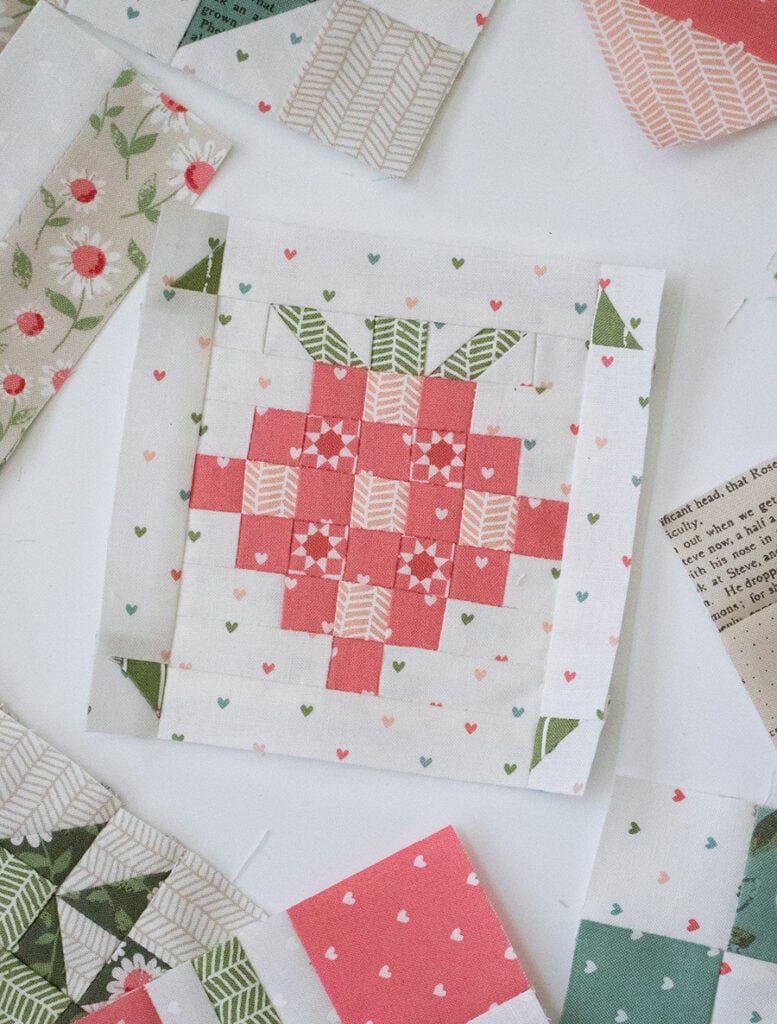 Fabric
I used Love Note fabric to make this week's block. I took care to fussy-cut a couple of the pink squares to leave a fun little mini star detail mixed in with the hearts and herringbone.
I usually make another set in Flower Pot but haven't gotten them done yet. I hope to get those done soon and will try to add them to this post later. In the meantime, here are the digital mockups of the blocks in Flower Pot fabric.
Don't Miss Out
Be the first to know about next week's block! Subscribe to this blog to get new post notifications by email.