Moda Blockheads 4 (Bonus Block 5)
Surprise, surprise! Another bonus block day. Meet Bonus Block 5: "Wheat Field" by Moda Fabrics. I'm heading out of town this morning – so I didn't end up having time to piece this one yet. For now, you get digital mockups instead.
Bonus Block 5 "Wheat Field"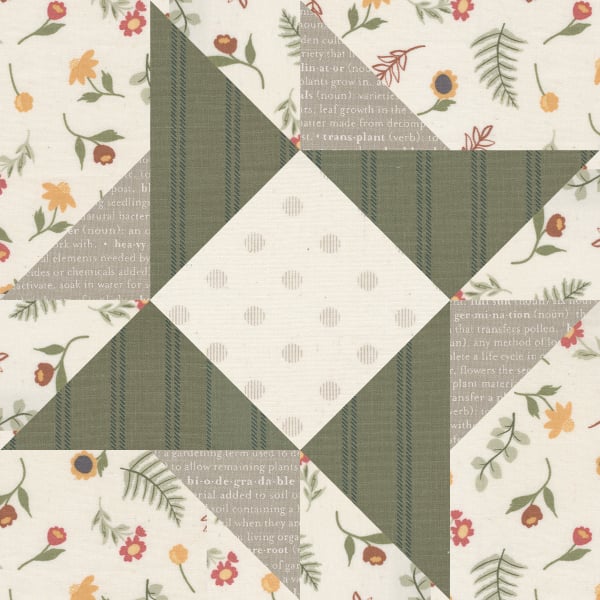 "Wheat Field" is a quick block to assemble and friendly to all skill levels. The block utilizes a simple easy-corner triangle (stitch and flip) method. I'll be making the 4.5″ finished version. NOTE: If making the 4.5″ finished size, please note the A and C rectangles should be 1-5/8″ x 2-3/4″ (not 1-5/8″ x 5″). (Moda has corrected the file on their end and I am just waiting for an updated link.)
Also – this is obviously a mockup – so it does not show the seams breaking up the "diamond" shape in the center that is formed by bringing 4 easy corners of the same print together.
Fabric
The first two blocks in this post are in Flower Pot fabric – now available in shops! Coincidentally, I'm giving away a fat quarter bundle of Flower Pot this weekend – so be sure to check out the giveaway post here and enter before 5.31.2022.
This last block will be sewn with Love Note fabric. It reminds me of a paper windmill you might see at a parade or something. So sweet.
Quilt Along
For more information about the Moda Blockheads 4 free block of the week, visit my original post here. You will find an archive at the bottom for easy access to all the MB4 patterns released thusfar. For more block inspiration + a place to share your progress – visit the Moda Blockheads Facebook group here.
Have a great weekend (and Happy Memorial weekend to the US crowd). 🙂