Moda Blockheads 4 (Bonus Block 4)
Another bonus block for Moda Blockheads 4 two weeks in a row? How lucky are we?! Meet Bonus Block 4 is "Zipper" by Moda Fabrics. And speaking of luck, I've also got a giveaway for you today! (More about that at the end of this post.)
Bonus Block 4 "Zipper"
This block uses a simple easy corner triangle technique that is perfect for any skill level. I do have a little tip I learned recently… Typically the instructions have you sew along marked diagonal lines, trim the 1/4″ seam allowance, and press. My tip is to press the corners out first and then trim. The idea is to press the corner out and onto itself (wrong sides together). This allows you to see where the corner edges should line up – which helps keep the units in a nice rectangle shape . After the corners are pressed out, THEN trim the 1/4″ seam allowance (of the back piece of fabric). Another great tool is diagonal seam tape to save time not having to mark diagonal lines.
---
Fabric
The pair up top is in my new Flower Pot fabric collection. I love the light, airiness of the block with just taupe and cream. If using unidirectional prints, pay extra attention. It's easiest if you lay all the pieces out for the whole block while you are piecing.
The sweet little block below is made in Love Note fabric. I love using the pale pink herringbone from the collection for backgrounds. Even though it is techinically unidirectional, I never mind if this one faces different directions. It adds such a great illusion of texture, don't you think?
Quilt Along
For more information about this quilt along, check out my original Moda Blockheads 4 post here. At the bottom of the post, it includes a full archive of the Moda Blockheads 4 blocks released thusfar. Join the Moda Blockheads facebook page for more inspiration, and to share your progress.
---
Modern American Vintage Clapper Giveaway
Want nice, crisp looking blocks? A tailor's clapper is a great tool. After pressing the seams of a block, I set a heavy clapper on top to help the seams stay flat. I have been using this lovely Jack William style clapper from Modern American Vintage to do the job. They have a huge assortment of beautiful, handcrafted clappers in their shop here. Someone is going to win a clapper just like mine!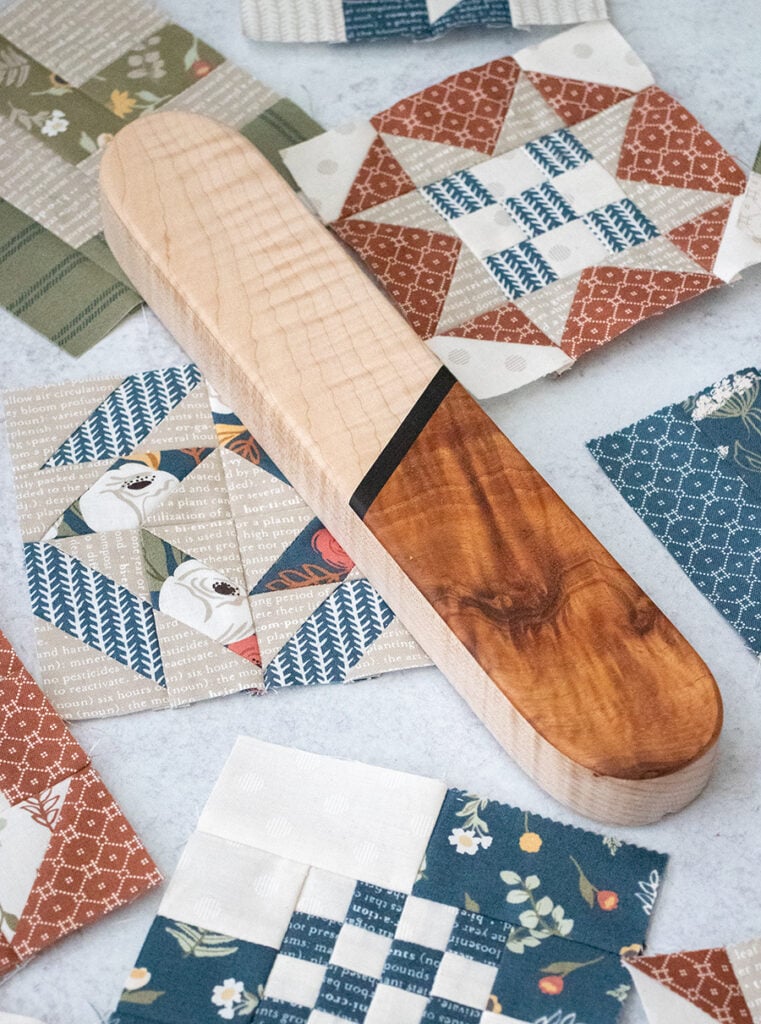 TO ENTER:
Leave a comment here letting me know what your favorite sewing tool is.
That's it! Winner will be chosen Monday 5.16.2022. You are more than welcome to enter on the Instagram and Facebook posts as well for more chances to win. (Those posts should be up mid-morning.)
You may also remember the other gorgeous tools I got from Modern American Vintage – a set containing a handmade seam ripper, point turner, and hera marker. I love having tools that are just as beautiful as they are functional. So nice to have a matching clapper to add to the family.
Oh and here's how to subscribe to the Lella Boutique blog to get new post notifications via email.
Good luck!