Granny Fruit Salad
We interrupt your regularly scheduled quilting content for a fruit salad OBSESSION. This is the Granny Fruit Salad. Not only is it ridiculously simple – it's a big hit at every brunch, picnic, or shindig I've ever taken it to. My cousin, Stephanie shared this delicious fruit salad recipe with me a few years ago and it's too good not to pass on.
A Quick Word About Ingredients
The Fruits
When it comes to picking fruits for this salad, Granny Smith apples are a MUST. (That's the granny it's named after.) The tartness of the green apples + dark chocolate is what really makes this fruit salad sing. In addition to the green apples, I usually go with a variety of berries + grapes. I generally avoid the more juicy/watery fruits like melons and pineapples as the whipped cream will not coat them as well when mixed together. My cousin, Stephanie, likes to put mangos in hers.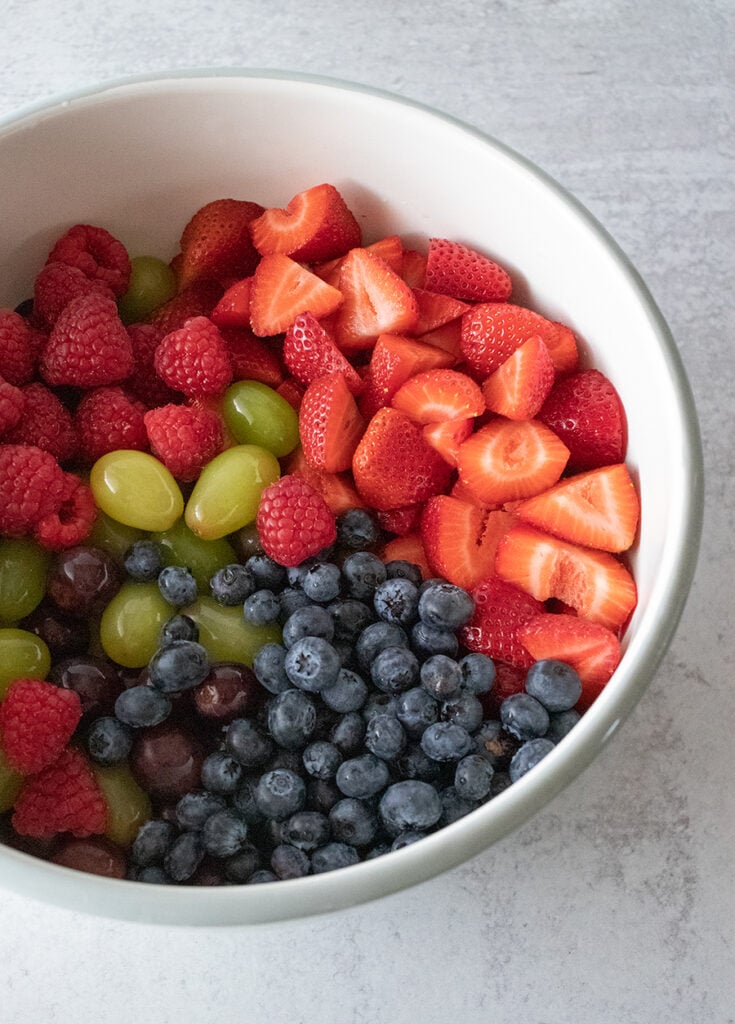 Of course, you'll want to wash all the fruit beforehand. I always soak my berries and grapes in a bowl of water and vinegar (4:1 ratio). Let the berries and grapes soak for a few minutes before laying them out to air dry on a towel. This general practice will keep berries and grapes fresher longer and remove any extra dirt.
The Cream
Buy ready-made Cool Whip if you'd like, or whip up a fresh batch using heavy whipping cream, confectioner's sugar, and a little splash of vanilla extract.
The Chocolate
Dark chocolate adds depth to this recipe and is the perfect match to those tart Granny Smith apples. When buying the dark chocolate, I recommend something between 65-85% cacao. (I lean toward the 85%). I know not everyone likes dark chocolate – but these are such small bits that I promise it doesn't overwhelm. I use a big chef's knife to chop the candy bar into slivers.
---
Here's the quick and easy recipe. Hope you love it as much as I do!
Granny Fruit Salad Ingredients
2 Granny Smith apples, diced
2 C. whole grapes
2 C. strawberries, diced
1 C. whole blueberries
1 C. whole raspberries
1 large dark chocolate candy bar (60-85% cacao), grated/minced into slivers
2 C. whipped cream
Mix together all the ingredients together in a large mixing bowl and blend well.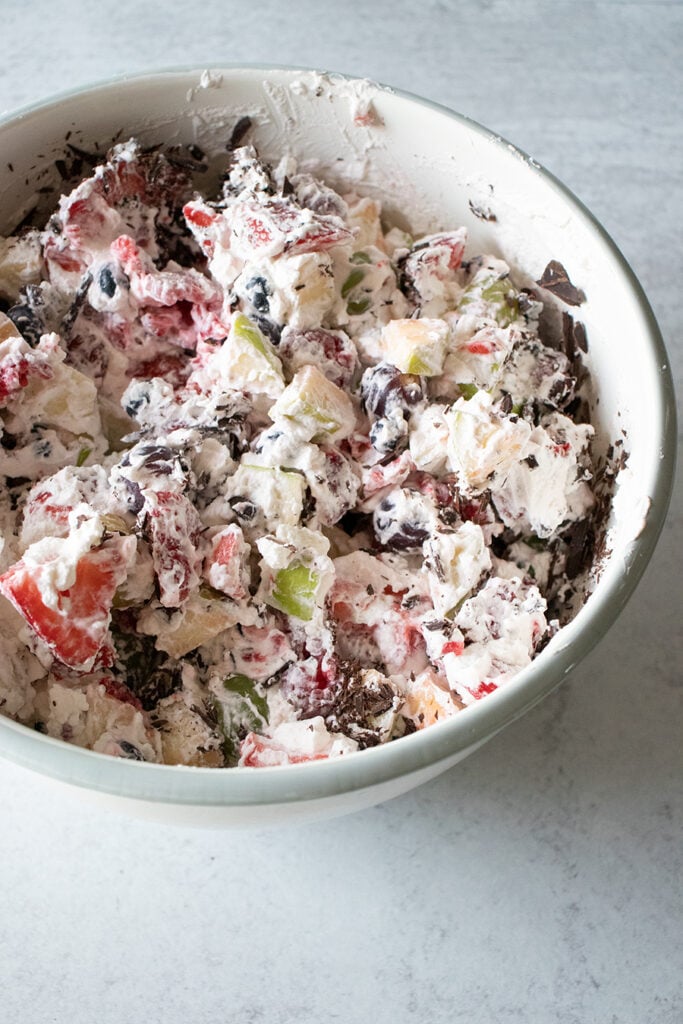 It's not as beautiful when it's all mixed together, but it is definitely a magic fruit salad. Don't believe me? Watch this one disappear before your eyes.
---
Don't miss out on a single post! Subscribe to the Lella Boutique blog and get new post notifications by email.