Scrappy Sunflowers Quilt in Country Rose Fabric
It was time for a reprint, so I'm giving one of my most popular patterns a full makeover. Presenting – Scrappy Sunflowers in Country Rose fabric (and a few of the gold prints from Folktale in too).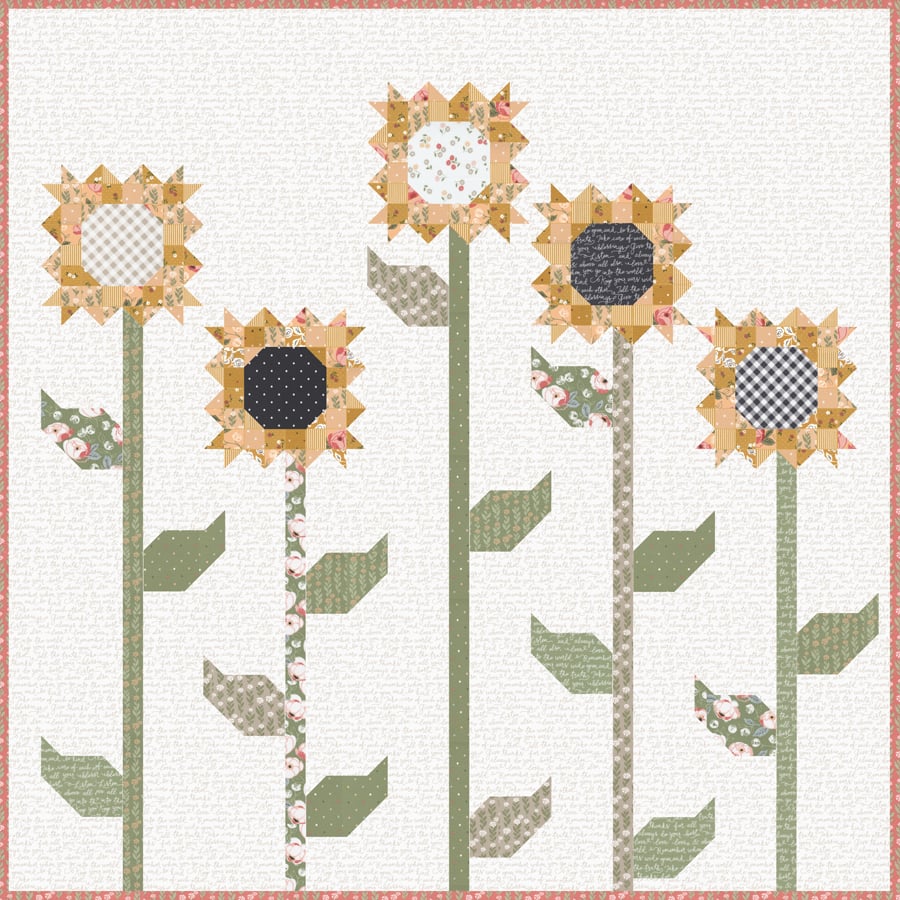 The Background on the Background
One of the most fun details about this scrappy sunflower quilt is this "Farmhouse Script" text print used for the background (SKU #5172-11). It is the same print used in the original and definitely adds some interest to the background. I've written the Scrappy Sunflower pattern instructions to accommodate this unidirectional print – really any unidirectional that runs parallel with the selvedge. I've received quite a few emails over the years from quilters trying to track down this text print so it will be nice to have its comeback to shops this August with the rest of the Country Road fabric collection. If you want to make this quilt, be sure to let your favorite local or online quilt shop know so they can plan to order enough with their Moda rep.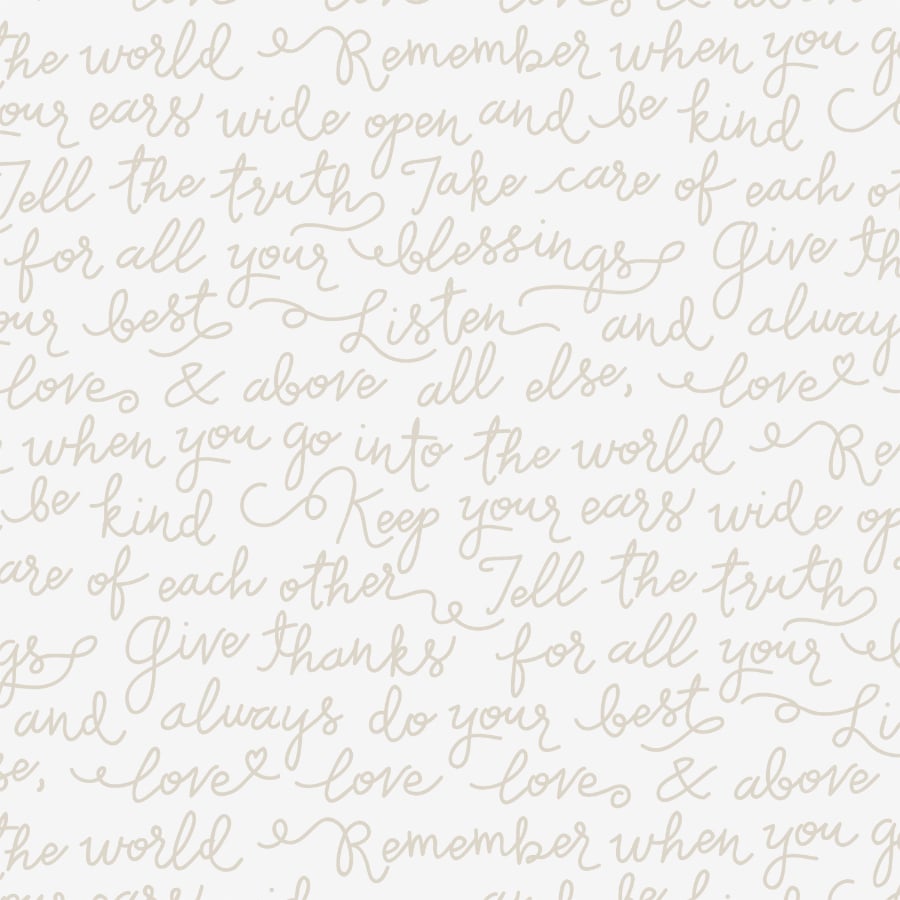 The Pattern
Of course, the cover has been updated with the new look. The PDF is available in the shop now and the printed copies are expected to arrive by April 1st 2022.
Make It in Country Rose Fabric
Here's everything you need to know to make the Scrappy Sunflowers quilt to match the one in my new mockup:
Finished block: 12″ x 12″
Finished quilt: 66″ x 66″
Materials Needed:
(8) fat eighths or scraps of assorted yellow fabrics for the scrappy sunflower petals… This mockup combines Country Rose fat eighths (SKUs #5170-18, 5171-18, and 5175-18) + Folktale fat eighths: (SKUs #5121-16, 5123-16, 5142-16, 5125-16). I doubled up on the #5175-18 ("Magic Dot" in Sunshine). Of course, if you don't have Folktale fabric in your stash, use any favorite yellows or golds in your stash.
(5) squares 7" x 7" for assorted sunflower center prints (SKUs #5172-17, 5173-11, 5174-16, 5174-17, and 5175-17)
(5) assorted ¼-yard cuts of greens for stems/leaves (SKUs #5170-14, 5171-14, 5171-16, 5172-14, and 5175-14)
3⅔ yards background fabric (5172-11)
⅔ yard binding fabric (5171-13)
4¼ yards backing fabric (I would recommend 5170-11)
74" x 74" batting
The OG Scrappy Sunflowers
Here's a throwback to the original Scrappy Sunflower quilt with that wonderful custom quilting by Natalia Bonner. The original was made in Farmer's Daughter fabrics – whose yellows and greens are a bit lighter and brighter than the updated Country Rose/Folktale version. The newer version is just as beautiful but carries a deeper, more muted vibe. This is quilt sure is cheery no matter what you go with.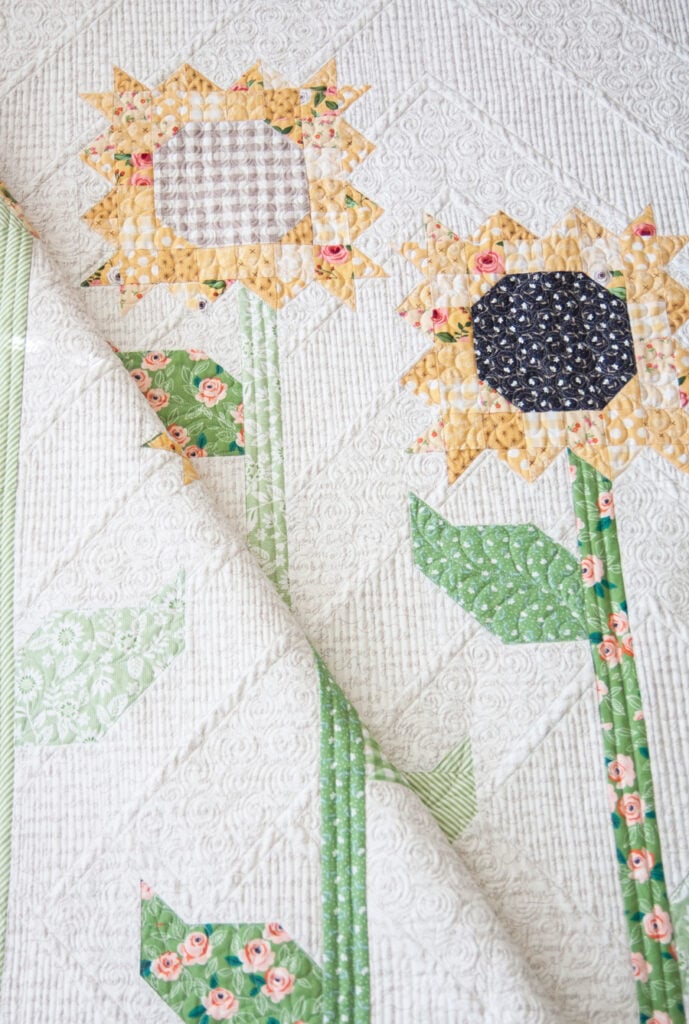 Have you made a sunflower quilt before? Let me know in the comments