Rose in Bloom Quilt Along
It's time for a new quilt along, and many of you have already begun! Now that Love Note fabric is here, it's time to officially kick off the Rose in Bloom Block of the Month Quilt Along. Sew along, and you could win great prizes!
The Rose in Bloom Quilt
The Rose in Bloom Block of the Month features 10 classic quilt block designs – each in a 6″ finished block size. Every month will feature one design made 4x (in different print combinations) for a total of 40 blocks by the end. The sampler blocks will be arranged into this fancy flower-inspired layout finishing at 84.5″ x 84.5″. Fun fact – most of the blocks are beginner-friendly so it's a great intro to a quilt along or sampler project.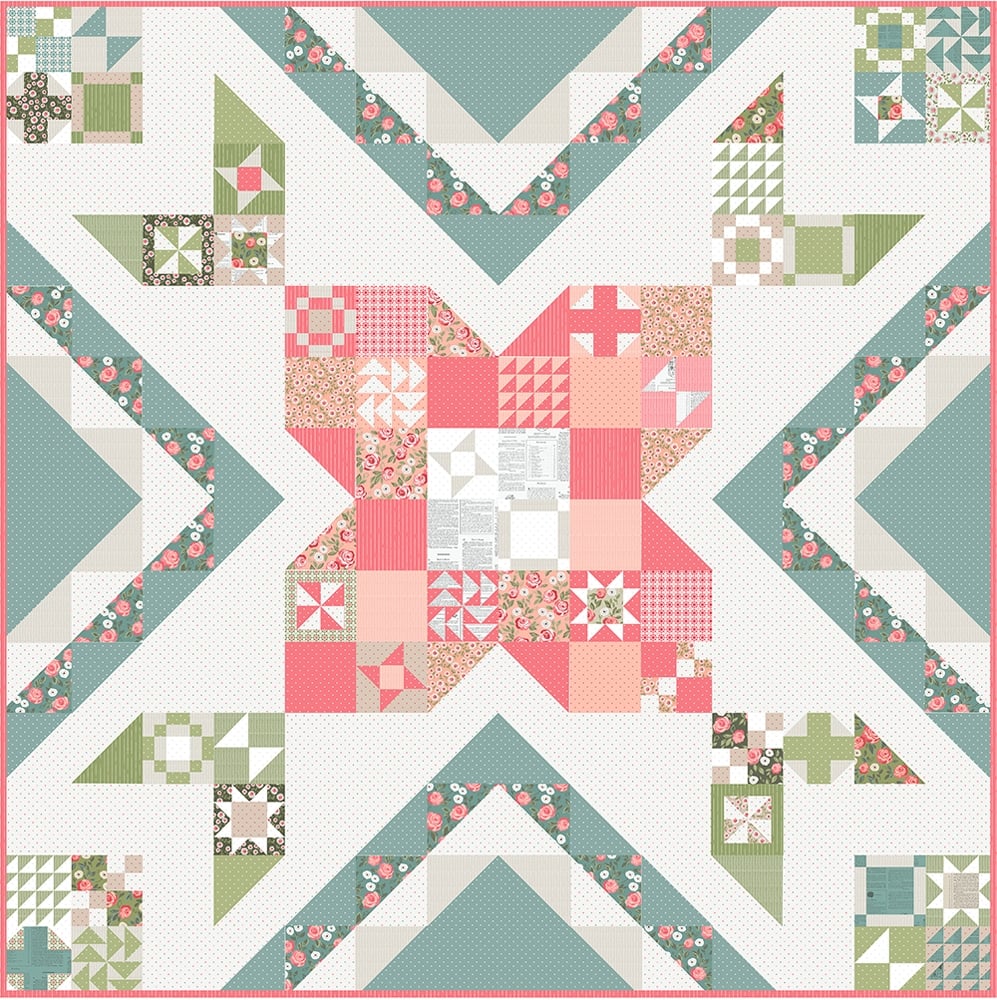 If you're looking for a Rose in Bloom kit, you may still be able to find one but hurry! Some shops have chosen to carry monthly kits like this one, while others are selling whole kits. My recommendation would be to search online for the kit option you'd like – or convince a shop to cut you one from the Love Note fabric they have in stock. You could also come up with your own fabric combo using your stash (or another collection you purchase). In fact, I used sampler blocks from another project and plugged them into the Rose in Bloom layout for a fun Christmas version seen here.
No matter what you decide, you can view the full materials list for the Rose in Bloom quilt top here.
The Book
To sew along, you'll need a copy of the Rose in Bloom Block of the Month book. If you purchase a kit, it should already include a copy. Otherwise, you can purchase the book on its own. Check with your favorite local or online shop to grab one. If I have any copies left, they'll be listed in my shop here. It's published by It's Sew Emma (Fat Quarter Shop), (did I mention it's spiral-bound?) so they carry copies here as well.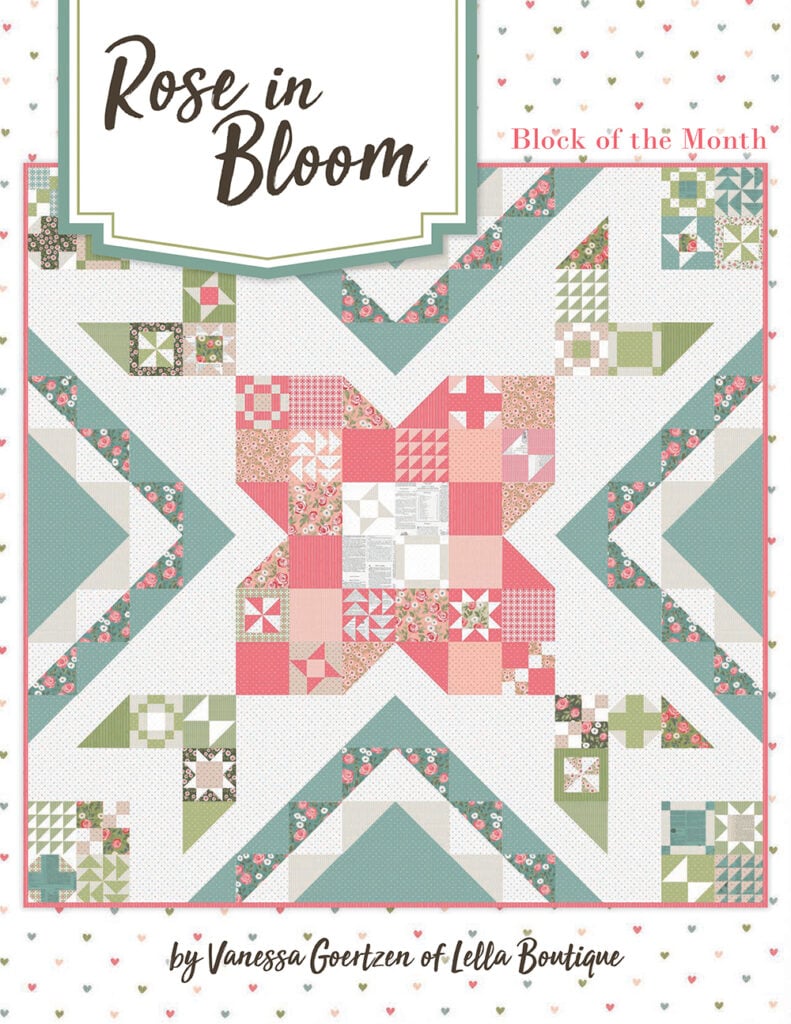 #RoseinBloomQAL
So here's how the quilt along works. Every month, post a picture of that month's block on social media and use the hashtag #RoseinBloomQAL. I'll pick a winner from the posts at the end of each month. We're talking cash, fabric, fabric and even more fabric. There' even a long arm quilting prize. Big thanks to our sponsors: Fat Quarter Shop, Moda Fabrics, and Katie's Quilting Co.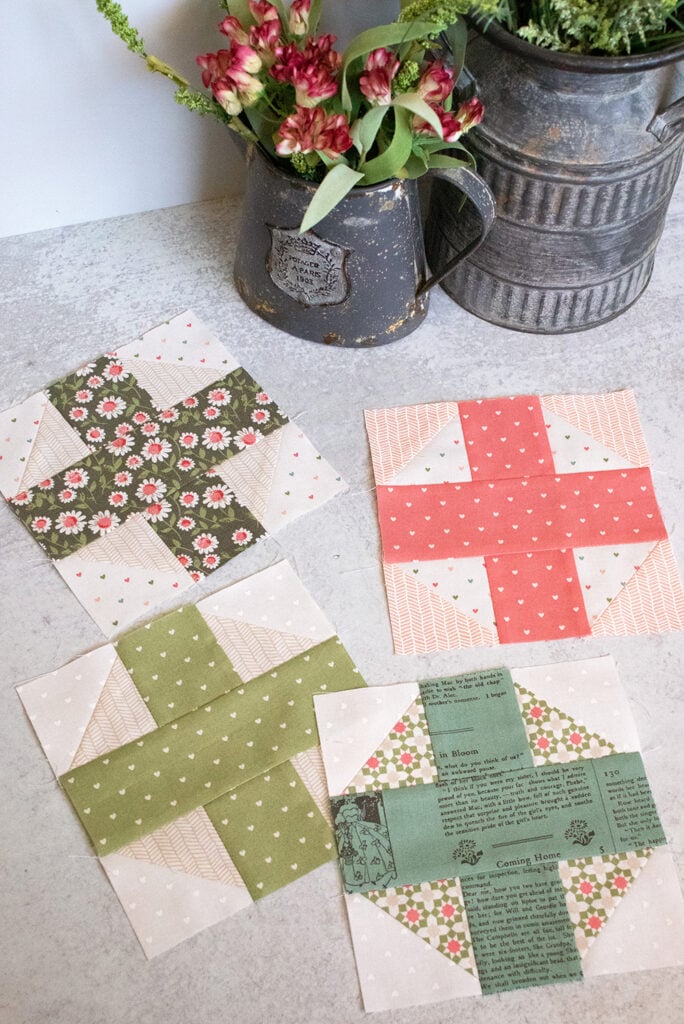 The QAL Schedule
Here's the posting schedule so you can keep track of which blocks to post when:
January – Block 1
February – Block 2
March – Block 3
April – Block 4
May – Block 5
June – Block 6
July – Block 7
August – Block 8
September – Block 9
October – Block 10
November/December – Finishing the Quilt Top
If you have any questions at all, leave a comment on this post and I'll make sure to reply. (Chances are, you may not be the only one with the question.)
Bonus – Pieced Backing
I almost forgot! The book includes instructions for a charming little pieced backing featuring a chain of flowers. Isn't it a sweet surprise. Of course, it's optional. But if you plan on making one, you can view the materials list for the Rose in Bloom pieced backing here.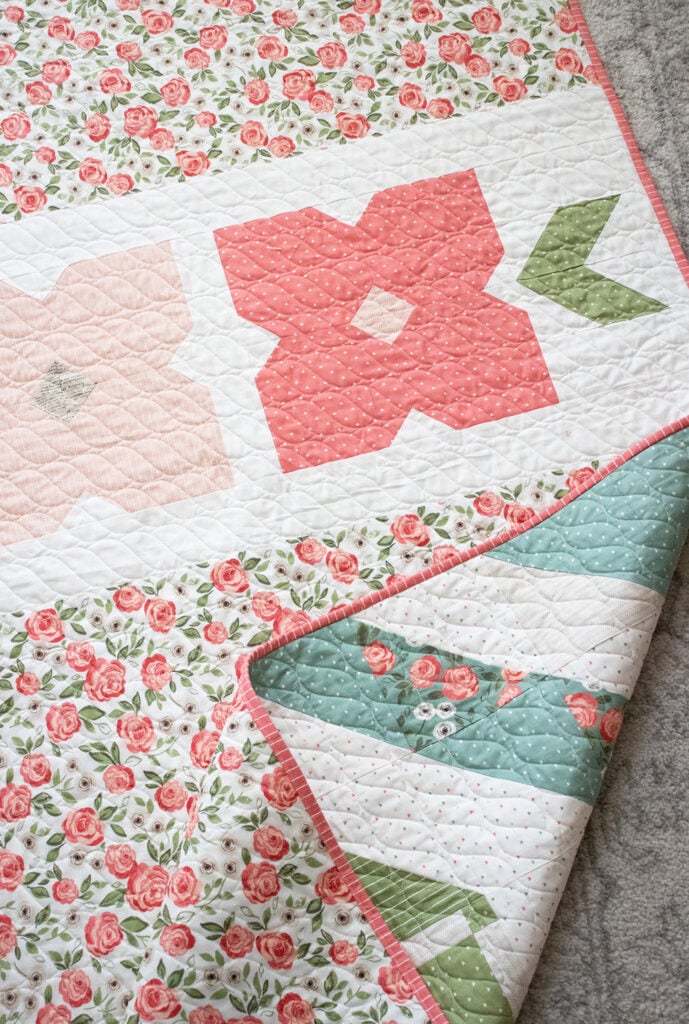 You can join in at any time! Hope you have fun making this one.