Gingham Style Leaf Quilt in Flower Pot Fabric
A gingham pattern is a timeless design, and for good reason! (It's SO cute!) So what do you get when you cross a gingham design with a maple leaf block? Absolute dynamite! Meet another of the new patterns of the Flower Pot fabric collection, Gingham Style.
Finished size of the Gingham Style leaf block is 18″ x 18″. Finished quilt is 80″ x 80″. The 16 sweet gingham leaf block prints come from (16) fat quarters + (4) accent prints for the blocks' gingham "base." (Look for the print in the top-left position of each block's gingham section to determine the "base" print… each base print repeats in 4 blocks.) Here is a complete rundown of what's used to make this quilt in Flower Pot. (The fabric expected April 2022.)
* Materials Needed for your Leaf Quilt:
(16) fat quarters leaf point/steam prints (1 fat quarter bundle of Flower Pot fabric, you will use half of the prints)
(4) ⅜-yard cuts gingham base prints (SKUs 5164-14, 5165-14, 5165-16, and 5165-17)
2⅝ yards background fabric (SKU 5166-11)
⅝ yard white fabric (Moda Bella Solid 9900-98)
1¼ yard border fabric (5164-14)
¾ yard binding fabric (5162-17)
6¼ yards backing fabric (5160-11)
88" x 88'' batting
* Yardage calculations assume 42" usable WOF
If you are interested in a kit, be sure to reach out to your favorite local or online shop to make the request. Shops appreciate the input in knowing what to carry in the shops and it helps to make sure you don't miss out.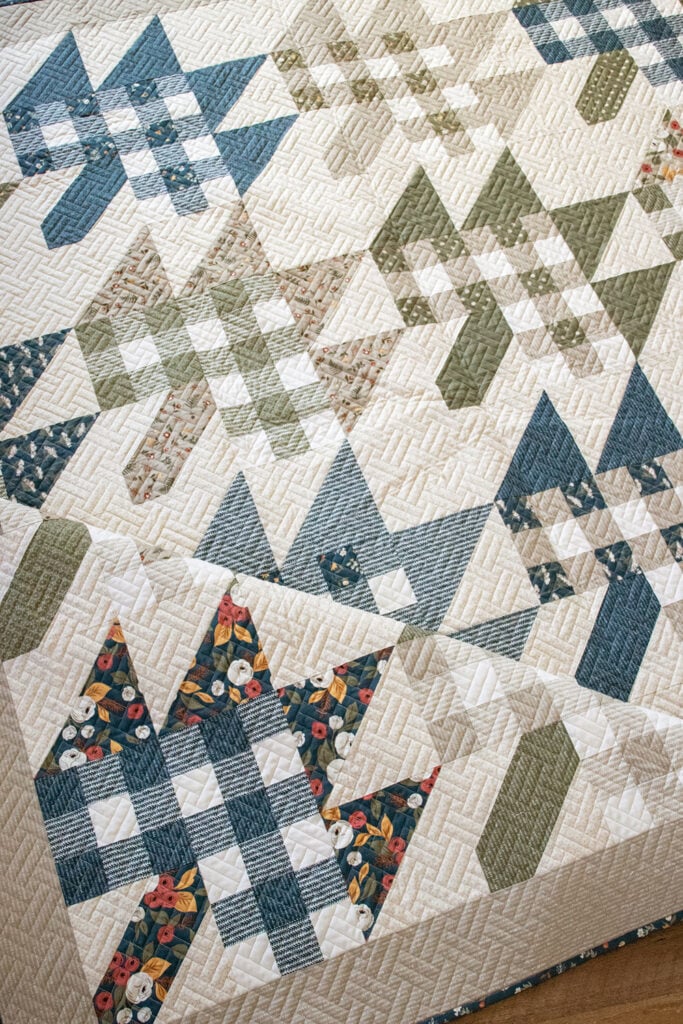 Leaf Quilt Details:
Pattern: Gingham Style by Vanessa Goertzen of Lella Boutique
Fabric: Flower Pot by Lella Boutique for Moda Fabrics (April 2022)
Pieced by: Vanessa Goertzen (me)
Quilted by: Kaitlyn Howell of Knot and Thread Designs
Pantograph: "Wicker" by Leisha Kaye
Pattern is available as a PDF or printed booklet. (Get 20% off using promo code FLOWERPOT20 at checkout through Sunday 10/10/2021.)
Which block is your favorite? Let me know in the comments. (Mine is the one with the navy "Queen Anne Meadow" flower print for the leaf points and stem. Green gingham center.)
---
Like this post? Drop your email in the box below to get new post notifications via email.