Flourish Climbing Flower Quilt in Flower Pot Fabric
I'll let you in on a little secret – this is my all time favorite quilt I've made! I know, I know. I've said this before. But it's true and I hope to say it again in the future! So why is this one so special? Well you see, I have a thing for flowers…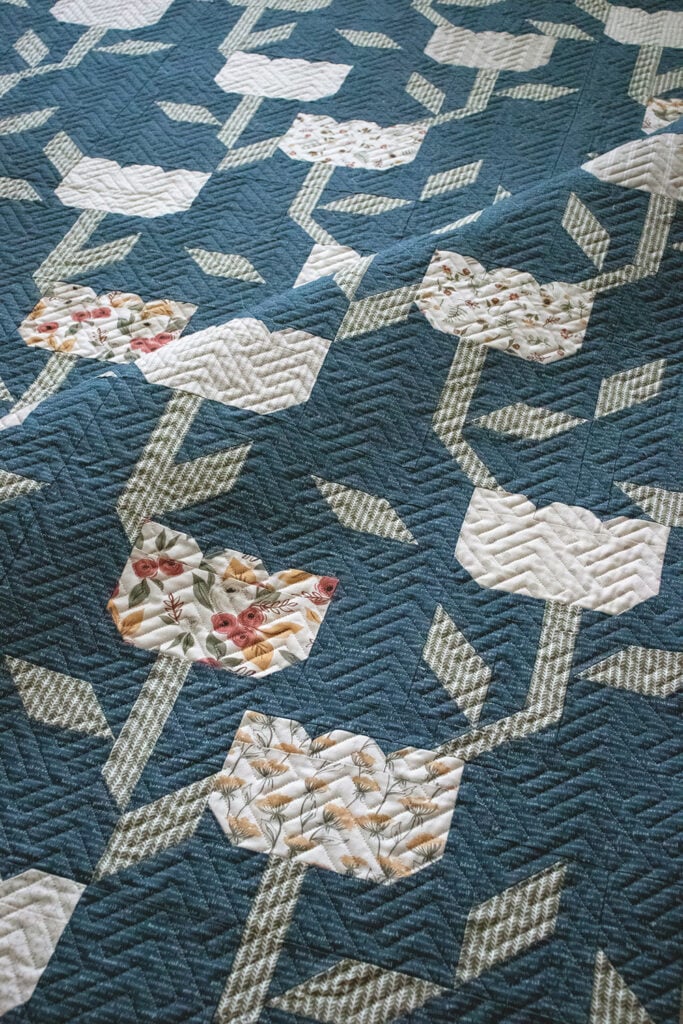 Flourish is not just another flower quilt. This one is different than anything you've ever seen before. These pieced blossoms are like fancy puzzle pieces. When they all come together, they create this amazing pattern of climbing flowers. I'm pretty proud of this one!
---
Flower Pot Fabric Color Options
I mocked up Flourish a couple ways and liked them so much both ways that I couldn't choose a favorite. There's the dark navy text background that allows for the cream blossom mix, or an ivory polka dot background to highlight the darker colors. Do you have a favorite or will you make both like I did?
Fabric is Flower Pot for Moda Fabrics due to arrive to shops April 2022. The pattern instructions are written to accommodate the specific unidirectional Flower Pot prints used for the cover quilts. Pattern instructions are available now as a PDF or printed booklet: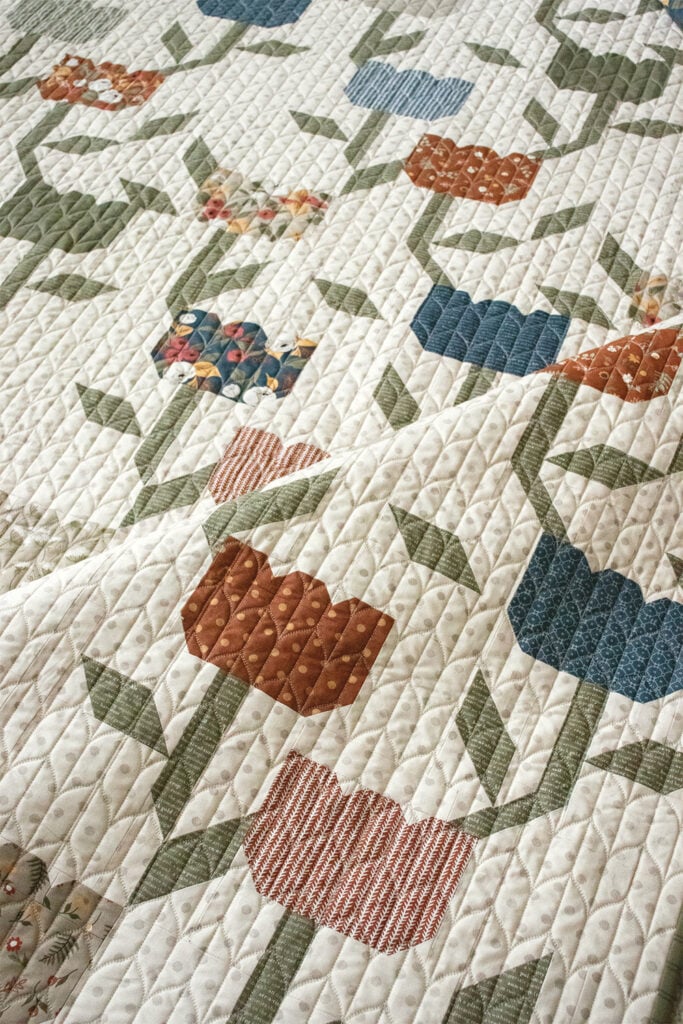 ---
Flourish Climbing Flower Quilt Tips & Tricks:
Construction for the Flourish quilt is not difficult per se (think of easy corner triangle and half-square triangle techniques) but there are definitely a lot of pieces to manage. This makes organization essential! Be sure to label all of the pieces as directed in the cutting instructions (especially as they are written to accommodate the unidirectional prints). You don't need anything fancy to label those pieces but I did happen to have some Alphabitties around and found them to be very convenient. Alphabitties are created by Fat Quarter Shop and are available to purchase here.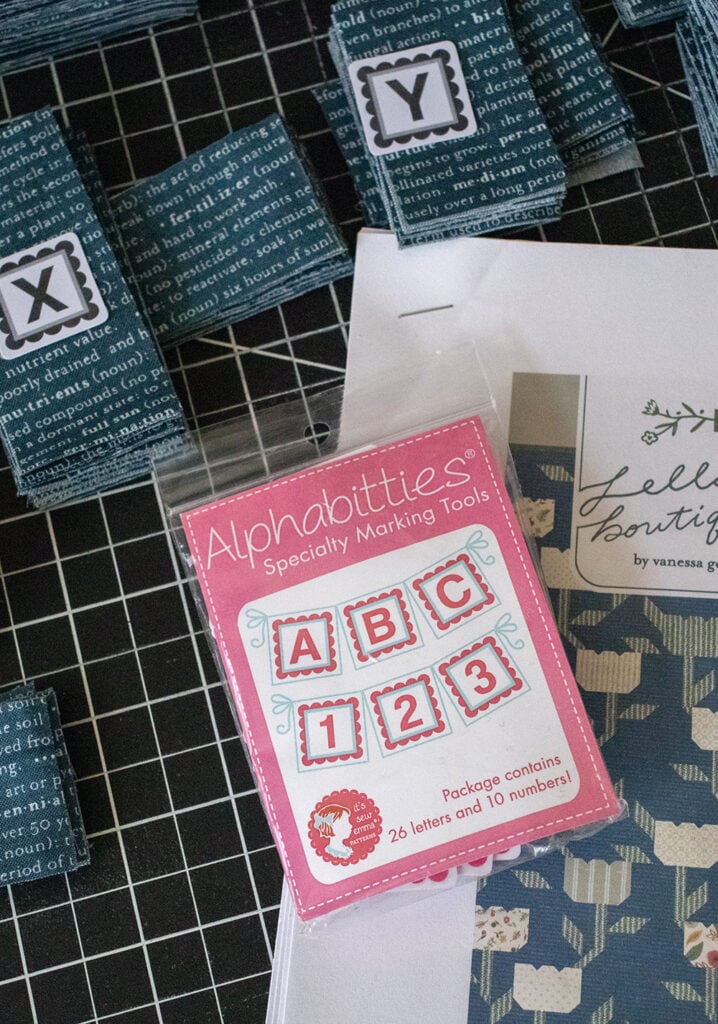 ---
Flourish Climbing Flower Quilt Details (Navy Version):
---
Flourish Climbing Flower Quilt Details (Ivory Version):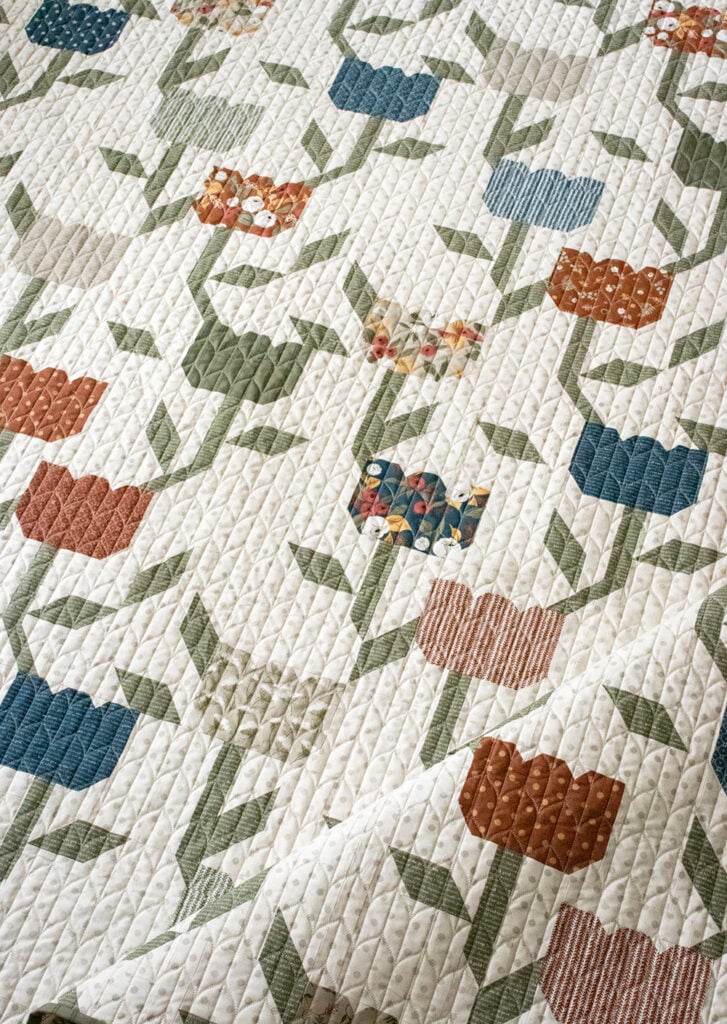 Looking for a Kit?
As always, please reach out to your favorite local or online shop to make a request for this kit. These shops have a tough job deciding what to stock their shelves with and always appreciate the input!
---
Shop Discount – This Week Only
Pretty new patterns are always a reason to celebrate. Save 20% shopwide this week (now through Sunday October 10, 2021 MST). Enter promo code FLOWERPOT20 at checkout. Which version of Flourish is your favorite? Let me know in the comments.
---
Like this post? Drop your email in the box below to get new post notifications via email.