Sewcialites Quilt Along: Free Block of the Week (Block 7)
Welcome to your daily dose of the Sewcialites Quilt Along by Fat Quarter Shop. Daily for now, anyhow–I'm catching up on my blocks for the quilt along and will be posting one block every day until I'm caught up. (Friday is still reserved for the week's new release.) Block 7 is "Kindred" by Bonnie Olaveson of Cotton Way.
Sewcialites Quilt Along Block 7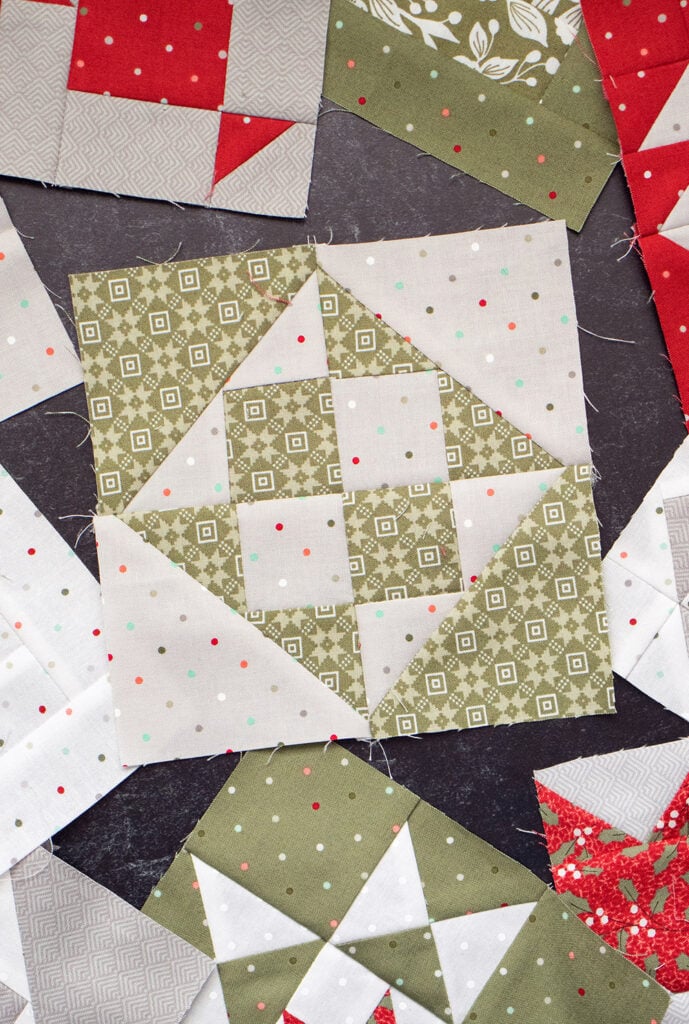 Fabric + Layout
Block 7 is a cool one. I'm collecting 40 sampler blocks for my quilt layout and I'm grouping the blocks by color. There will be 10 red blocks + 12 green blocks + 16 grey blocks + 2 low volume blocks. Block 7 is going in the green pile. I've picked a lighter grey for the background color for a fun contrast but the block still reads dominantly green overall. Fabric is my Christmas Morning collection Moda.
The Quilt Along Prizes
You could win a fabulous prize from Fat Quarter Shop for sewing along in the Sewcialites Quilt Along. Just post a photo of your blocks each week, use the hashtag #SewcialitesQAL, and tag @fatquartershop to be entered. (Make sure your posts are public). Winners selected weekly!
Here is the full Sewcialites Quilt Along schedule + Pattern Archive:
Block 29: TBA by Me & My Sister Designs
Block 30: TBA by Camille Roskelley of Thimble Blossoms
Block 31: TBA by Susan Ache
Block 32: TBA by Chelsi Stratton
Block 33: TBA by Lori Holt of Bee in My Bonnet
Block 34: TBA by Carrie Nelson
Block 35: TBA by Anne Sutton of Bunny Hill Designs
Block 36: TBA by Corey Yoder of Coriander Quilts
What is your favorite thing about block 7? Let me know in a comment below.
Don't miss out on a single post!
Subscribe to this blog via email. Just enter your email address below to sign up for post notifications: