New Quilts in Harvest Road Fabric
Wow. It's been an interesting month. International Quilt Market was held in Kansas City, MO a few weeks ago. I was all ready to go and show the Harvest Road fabric line– and had to cancel last-minute due to a plague that showed up on my doorstep. Luckily, my mom took all my quilts with her and delivered them to my friends at Moda–who graciously helped get my booth set up without me. Now that I'm feeling better, it's time to post a million pictures of Harvest Road and all the new quilts.
Oh and everything in the shops gets a 25% discount in May using promo code 25HARVESTROAD at checkout. Only a couple days left for that.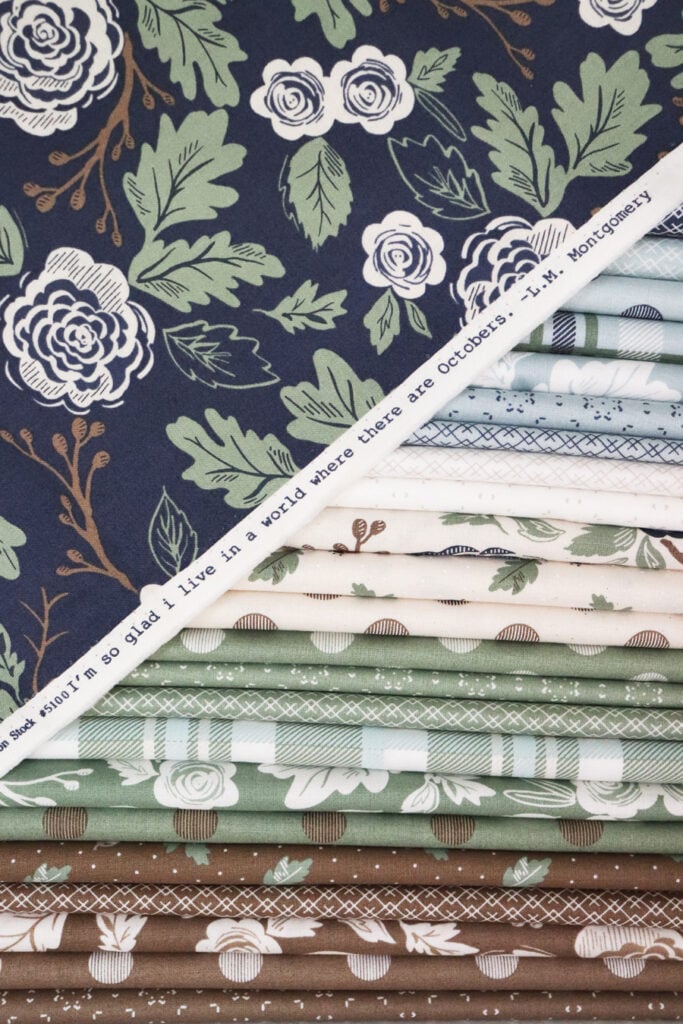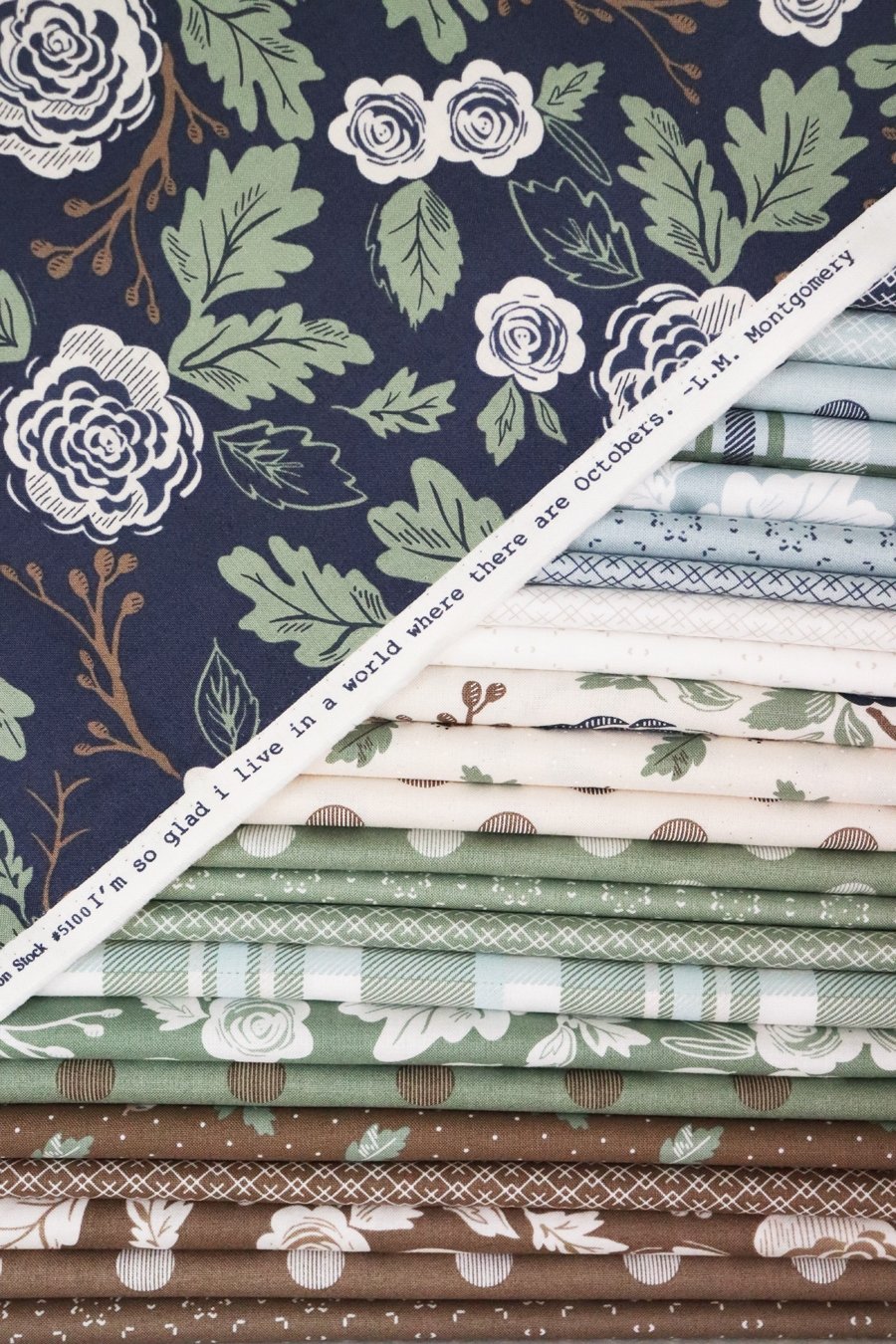 Nature Quilt Panel
First off, there's a new panel. What's better than big, beautiful flowers on a dreamy sage background. Not much, I say. Panels make great gifts since all you have to do is 1) quilt, 2) bind, and 3) wonder if you should actually give it away or keep it for yourself. Ha.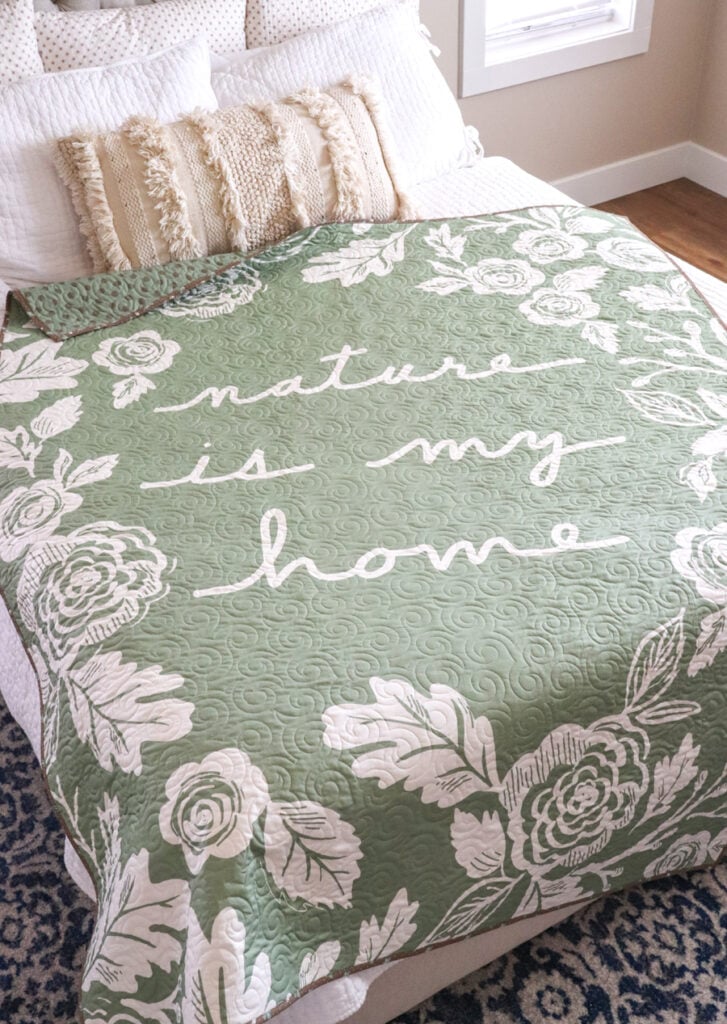 The panel measures 57" x 70" –a great lap size. You can make it bigger with a border, or even incorporate it into your backing. Check with your local shop to reserve yours today–they will ship with the collection in October.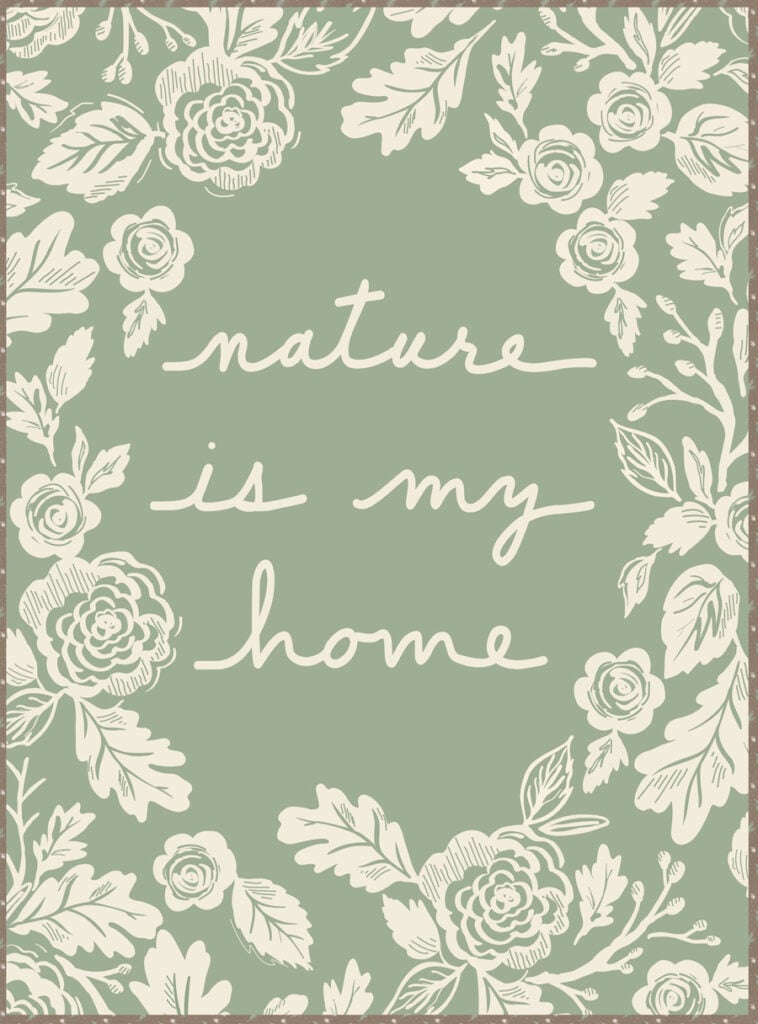 Now for the quilt patterns. Remember this one?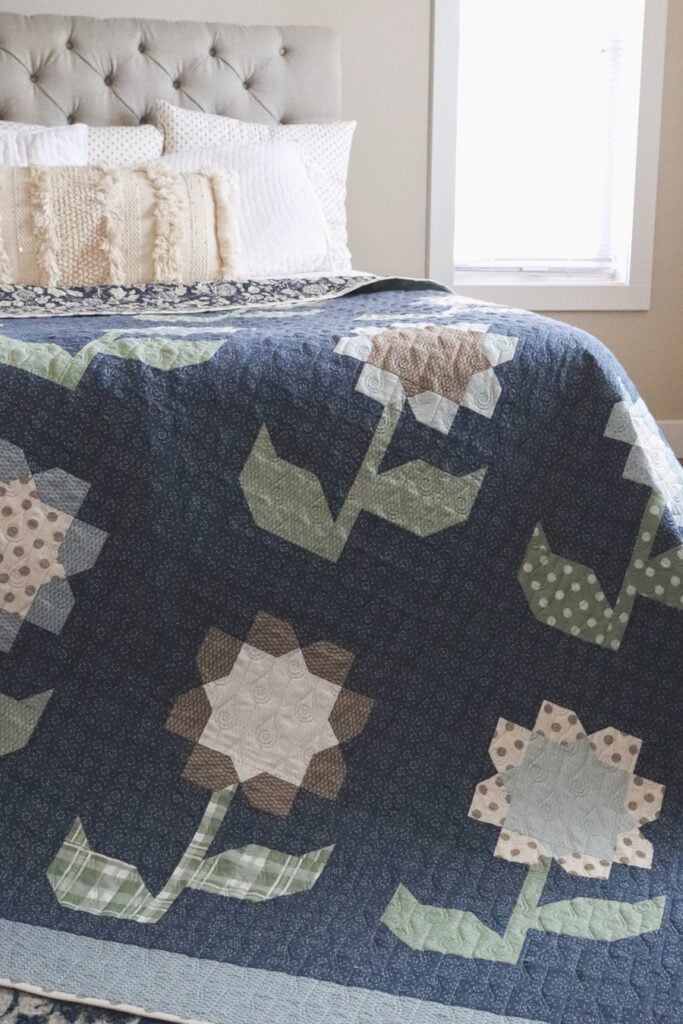 This flower quilt isn't a new design, but I updated the Cottage Blossoms pattern when I saw just how amazingly cute Harvest Road was plugged into it. Safe to say–it's my new favorite. Make it with 10 fat quarters like I did, or use a Layer Cake for a scrappier look. I'm smitten with the rain drop quilting detail–quilting by Natalia Bonner.
Of course you can always opt for a a lighter background too. This fabric group has some really great near-solids for whatever background color you'd like.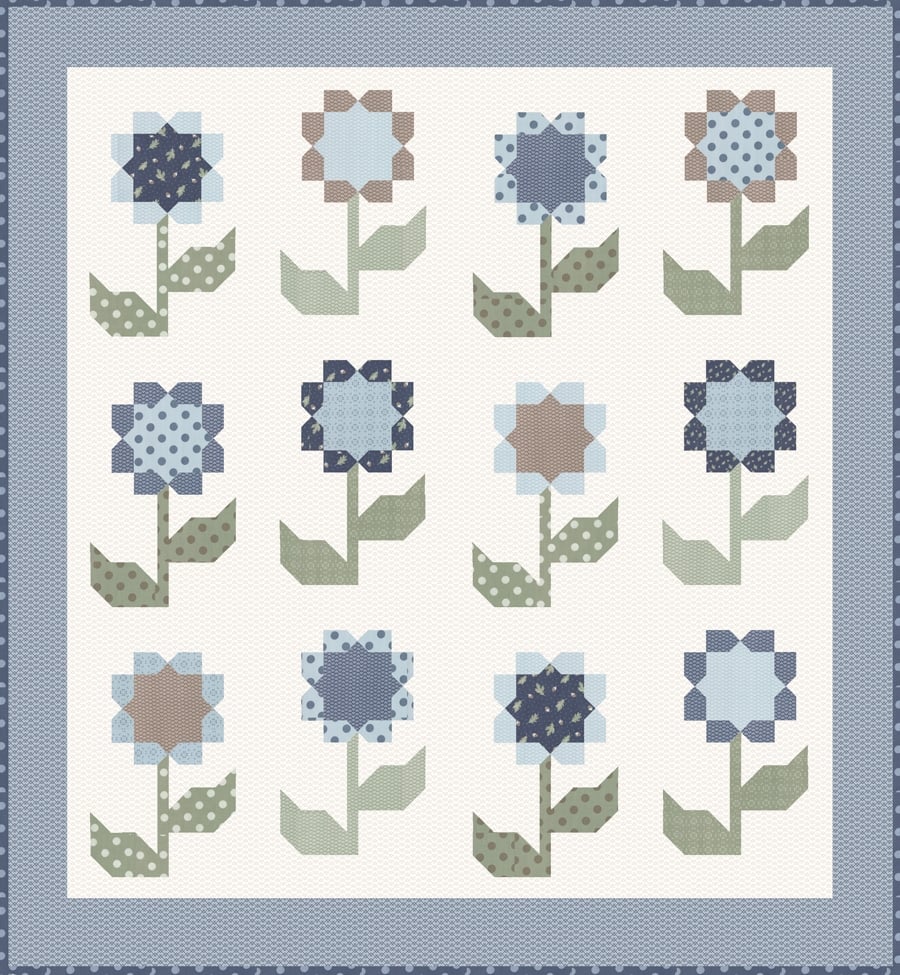 Who doesn't love the traditional maple leaf block? It's been done a million different ways, so my challenge was to come up with something new. This is New Leaf and is a sampler-style quilt. It would make a fun block of the month. It's made with a Layer Cake for the blocks, fat quarters for the block backgrounds, and fat eighths for the leaf points.
Cable weave quilting by Natalia Bonner. Gosh that quilting is so good. Thanks, Natalia!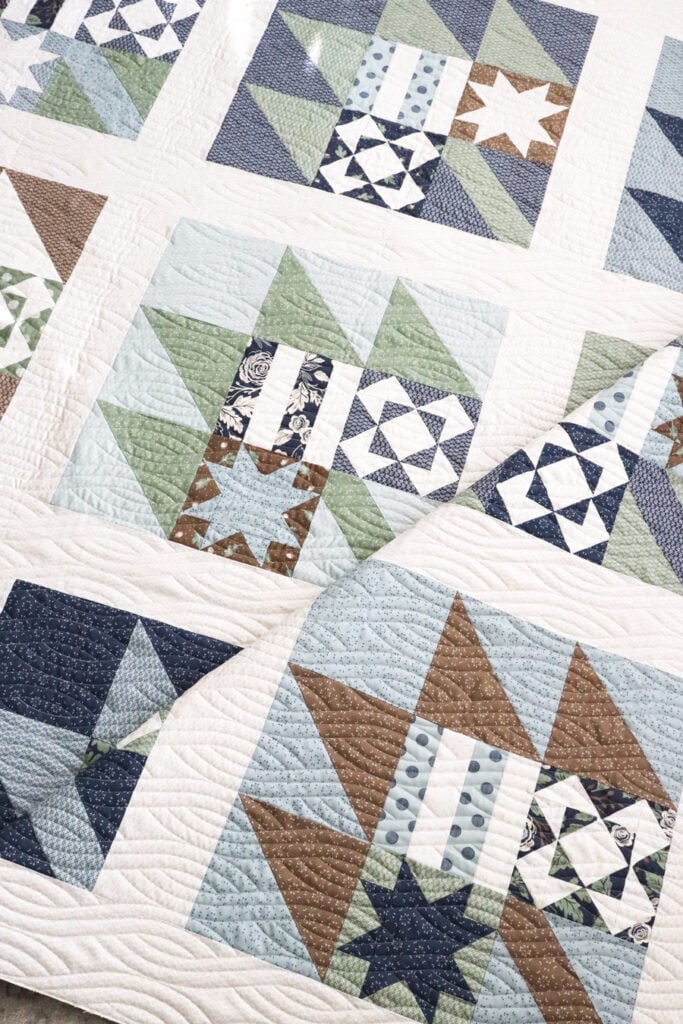 The hardest thing about this quilt is deciding what sashing color to go with. I made the cream one first–really because I felt my quilt market booth needed the balance in color. But I can't wait to make the navy one. Pale blue would be nice too. It's hard to choose.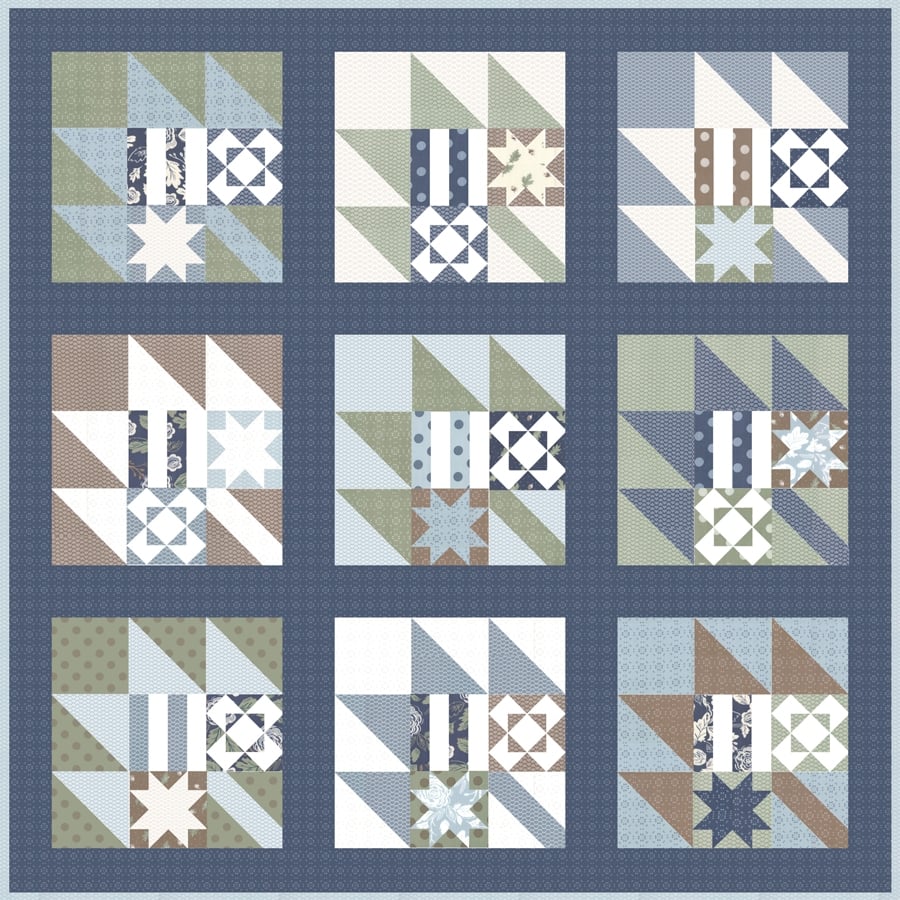 Next up is Sun Tea. Simple in design and easy to piece. It's one of those patterns that knows how to showcase big bold prints. With all the open space, I knew it was a perfect candidate for Natalia's custom quilting.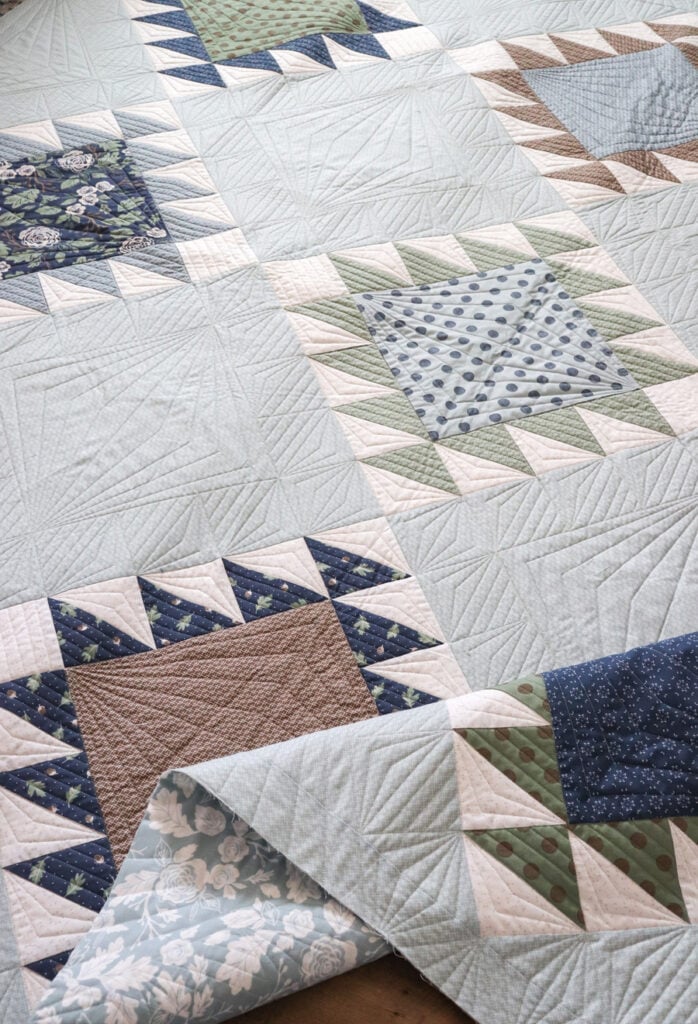 Here's the full layout. Pick 9 of your favorite fat quarters to mix and match against an accent background.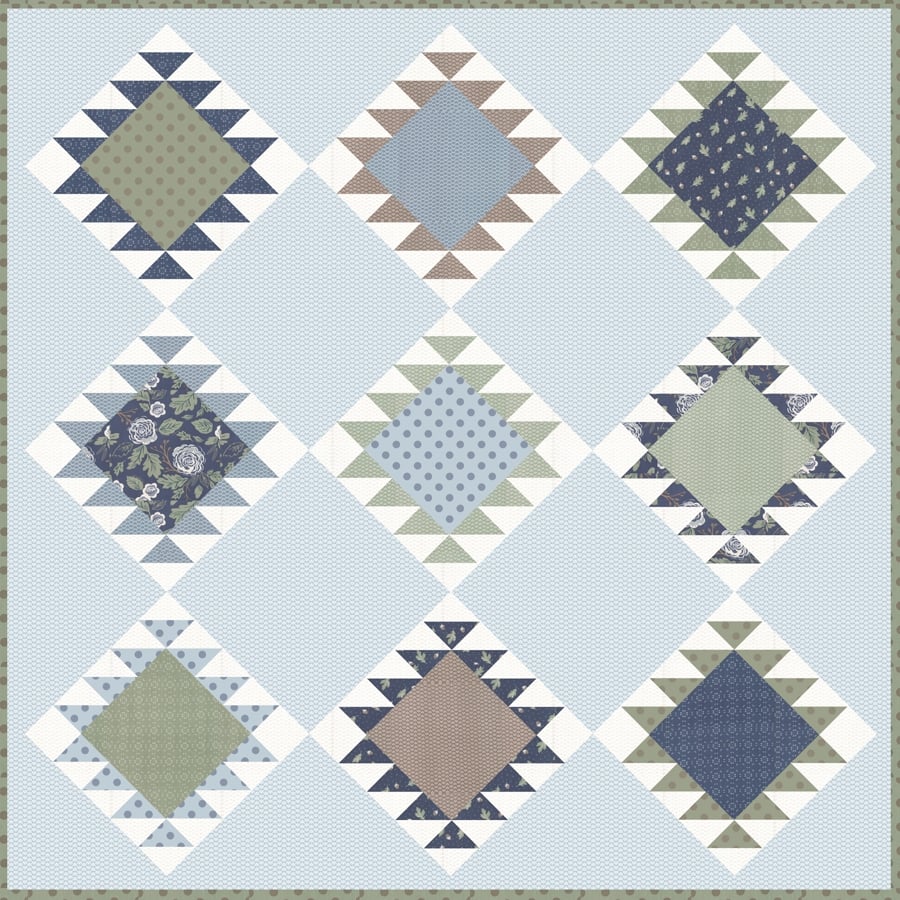 This is my first collection to include the Honeybun precut (each includes 42 strips 1.5" x WOF).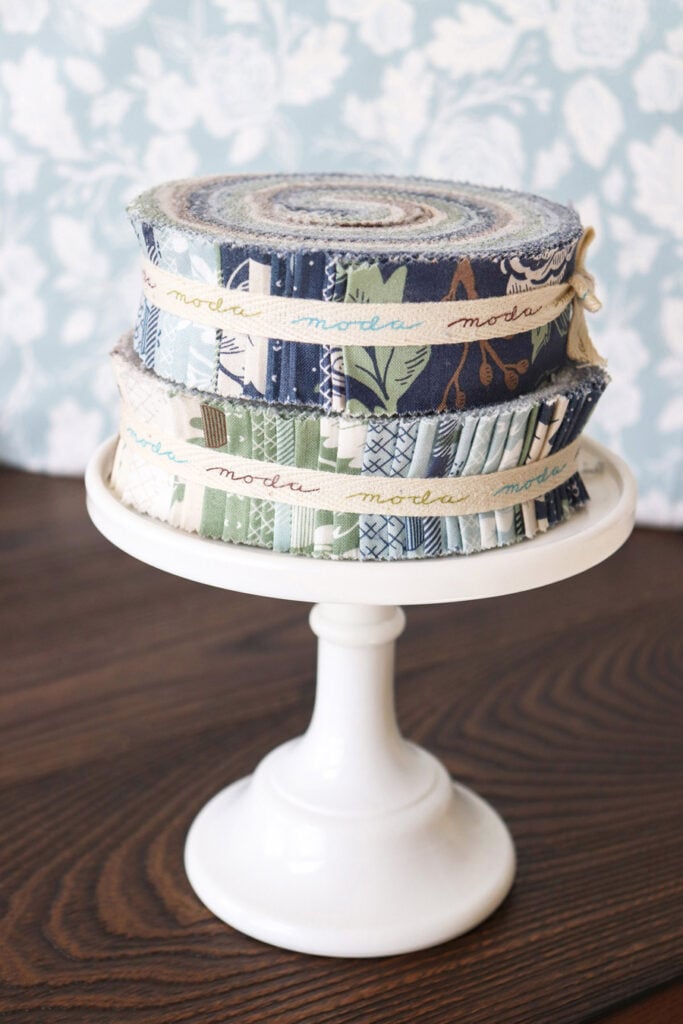 For my first Honeybun pattern, I opted for something simple. Meet Rugby. And that yummy quilting? The work of Marion Bott.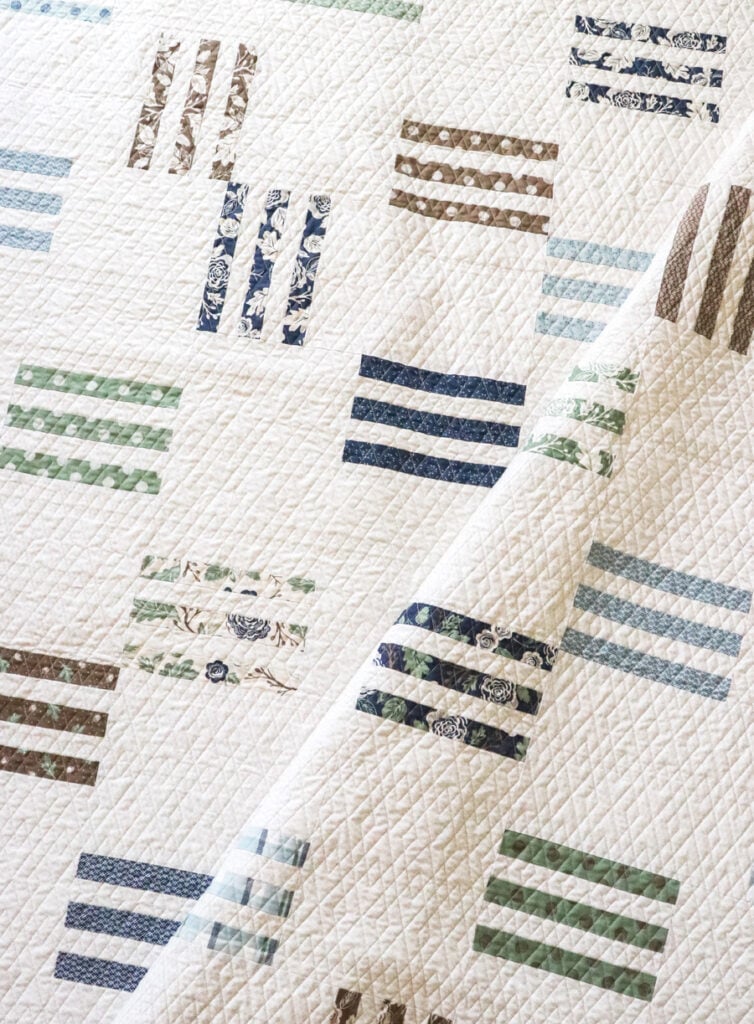 I was inspired by a graphic wallpaper I saw so I reinterpreted it to be a quilt. Sometimes simple is the way to go.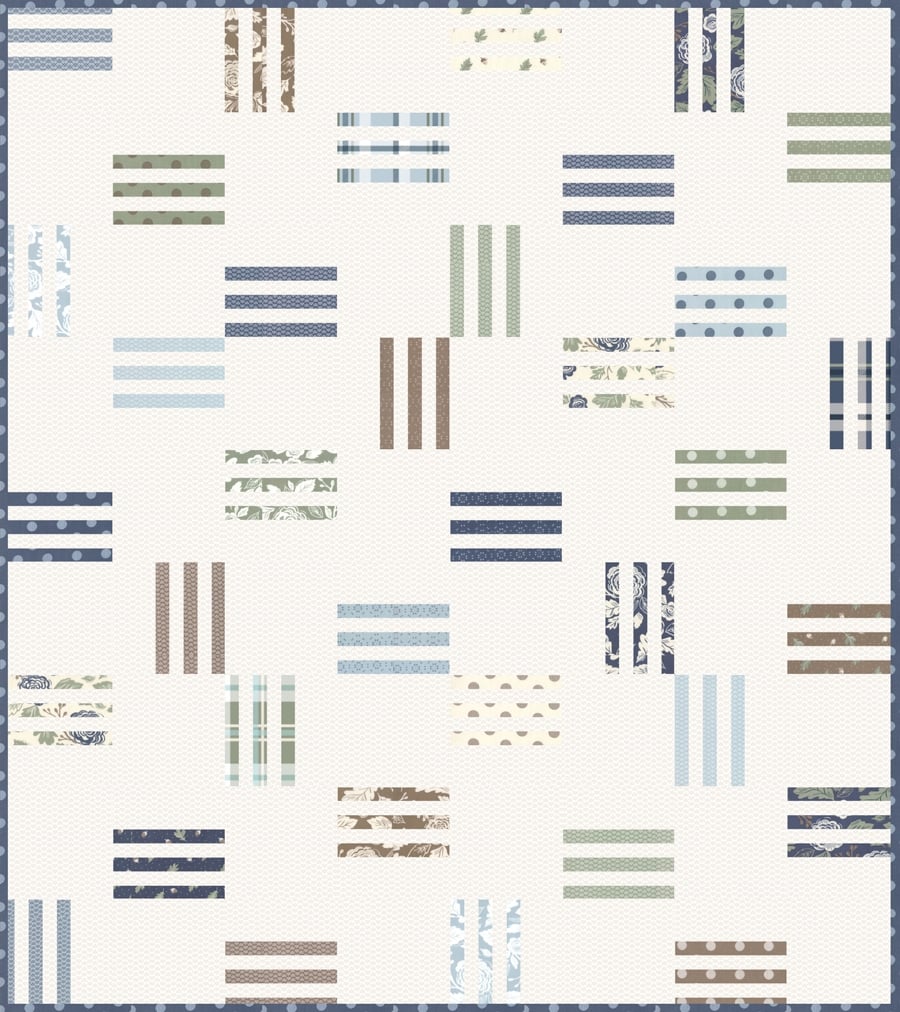 Matching Bella Solids
Lastly, I'm already getting questions about coordinating solids. I've looked for the best ones I could find, but again want to emphasize that the collection itself contains a lot of good near-solids for backgrounds. I couldn't find a decent match to the sage green or pale blue so I would recommend stocking up on prints within the collection.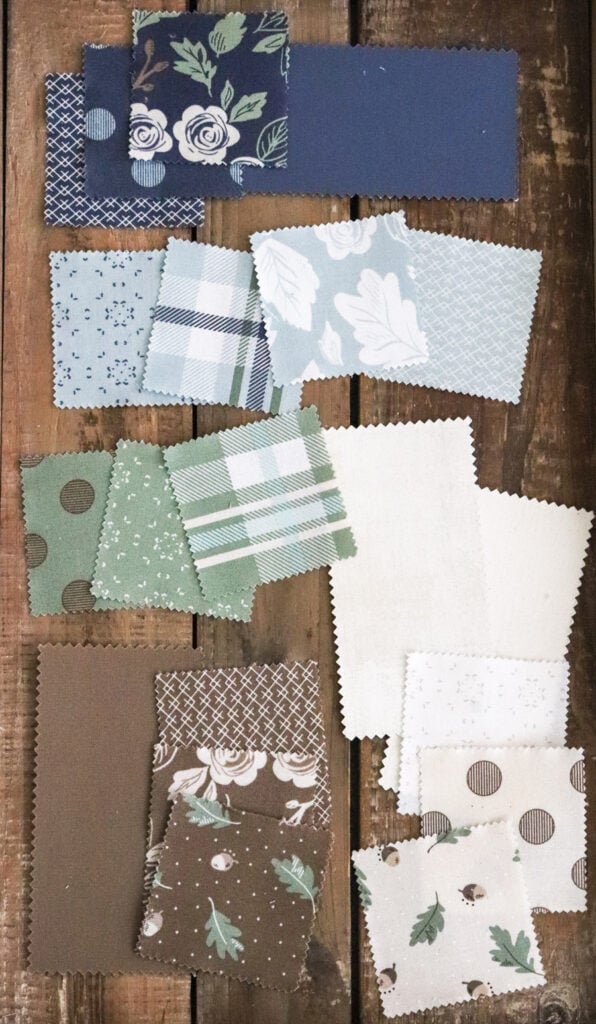 Here are the coordinating solids for Harvest Road fabric:
9900 218 "Indigo" Bella Solid
9900 285 "Unbleached" Bella solid
9900 129 "Weather Teak" Bella solid
30150 91 "Vanilla" Grunge by BasicGrey
I hope that helps! Let me know if you have other questions. This Harvest Road fabric group ships in October so check with your local shop to see if they can reserve it for you.
---
Like this post? Drop your email in the box below to get new post notifications via email.