Jelly Filled – 18 Quilts from 2 1/2" Strips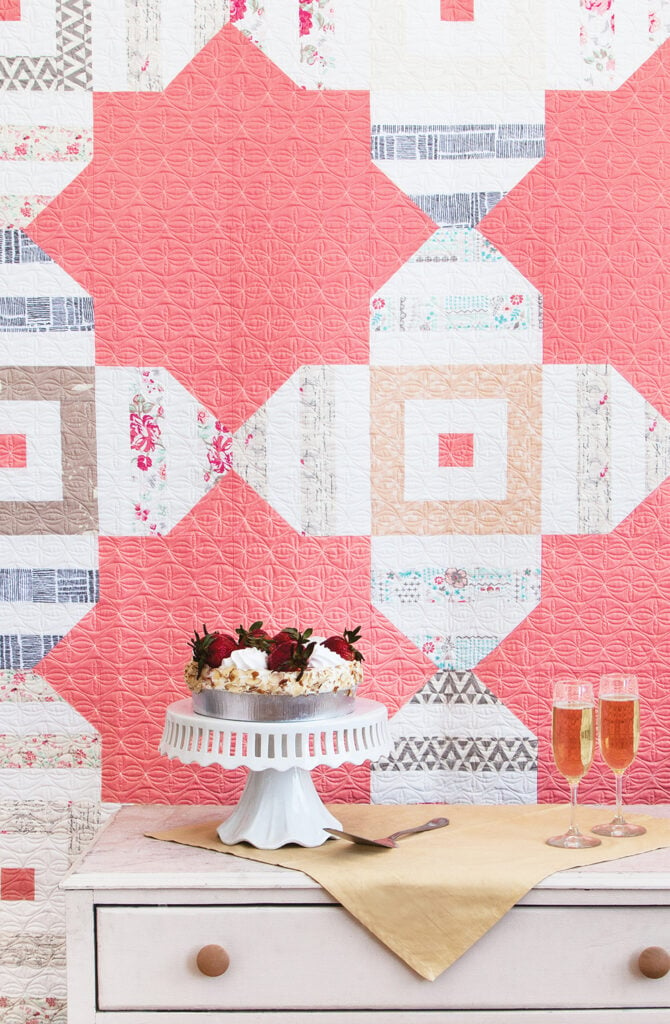 "Of all the places I have lived, New York City literally takes the cake. Weekends were spent exploring the city's vast food culture, indulging in its delicious offerings. I still dream about the decadent waffles from Max Brenner, the rich cookies of Levain Bakery, and the glorious banana pudding at Magnolia Bakery. It's a good thing I did so much walking in that city–many bakery visits ended with a cake box in my arms (and plenty of calories) to take home. Happy memories like these sometimes find a way into my quilting… This quilt reminds me of those cake boxes–open at last, with their sides flattened out as an invitation to partake of the delectable contents inside."

-excerpt from Jelly Filled – 18 Quilts from 2 1/2″ Strips
September is just around the corner–which means my newest book will be releasing very soon. Guess it's time for a little preview. The book is called Jelly Filled – 18 Quilts from 2½: Strips, published by C&T Publishing (Stash Books). Ask your favorite quilt shop to reserve a copy for you–you won't want to miss it! It's a sequel (sort of) to my first book Charm School – 18 Quilts from 5" Squares, meaning it follows a similar format–but this time around, you'll find 18 quilt "recipes" where precut 2½" strips (Jelly Rolls) are the star ingredient.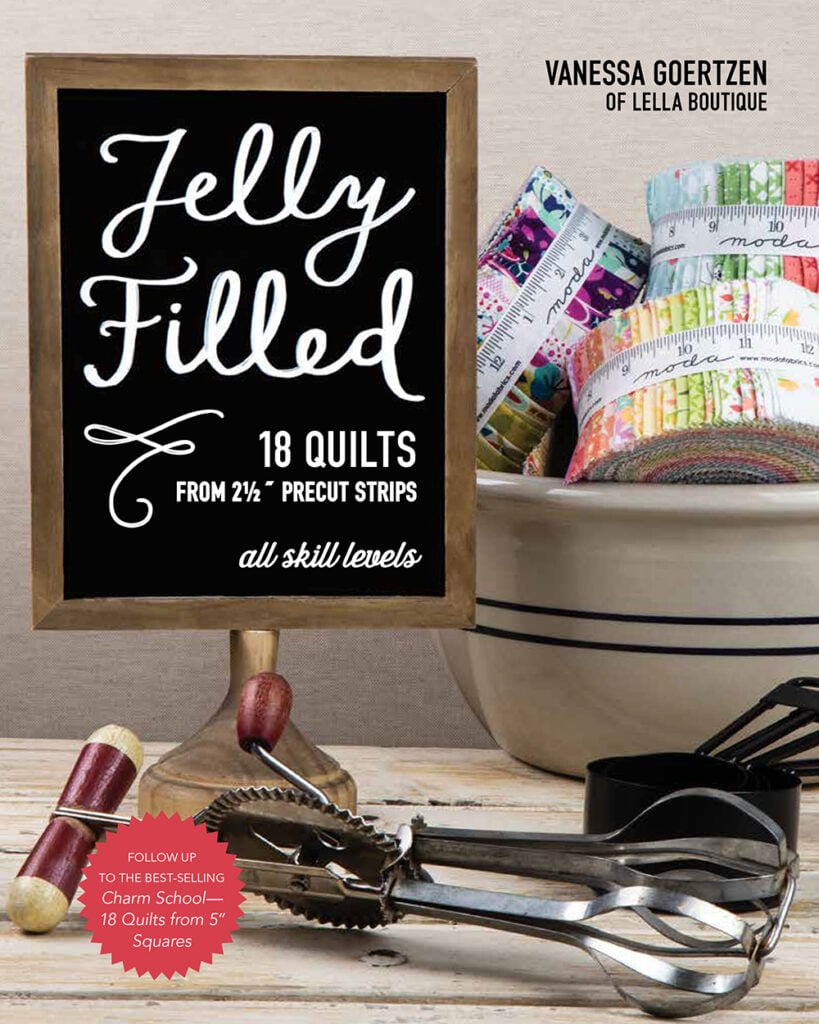 Jelly Rolls, by the way, are Moda Fabrics' fancy name for 2½" x 40″ strips rolled up in a concentric, cinnamon-roll style (just as irresistible as the edible kind). Even though precut Jelly Roll strips are the inspiration for this book, I'll show you how easy it is to make substitutions using what you already have in your fabric pantry. But if you decide to go with precuts, I use Moda Fabrics' brand of Jelly Rolls as the standard since they always contain 40 strips 2½" x 40″. (This is important to remember if you use a different manufacturer's version–be sure to check how many strips are in each precut package and make adjustments accordingly.)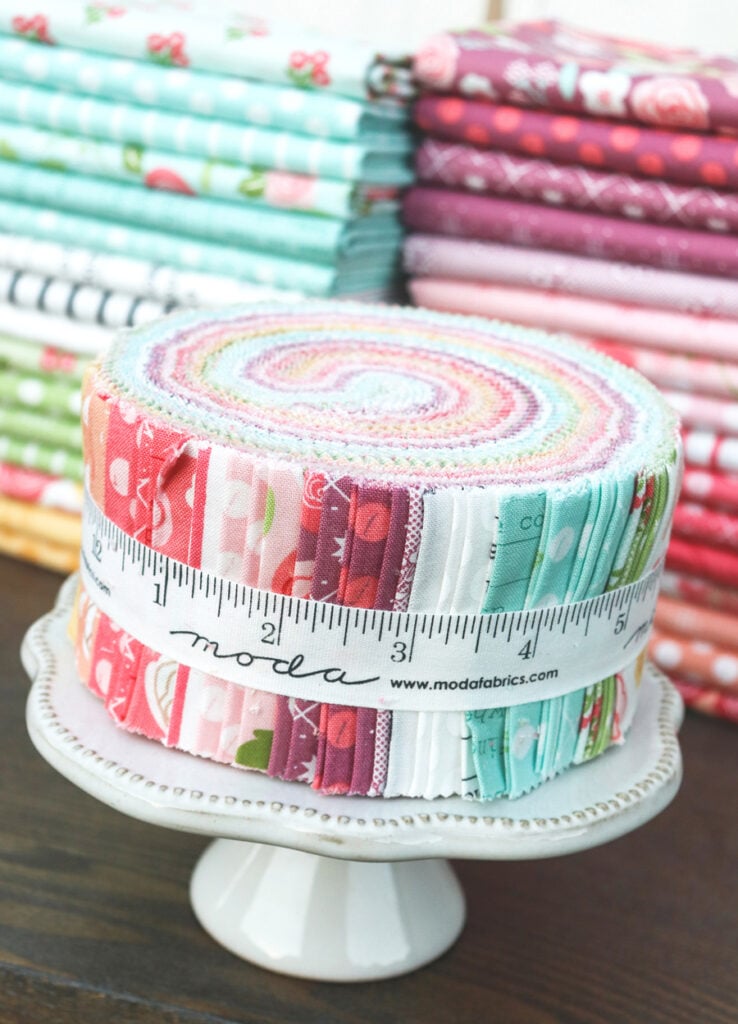 We'll start with basic techniques, and gradually work our way up to more advanced skills. Whether you are newer to quilting, or have a lot of experience, there is something for everyone to enjoy making.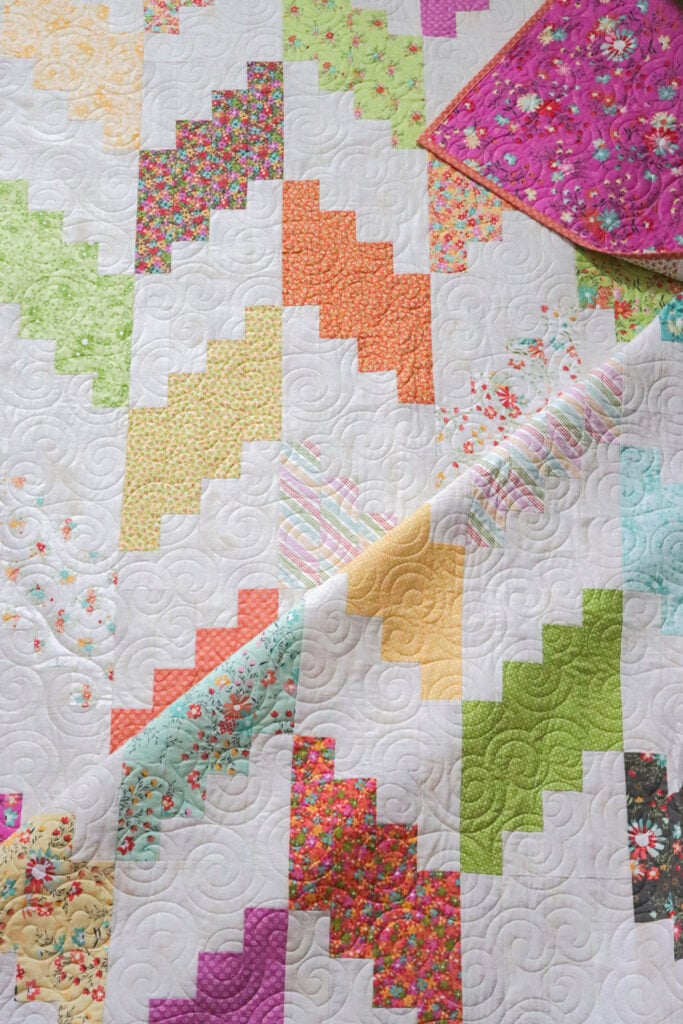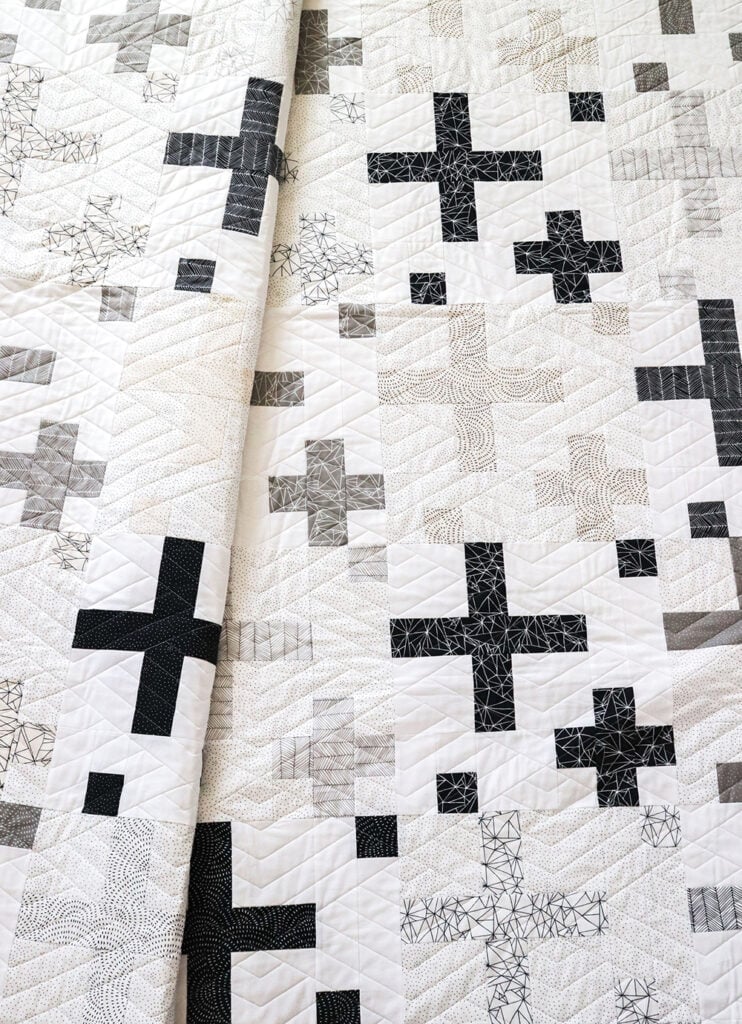 One thing you might not have known about me is I'm a pretty avid baker and have been since I was little. All of the Jelly Filled quilts tie into my love of baking/sweets in some way or another.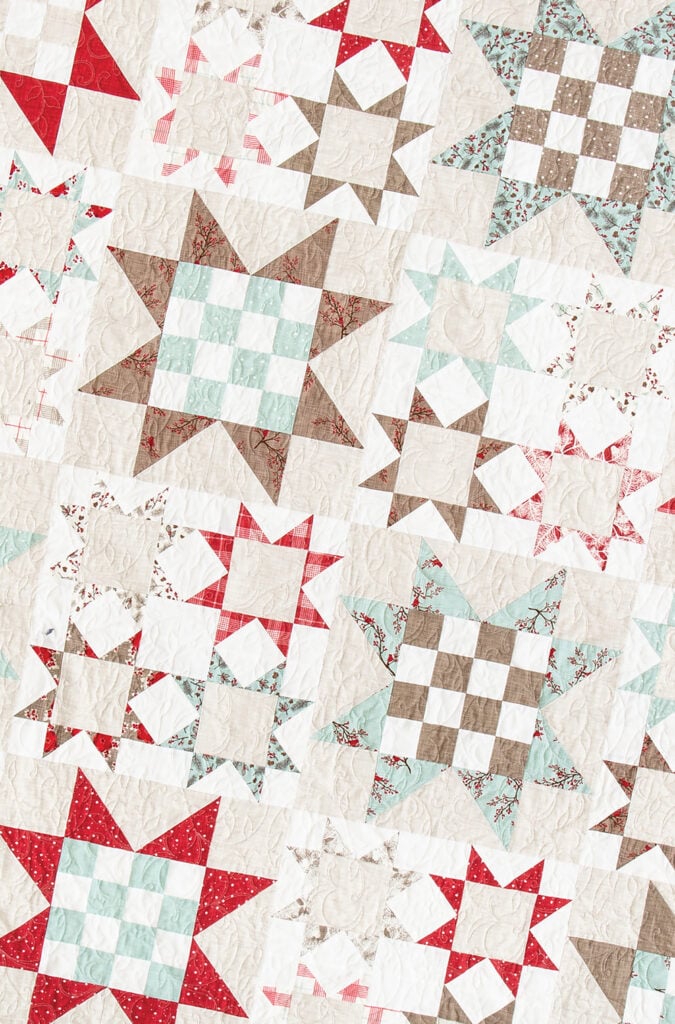 We'll explore concepts like strip piecing, easy corner triangles, half-square triangles, log cabins, and briefly touch upon some advanced techniques in the last chapter, just to get our feet wet.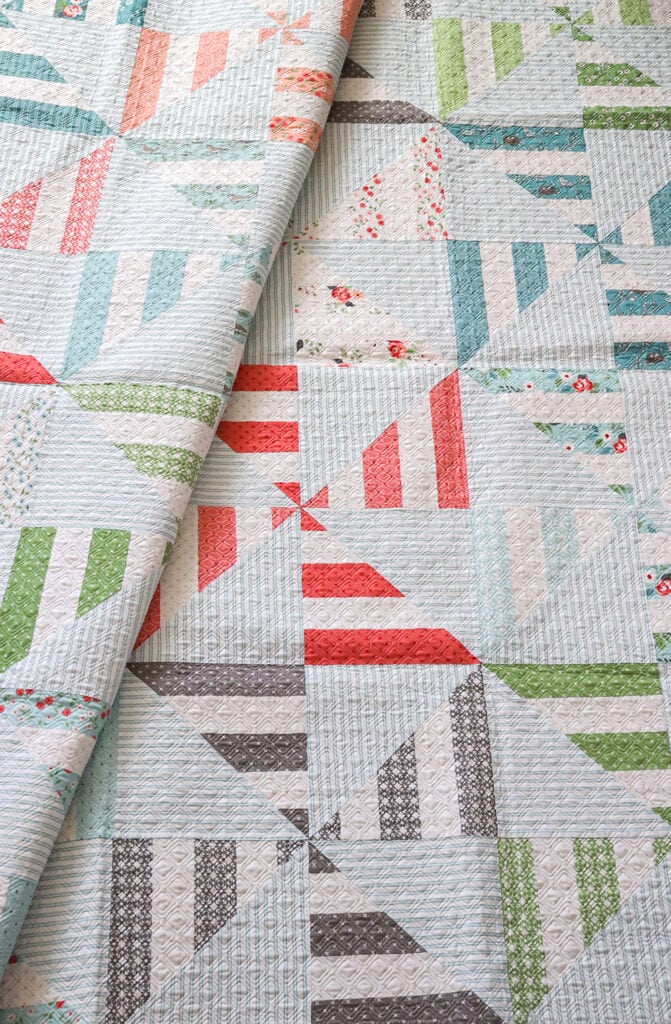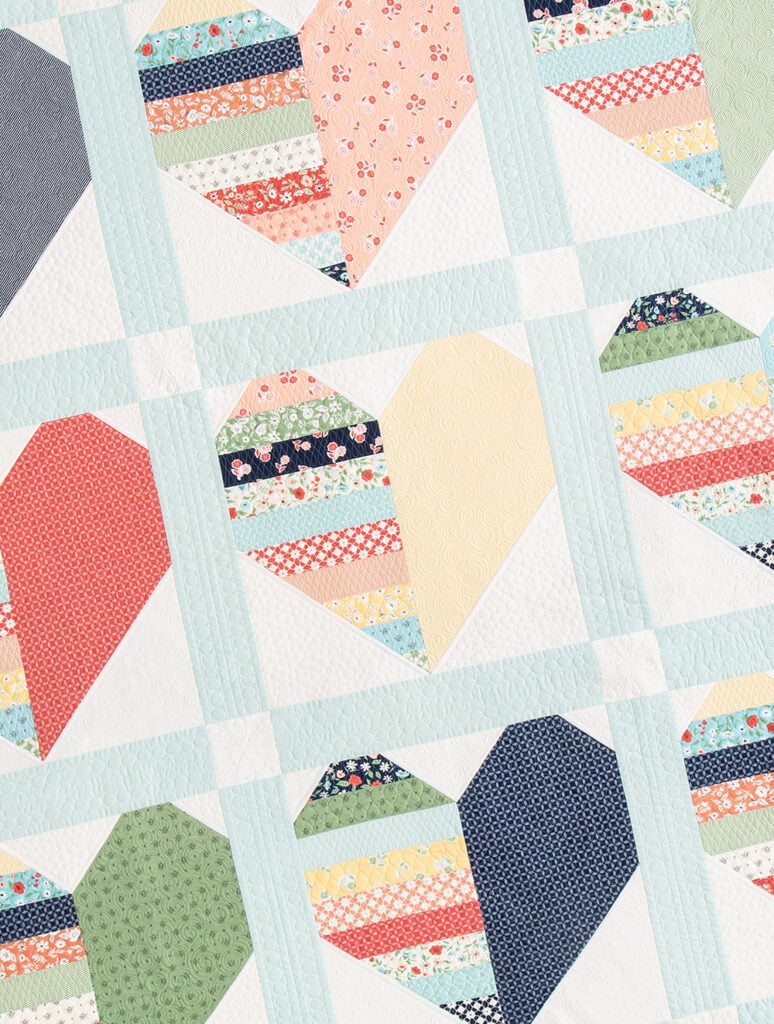 As you thumb through the book, you may recognize one of my oldest designs that has been resurrected from its out-of-print status–Heartthrob!
One of my favorite chapters covers log cabin quilts. They're a classic and such a perfect fit when it comes to using up Jelly Roll strips because of that 40″ width of fabric. I'm pretty sure I could write a whole book about my love of log cabin quilts and all the bazillion variations… maybe another day 😉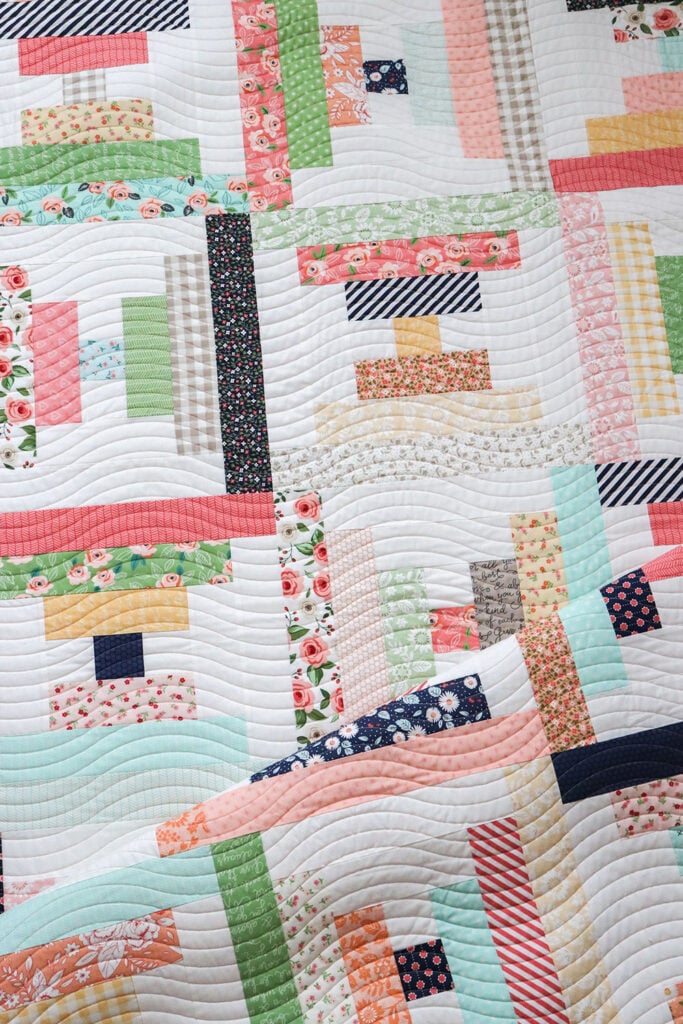 The quilts will build upon the concepts covered in previous chapters (for example, strip piecing) to make a traditional idea (like log cabin construction) even more interesting.
These are just a few of the quilts you'll find in the book (18 total!). I hope you've enjoyed this preview. Jelly Filled is scheduled to ship toward the end of September 2019.
Oh and a quick word about fabric choices… Because a book takes such a long time to write, most of the fabric collections shown are not current. While it's not impossible to find them and make the exact quilts you see, it can be a challenge. I find it sometimes helpful to keep in mind that many designers have signature color palettes which means it is likely you'll be able to find a similar collection in look and feel in the future from the same designer. But also, don't be afraid to add your own spin with something completely different than what I've made. That's half the fun! In November, watch for a Jelly Filled quilt parade showcasing some of the book's patterns reinterpreted by my designer friends. Stay tuned for more details.