#ModaBeMyNeighbor
Blogging two days in a row? This is crazy talk. Welcome to the Moda hood!
Moda has put together a free house-themed quilt along and assigned all of the designers different house blocks 🙂 It's a free pattern through quilt shops, read more about it here to know how to participate. And of course post your pics and find others on Instagram using the hashtag #ModaBeMyNeighbor.
I was assigned Block #4. Here are the blocks I mocked up using Olive's Flower Market fabric (shipping to shops next month).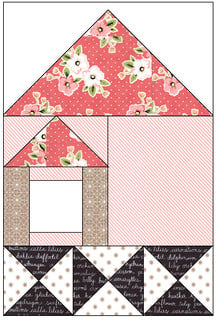 I stitched up all three blocks and decided they were just begging to be made into house-shaped pillows. I think they turned out so cute. There are so many fun variations that could be done with this idea. I was in a rush, but I thought about adding a simple pocket on the back. Sky's the limit!