Happy Thoughts
Hello cute people! Today it's my turn to share my block (Block #66) for the Splendid Sampler. If you aren't familiar with the Splendid Sampler, you can read about it here. In short, it's a super fun quilt sampler organized by Moda superstars Pat Sloan and Jane Davidson. Pat and Jane have rounded up 83 designers to contribute blocks for this project and I'm happy to be one of them! Don't worry if you haven't started yet–you can find all of the blocks on the Splendid Sampler website here (with two new blocks being released each week). There's also a huge Splendid Sampler facebook group here if you want to join in on the fun there–how fun is that?!
Splendid Sampler Block #66 Happy Thoughts
So here's a little about the inspiration for Block #66 "Happy Thoughts." It seems like every time I sit down to make a new quilt, I find myself immersed in a joyful place. Whether the quilt be for a neighbor, a friend, a new baby, or a precious family member, I imagine all the adventures this quilt will experience. I think of the laughter, the blanket forts, the picnics, and even the sick days full of snuggles. It isn't long before I find myself grinning with every single stitch. When we create something for another person, we are giving them a little piece of who we are. My block is a visual reminder of all the love/energy/time we put into our quilts.
The Fabric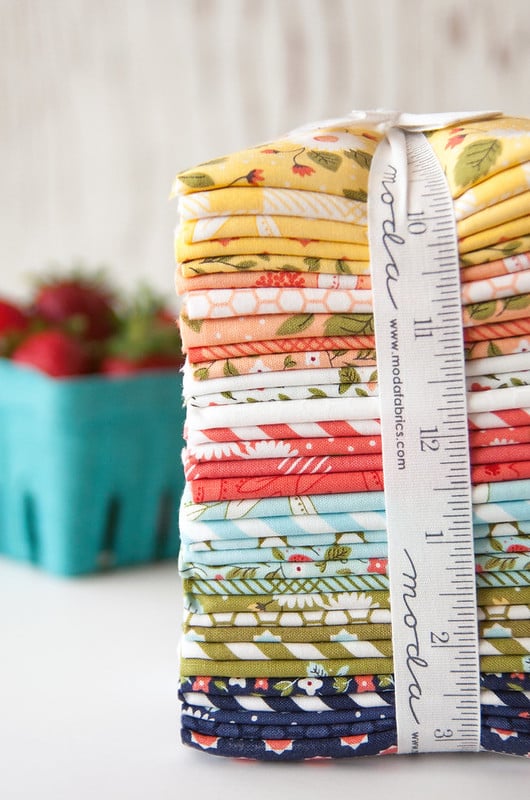 Fabric is my Little Miss Sunshine collection for Moda Fabrics (above). If you are a fan of Little Miss Sunshine, head over to my post from earlier this week and enter to win some from Fat Quarter Shop. Thanks for stopping by.