Quilts with Sugar Pie Fabric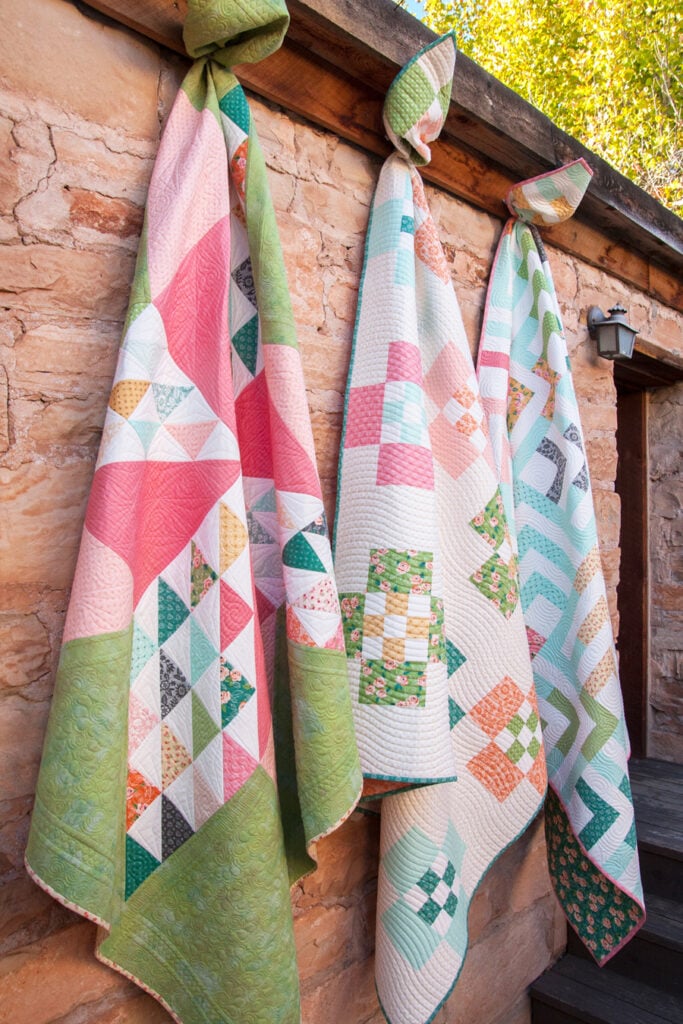 Here's a taste of the new quilts I've designed using Sugar Pie fabric. The colors are so luscious and sweet. All of the patterns are available now in my shop. Just a note that I'll be out of town until November 1 so if you order paper, they will ship when I return.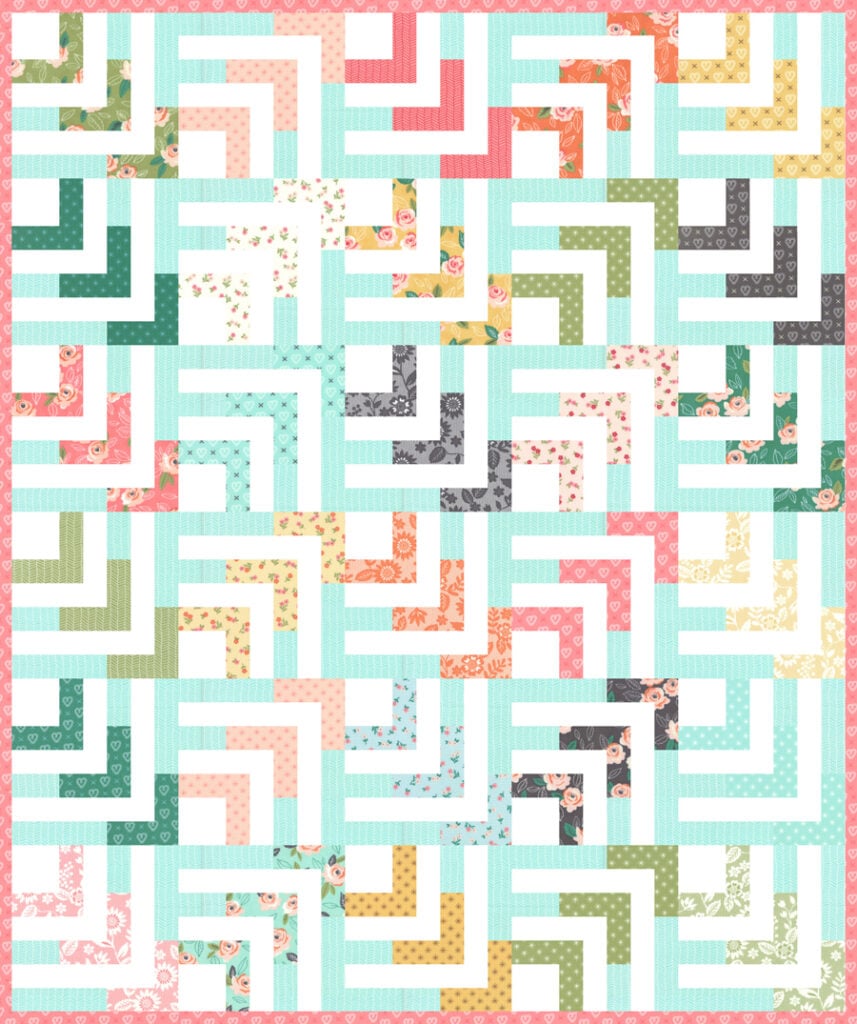 This one is a fun spin on a traditional log cabin sort of block.
Beachcomber can be made with either 1 Jelly Roll (precut 2.5″ strips) or 1 Layer Cake (precut 10″ squares) + plus an accent color. (I picked an aqua herringbone print from the Sugar Pie collection as my neutral.) I pieced this quilt and then my friend Kaitlyn quilted it with these mesmerizing swirls. Sidenote: If you're looking for a fantastic long arm quilter, she is accepting new clients 🙂
My next quilt pattern is a no brainer! Smarty Pants uses 10 fat quarters and is a cinch to piece. It was quilted by Abby Latimer using a wavy line quilting–I'm guilty of using this pantograph more than any other. I love the simplicity of it!
You can't see it super well, but I've used a yellow sprinkle print from the collection as the background print. It just adds a bit of warmth and texture that I really dig. I am dying to make one of these with just boy colors!
If you're a fan of sawtooth stars, you'll adore Star Crossed. You can use a Jelly Roll (precut 2.5″ strips) or a Layer Cake (precut 10″ squares) to bake this one up!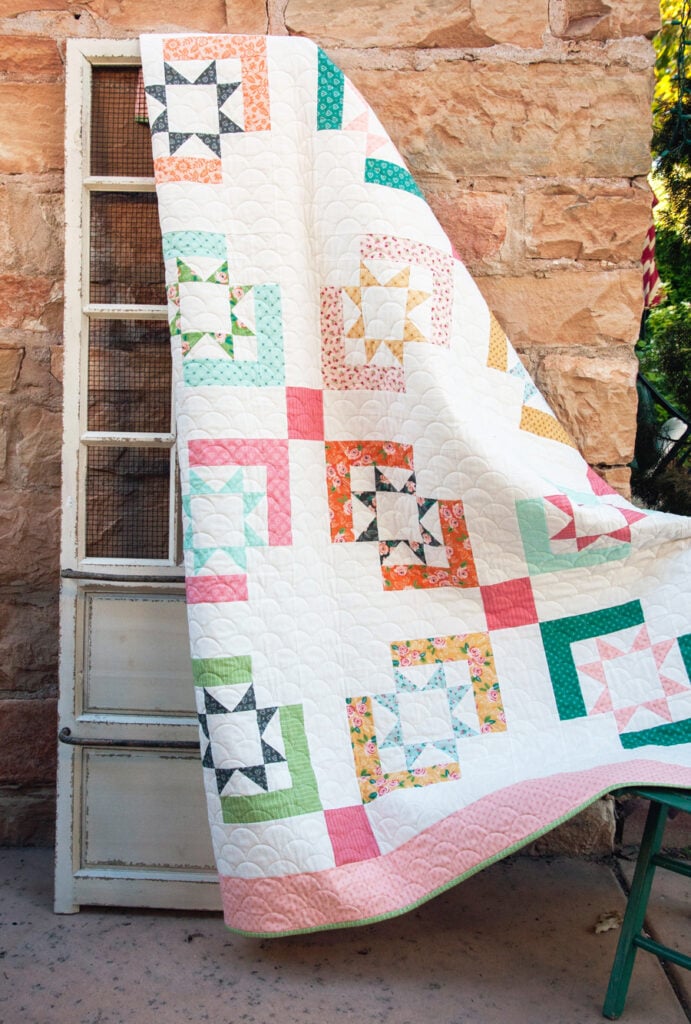 Here's a closeup of the yummy clamshell quilting by Abby Latimer. I have never done the clamshells before and I have such a crush on them.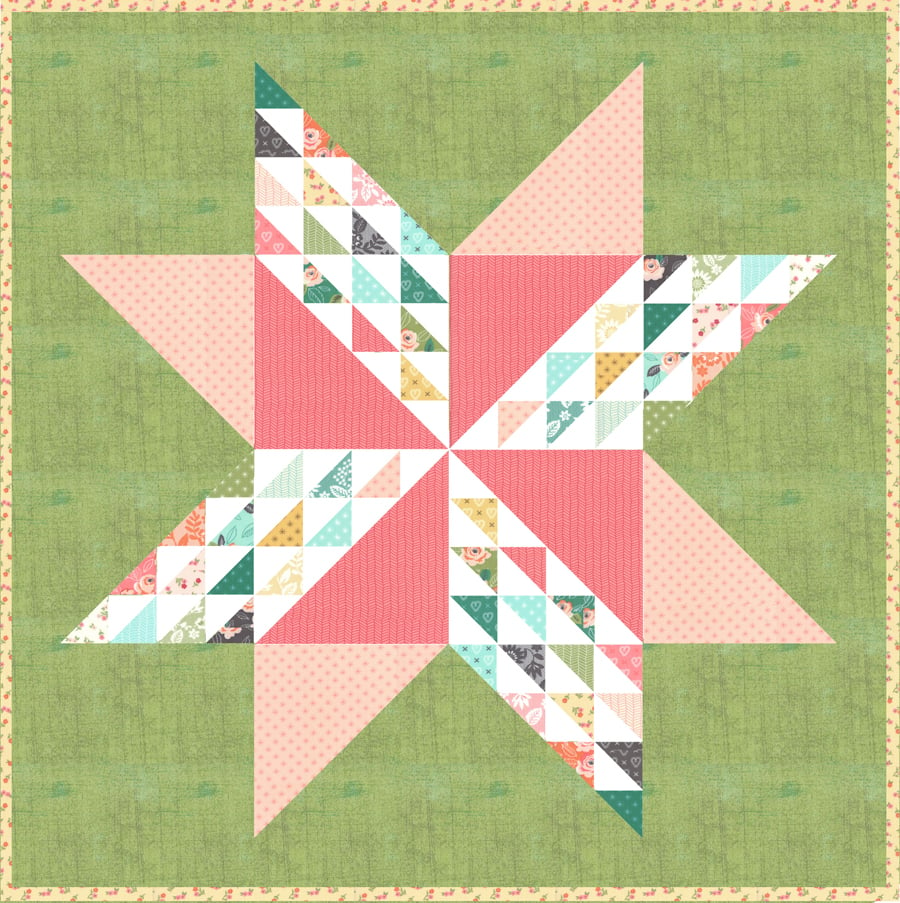 I might be a little partial to the next quilt, Sugar Cookie. This quilt uses 1 charm pack and was given its name because it reminds me of a pink frosted sugar cookie with rainbow sprinkles. This design was just begging for custom quilting by Natalia Bonner. I dropped of the quilt to her and told her to have fun. She certainly did not disappoint, did she?! Just incredible.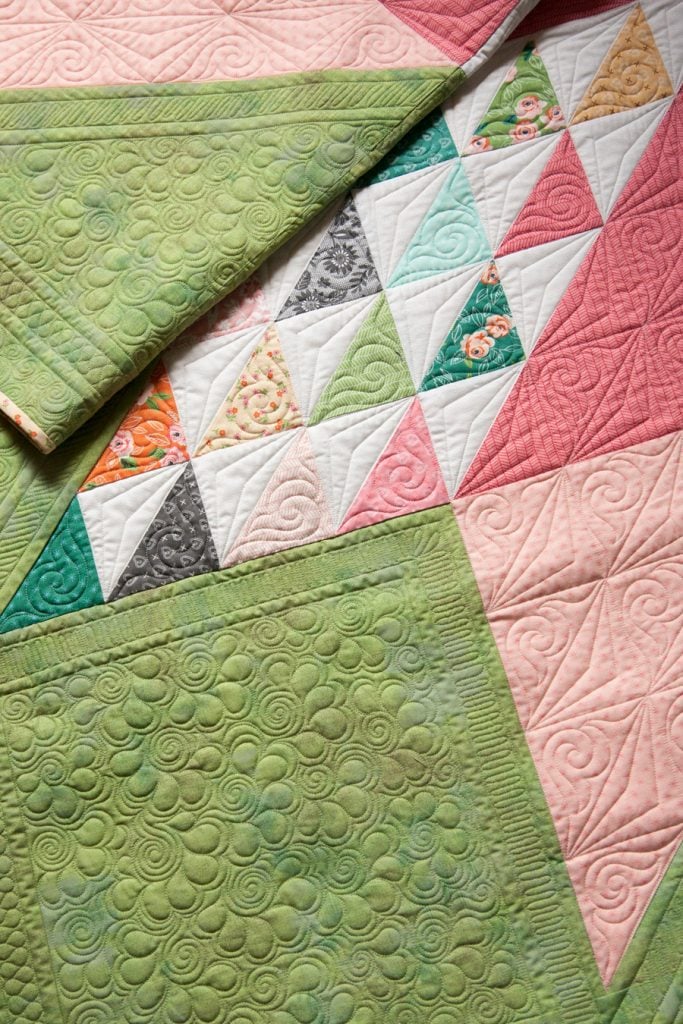 For the background, I used BasicGrey's Grunge in Pear. I was happy to find that so many grunges coordinate with Sugar Pie. One of my favorite things is you can make it with just 1 charm pack!
Now if you'd like a more traditional version, here's another Sugar Cookie quilt using a yellow sprinkles print for the background fabric. This one was pieced and quilted by my amazingly talented friend and fellow Moda designer, April Rosenthal. (Go check out her pattern shop and beautiful new line, Sweet Marion!)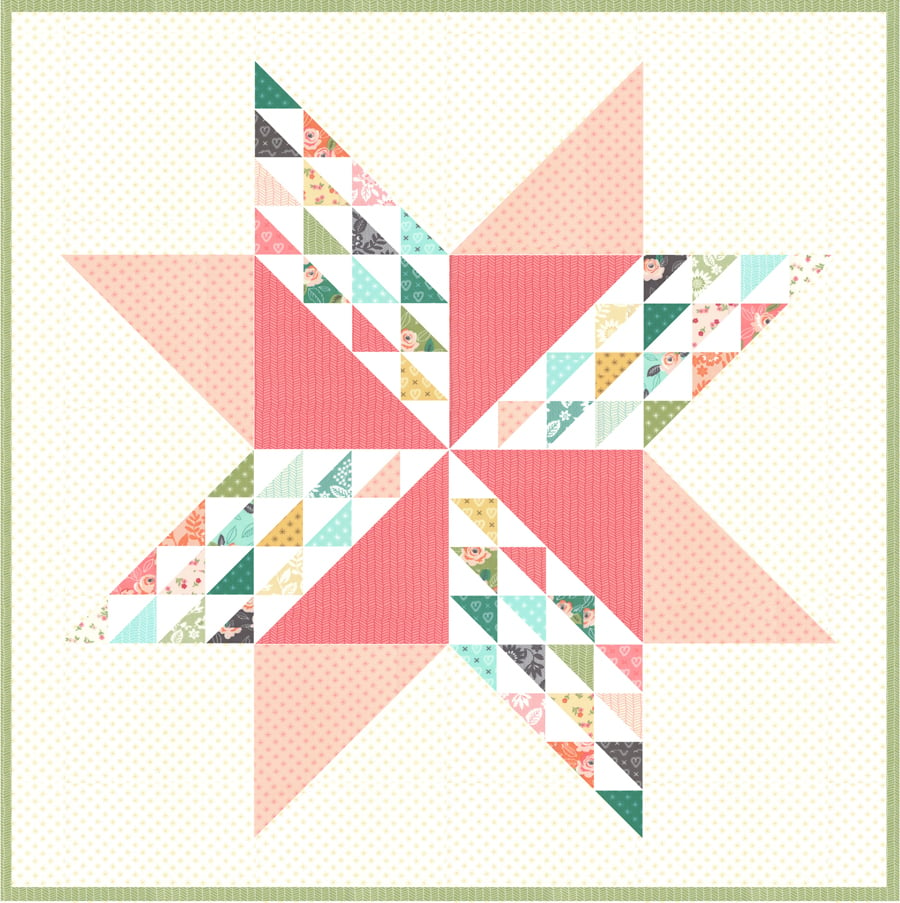 The quilting is awesome on this one, it's sort of a sampler of quilting so every square/triangles is different. I squealed practically the whole time I put the binding on as I got to closely examine the details.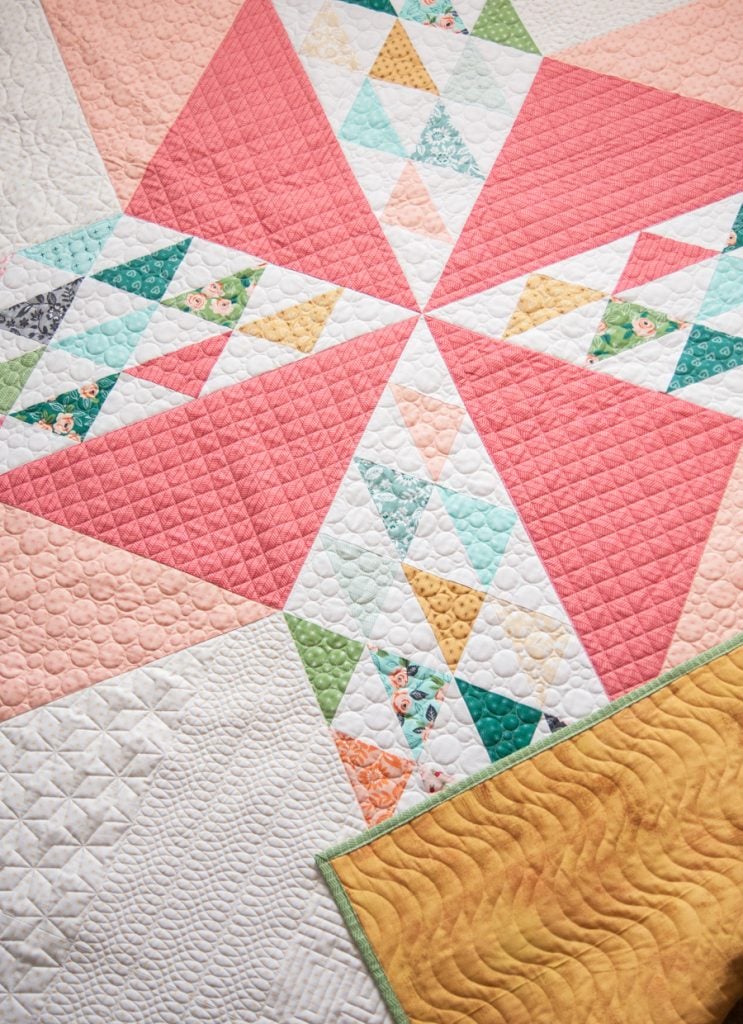 Well! I'm getting ready to pack all these Sugar Pie fabric quilts up and get on an airplane to Houston for International Quilt Market. I hope you like Sugar Pie and the new patterns. The fabric ships to ships March 2017 but you can find all the new patterns in my shop now. You can get 10% off your entire order when you place it before November 1 and enter the promo code QUILTMARKET at checkout.