Baby Shuffle
It isn't typical that I have time to make a full tester quilter for my projects. (There just aren't enough hours in the day.) Today's your lucky day–meet a cute little exception to that rule: my Shuffle pinwheel quilt pattern.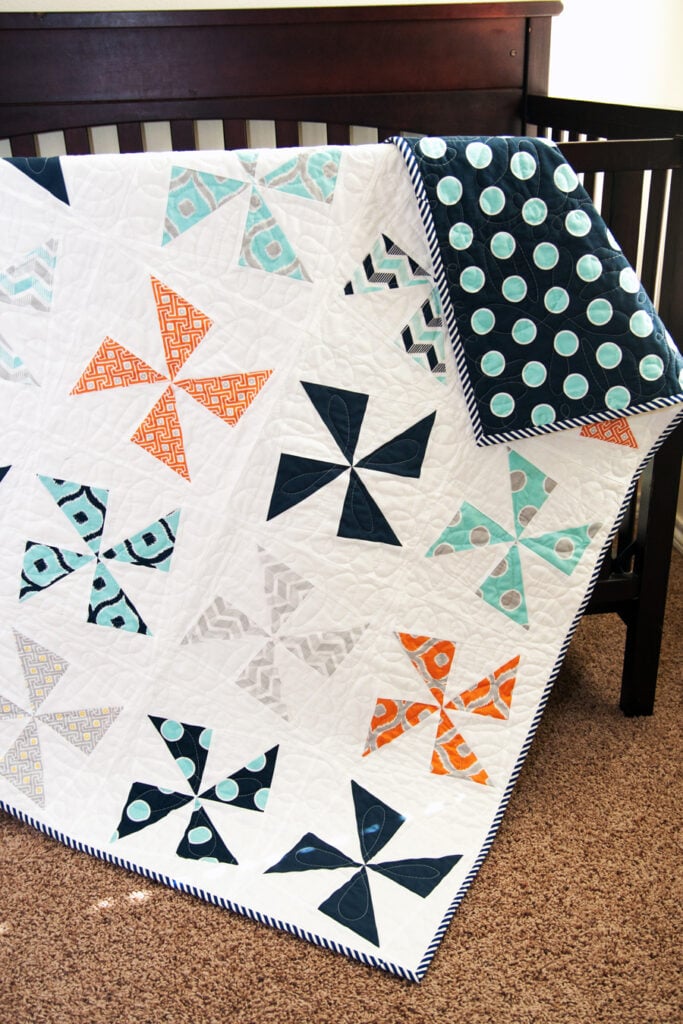 This sweet pint-sized version of my Shuffle quilt pattern was made with Mixologie fabric by Studio M for Moda. I quilted it with a whole bunch of crazy, free-motion loops. (Check out my free motion quilting tutorial here to try some loops of your own!)
Make it Smaller
Because I made it for a baby gift, I made a few changes that I wanted to share with you in case you'd like to make your own baby Shuffle. For this Mixologie version, I made 20 blocks (instead of 42) and arranged them into 5 rows of 4. It finished at 44 x 55″. I only needed 3 yards of back fabric and 6 strips 2-1/2″ x WOF for the binding.
Of course, if you want to make one a little bigger, you can make 30 blocks and arrange them into 6 rows of 5. It should finish at 55 x 66″ and you will need 3-3/4 yards of back fabric and 7 strips 2-1/2″ x WOF for binding.
Now if you could just see how cute the new owner is.