APQ Quilt Along: Go Four It!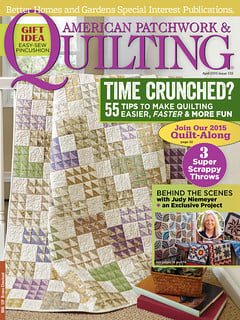 Time for the APQ Quilt-Along for 2015. The theme is "Go Four It!" and features THREE fantastic designs showcasing four-patches.
To join along, just grab your April 2015 copy of American Patchwork & Quilting and choose from Rainbow Rows by Lissa Alexander, Buried Treasure by April Rosenthal, or Scraptacular by Edyta Sitar. (Officially hits newsstands Feb 2.)
I'm making April Rosenthal's Buried Treasure quilt found in the April 2015 issue of American Patchwork & Quilting.
I've decided to mix some of the lighter mints and reds from Into the Woods with Kate & Birdie's new Winterberry line. I ADORE these colors together. Follow me on Instagram @lellaboutique to see how it all comes together.
Check out all the other quilt bloggers participating: