Miss Americana Flag Quilt (Old Glory Fabric)
Three cheers for another version of the "Miss Americana" flag quilt. Last week, you got to see the blue background version, and now I'm ready to show you the one with white background. Made in Old Glory fabric, this quilt boasts of the sweetest reds, whites, blues – with a fun pop of grey in the mix. "Miss Americana" is a beginner friendly 4th of July quilt that comes together in a snap. It's sure to be your favorite for those summer nights under the stars!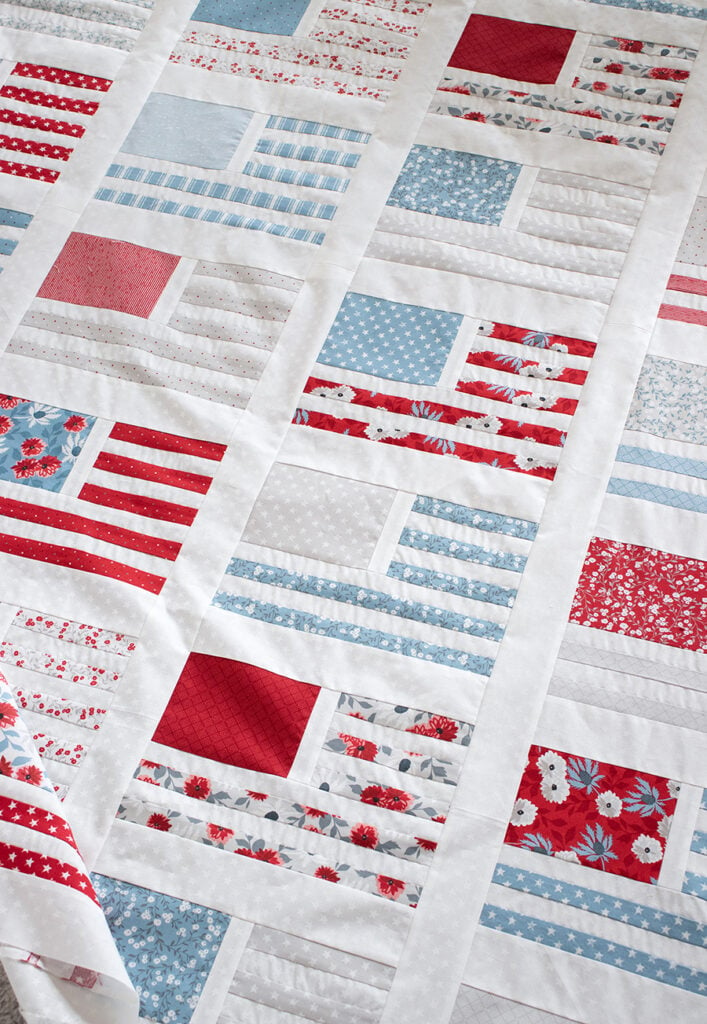 I love the look of a crisp, freshly-finished quilt-top before it goes to visit the long arm quilter!
---
Pattern Tidbits
This "Miss Americana" flag quilt pattern can be made with (20) fat quarters -OR- a combination of a Honeybun (40 strips 1-1/2″ x WOF) and 7 fat eighths. If you use (20) fat quarters, each fat quarter yields (2) stripe sets + (2) rectangles – which you will then mix and match to create your favorite flag combos. With the Honeybun/fat eighth combo: each Honeybun strip will provide a stripe set, and the fat eighths will yield the rectangles.
I've mocked up a few versions of Miss Americana to show different background options – checkout out the Miss Americana Quilt Layout Page here.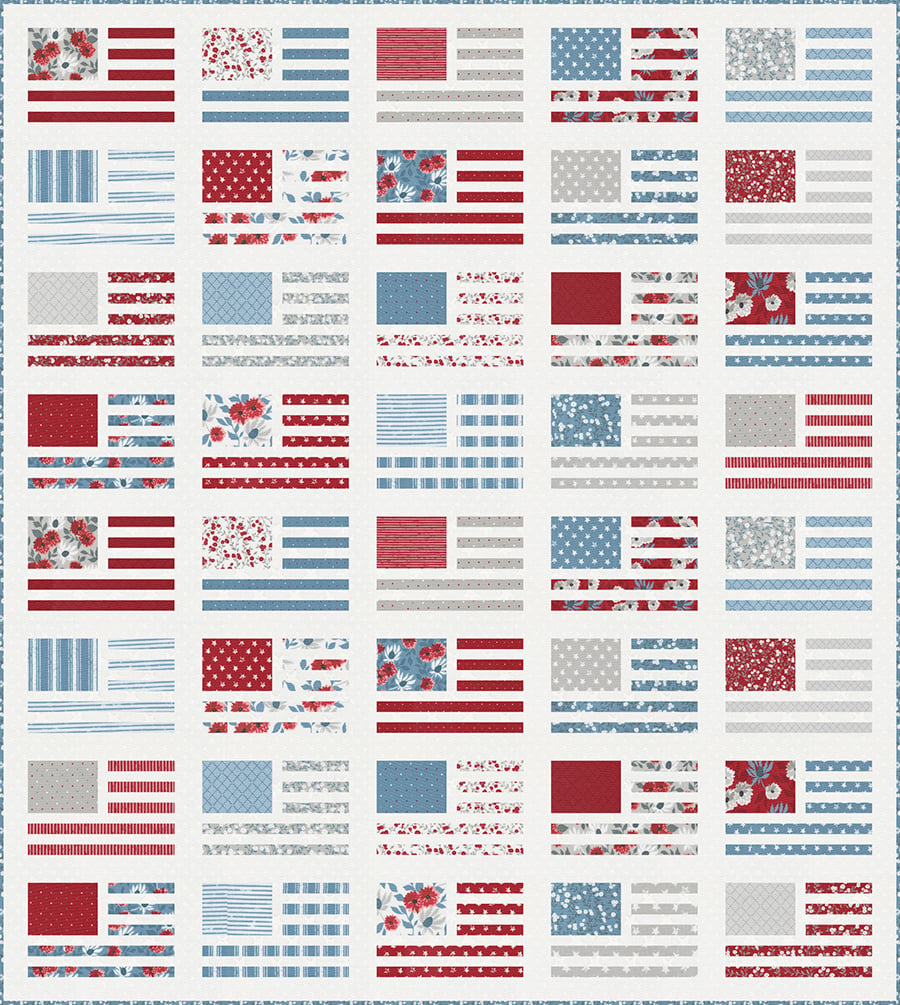 ---
Designer Boxed Kits
Moda is offering the white-background version of the "Miss Americana" quilt as a boxed kit in Old Glory fabric. If you think you will be interested in one when the fabric arrives in February, reach out to your favorite local or online shops to request one. (Let's support these wonderful shops.) Your input helps shops ensure they can meet the demand when a collection arrives since Moda only does a single printing of any given collection.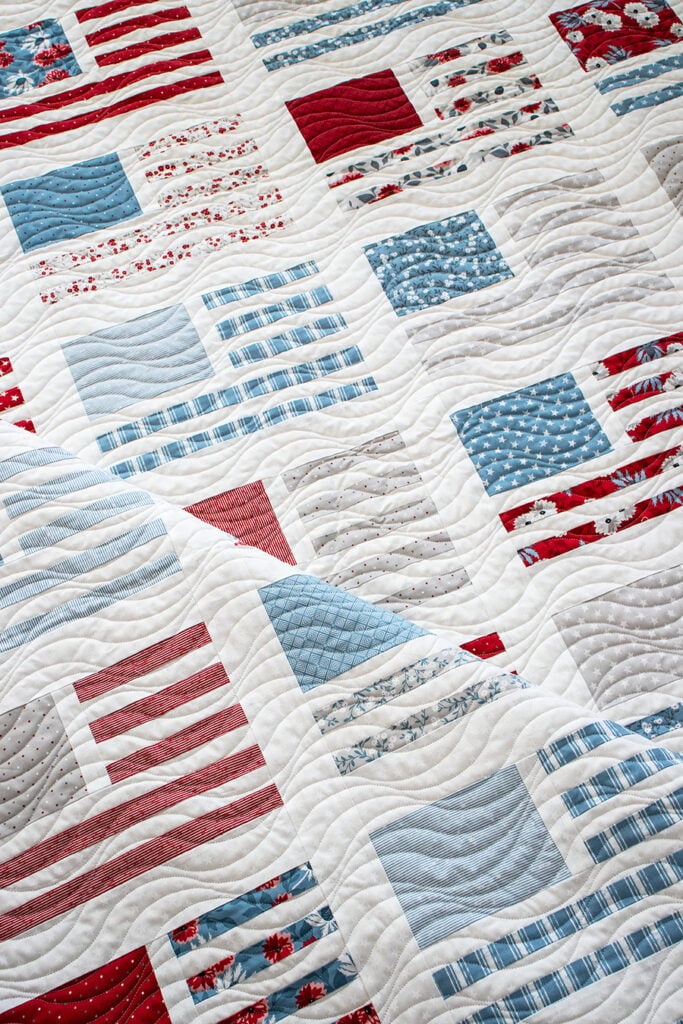 ---
Quilt Details
Pattern: "Miss Americana" by Lella Boutique
Fabric: Old Glory by Lella Boutique for Moda Fabrics (arriving Feb 2024)
Finished Block: 6-3/4″ x 10-1/2″
Finished Quilt: 65″ x 72-1/2″
Skill Level: Confident Beginner
Pantograph: "Modern Waves" from Wasatch Quilting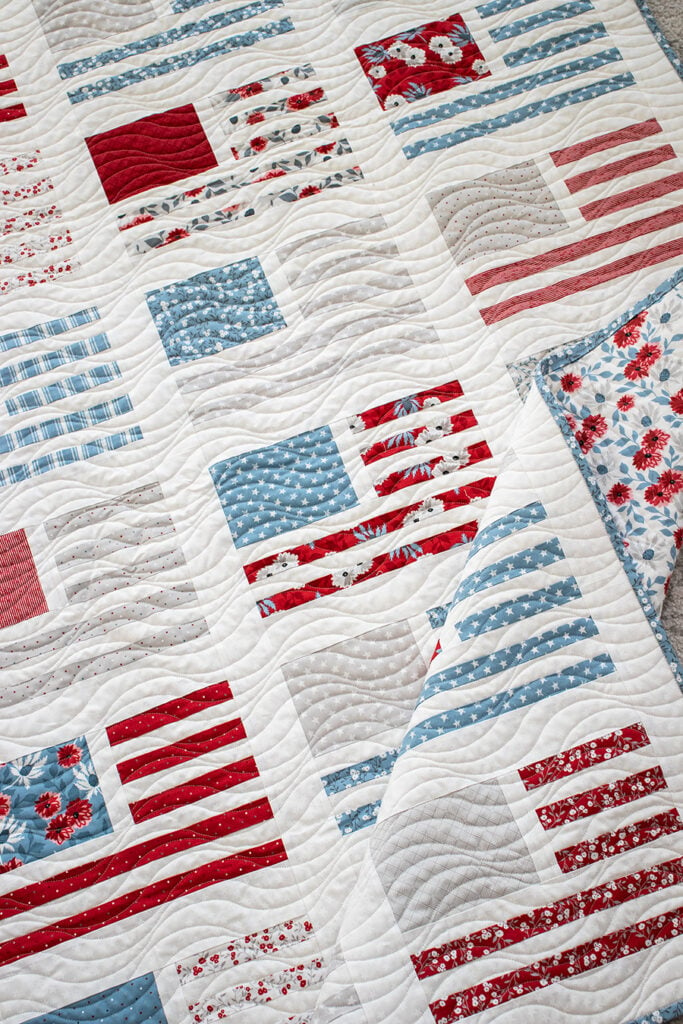 Have you made a flag quilt before? Let me know in the comments below. I know not all of my followers are American, do you make flag quilts to represent your country as well?
---
Like this post? Drop your email in the box below to get new post notifications via email.