Coming July: 'Tis the Season Panel + Chenille-It Sew Along
With Christmas Eve fabric now in shops, it's time to get ready for the Lella Boutique + Chenille-It Sew Along coming up on July 10. This sew along is different than any you've ever seen before. We're taking my new 'Tis the Season quilt panel and embellishing it with Chenille-It "blooming bias" ribbon to give it a wonderful, fluffy texture detail. I hope you will sew along with me and give it a try! This weekend, one of my lucky readers (you) have a chance to win a kit including the panel + Chenille-It blooming bias kit and instructions needed for this project. (Read on…) ***GIVEAWAY NOW CLOSED***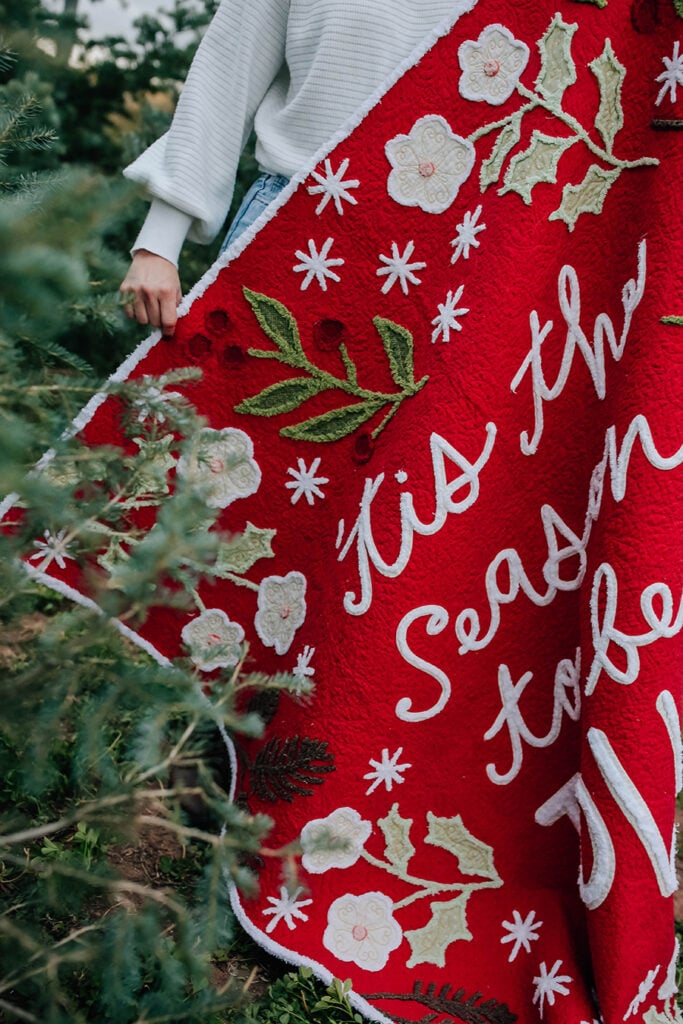 ---
Kit Info
Get your supplies – we've got just over a month before it begins. We want to make sure there are enough supplies to meet the demand for everyone who wants to participate. SO. If you are a shop owner (or if you know of a shop) carrying the 'Tis the Season panels or Chenille-It kits, please let us know! I do know that Nanette at Chenille-It has a few kits left (full or partial). But the goal is to support ALL shops who have supplies.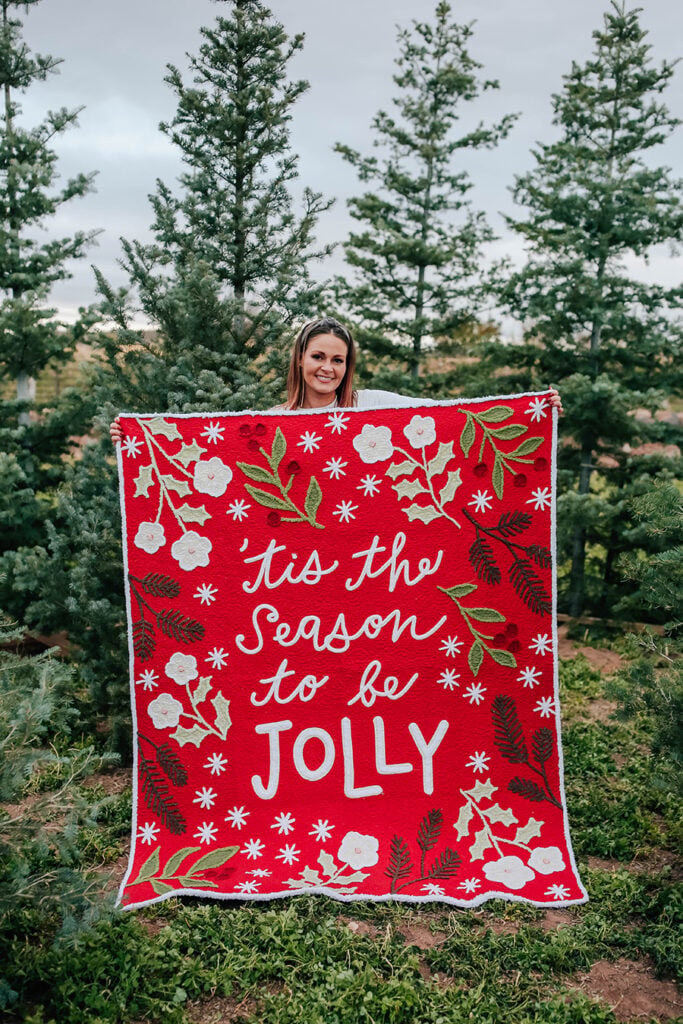 The Materials List:
Here's what you'll need for this sew along:
(1) 'Tis the Season panel (58″ x 73″) from the Christmas Eve collection by Lella Boutique for Moda Fabrics
4 yards backing fabric (we used SKU #5181 14, but you can pick your favorite print)
66″ x 81″ batting
Plus, here's what you'll need in the Chenille-It Blooming Bias ribbon:
Other Notions:
Elmer's glue stick (the washable "school" kind)
---
The Schedule
The sew along will go for 4 weeks as outlined below. I have to give a special shoutout to Nanette at Chenille-It for creating video tutorials on the Chenille-It YouTube for all of us newbies. We are so excited to learn from the expert herself! The sew along will take place here, on my blog. (Make sure you're subscribed so you can get notified when new posts are up). Here's the schedule:
WEEK 1 (July 10-16): Stitching the white Blooming Bias onto the letters / stars
WEEK 2 (July 17-23): Stitching the other Blooming Bias colors to outline the floral elements
WEEK 3 (July 24-30): Quilting – either free motion quilt it yourself or send it to the long arm. (You may want to get a long arm quilter scheduled in advance.) For long arm quilting, we suggest a more open pantograph that is not too dense – or even better – custom quilting that quilts around the Chenille-It outlined areas.
WEEK 4 (July 31-Aug 6): Binding with Chenille-It
---
Giveaway
You KNOW there are going to be prizes for this sew along, and that begins today! Nanette at Chenille-It and I have teamed up to give away a 'Tis the Season + Chenille-It kit. This will include the panel + the Chenille-It blooming bias ribbon needed. (Does NOT include backing fabric or batting.)
TO ENTER:
***GIVEAWAY NOW CLOSED*** Congrats to Annie Whitmore!
1- Follow both @lellaboutique and @chenilleit on Instagram – and leave a comment on this post letting us know you did. (Scroll down past the comments to the bottom of the page to get to the comment form.)
*BONUS entry if you follow Chenille-It's YouTube channel here. (Make sure you let us know in the comments about this as well, we will verify before announcing the winner.)
Good luck! Winner will be announced Monday 6.12.23!