Dashing Quilt in Christmas Eve Fabric
Here's a quilt inspired by a star that lit up the darkness on that first Christmas night. Meet "Dashing" – a quilt made up of dozens of little fancy triangle blocks that can be arranged a variety of ways. It shines bright in Christmas Eve fabric – but is one of those versatile quilt patterns that would be stunning in any collection. It's beginner friendly (using an easy half-square triangle technique + traditional piecing) and uses 32 fat eighths. Pattern is available in the shop now in PDF or printed booklet formats.
Once I finished making the "Dashing" blocks, I played around with the arrangement and color placement for quilt a while. Even though I rotated my blocks around a center star formation – there are no real rules here. I've included a materials list below. The specific SKUs refer to Christmas Eve fabric arriving May 2023 – but you can make any substitutions you like. It doesn't even need to be a Christmas collection. Use any fat eighth bundle in your stash, or use fat quarters to double up on prints for a less scrappy look.
Materials Needed
(32) fat eighths assorted prints (I used 32/35 prints from the fat eighth bundle of Christmas Eve)
3-3/4¾ yards background fabric (Moda Bella Solid #9900 283 "Lead")
3/4 yards binding fabric (SKU 5186-13)
4-3/4 yards backing fabric (I used SKU 5181-16 but you could use anything you like)
81" x 81" batting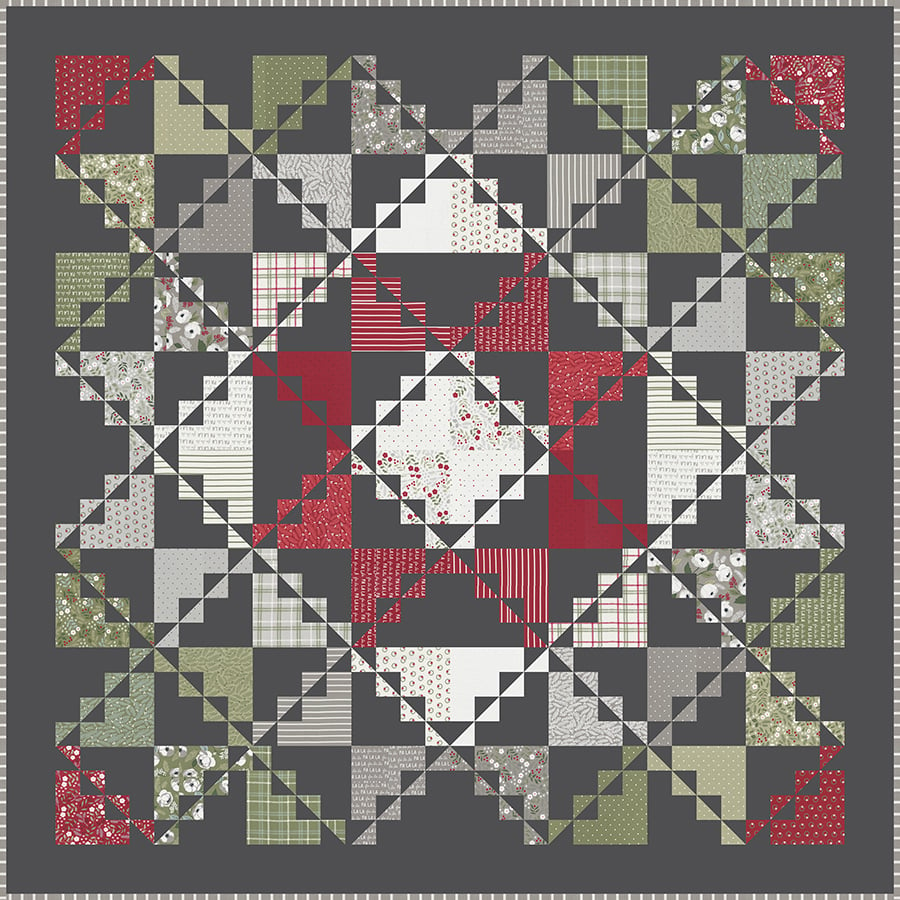 ---
Quilt Details
---
Alternate Color Option
If a charcoal background isn't your thing – take a look at the Dashing quilt with the "Merry Dot" in Snow (SKU 5187-11). I haven't had a chance to make this one yet, but it's on the list.
Have you ever made a quilt with a dark background? Share your thoughts in the comments!
Don't miss out on a single post! Drop your email box below to get post notifications via email.