Country Rose Matching Solids
Matchmaker, matchmaker, make me a match. Let's get into the details about coordinates for Country Rose fabric.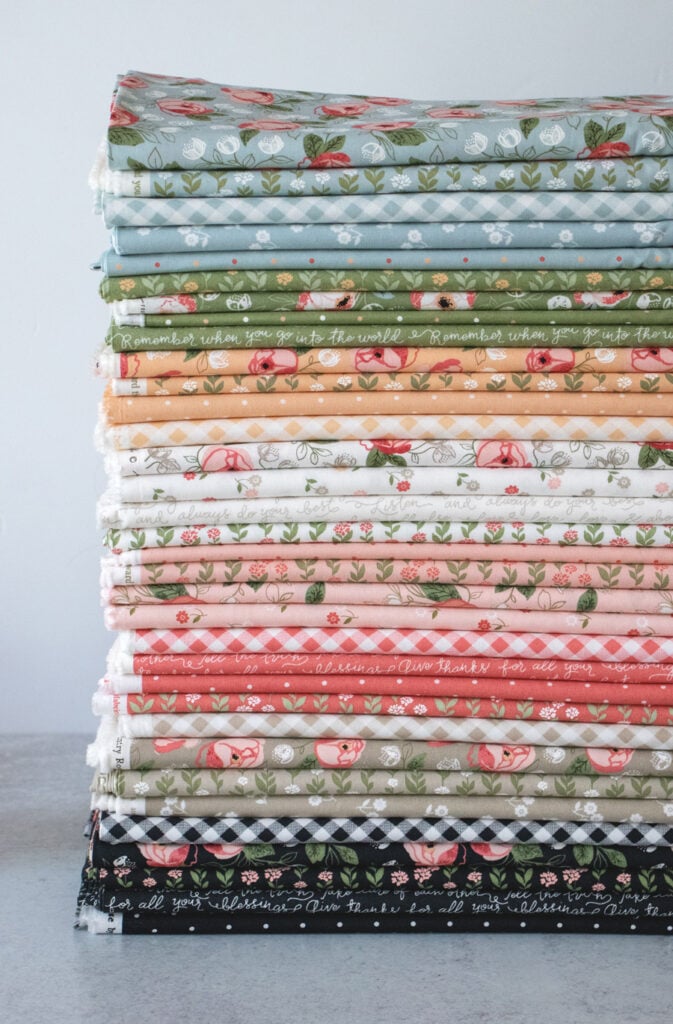 Blending in with Other Collections
As I have mentioned before, this is a sister collection to Farmer's Daughter from several years ago–with the addition of a dusty blue this time around. If you have existing precuts or yardage of Farmer's Daughter, these two mix well. Please just note that the yellow / greens are not exact matches. (The greens and yellows of Country Rose are more muted/deeper.) Also to note: the blues of Country Rose match the blues in Folktale; the pinks and green of Country Rose match those in Love Note. Here is a visual comparison: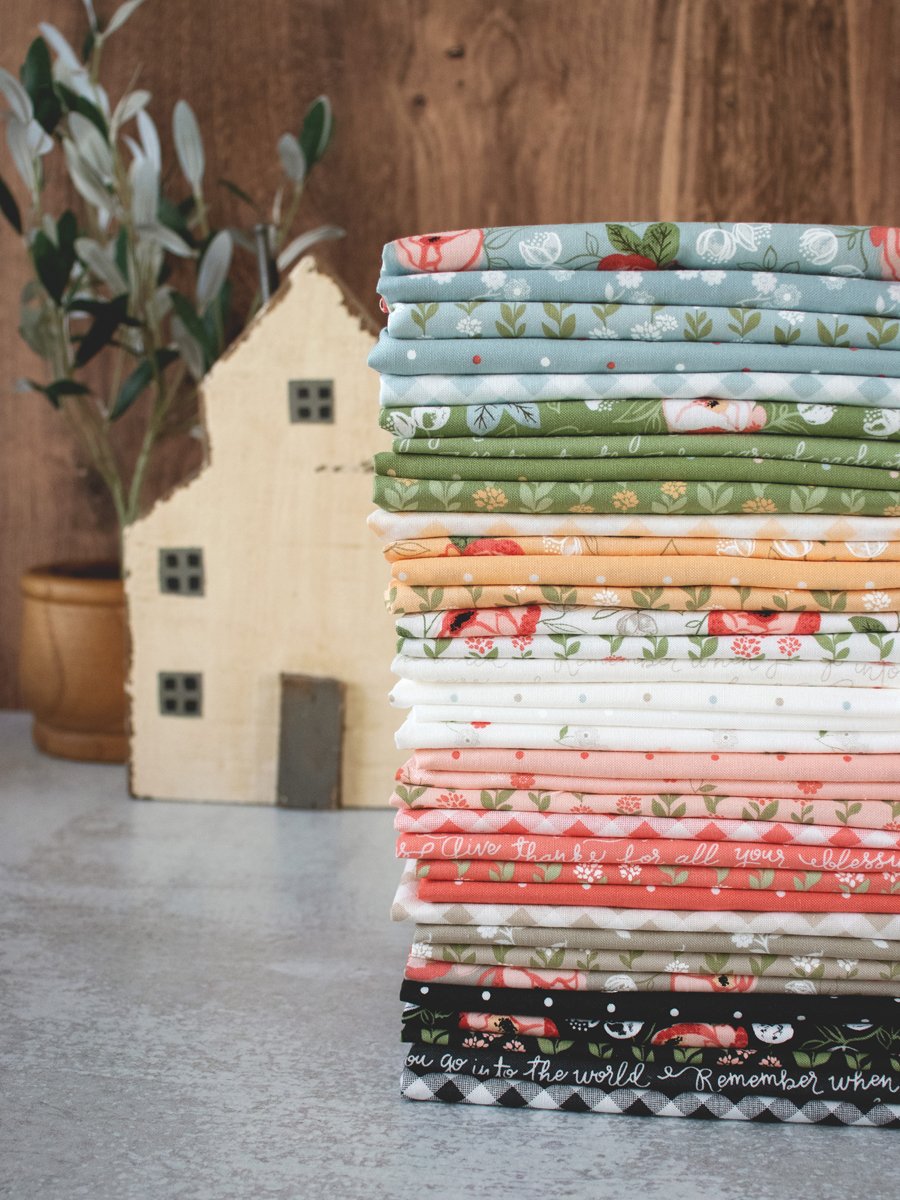 Magic Dot for Backgrounds
The Country Rose fabric collection was designed with a near-solid already built in for backgrounds and accent prints. Keep your eye out for that "Magic Dot" print – the popular dots you may recall from the past few collections. These sell out quickly. The picture of the fabric stack at the top of this post doesn't even have the white-on-white or multicolor-on-white in it – I already used it all up before this picture was taken, ha. Needless to say, I will be ordering a bolt of each for my personal stash. I use them for anything and everything.
Also noteworthy to point out again – the blue "Magic Dot" in this collection matches the blue in my Folktale collection. The Spring Fling quilt from that collection – boasting of its blue background – spurred dozens of emails alone from quilters looking for yardage or the blue dot background. This is your chance to get it again if you've been looking for it.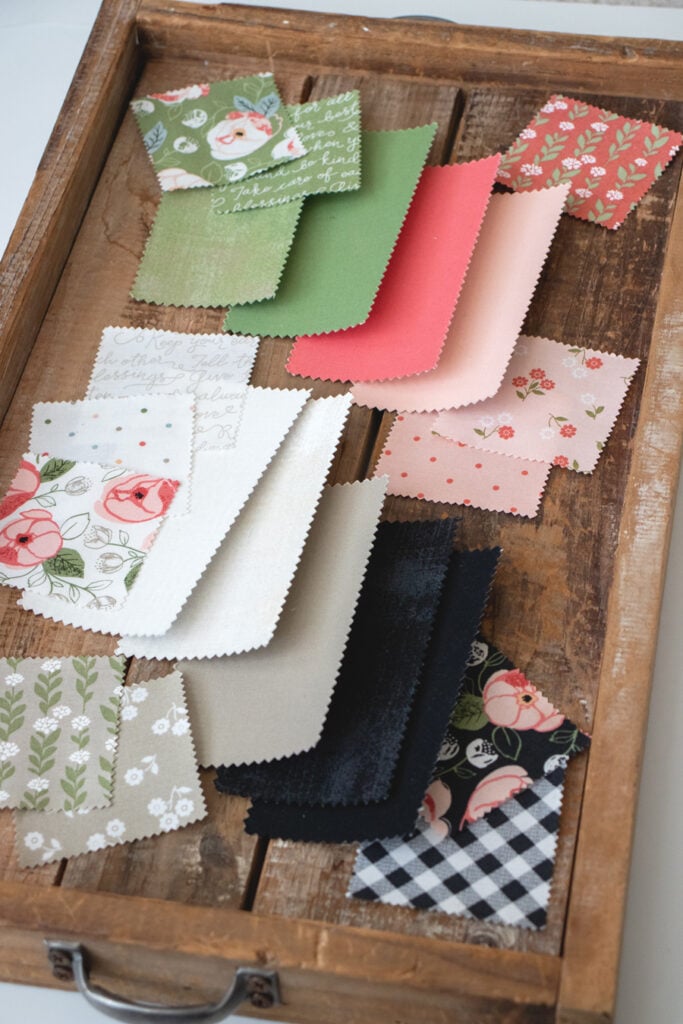 The Bella + Grunge Coordinates
At some point after the collection ships, the "Magic Dot" prints within Country Rose will sell out. Here is a a backup list of solids and near-solids so you can stock up on to combine with the Country Rose precuts and yardage in your stash. It is important to note I did not find a suitable match for the blue or golden yellow of the group – be sure to get extra of those "Magic Dot" colors.
Moda Bella Solids:
9900 102 "Prairie Green"
9900 299 "Flamingo"
9900 88 "Bubble Gum"
9900 200 "Off White"
9900 310 "Taupe"
9900 284 "Charcoal"
BasicGrey Grunges:
30150 83 "Spearmint"
30150 91 "Vanilla"
30150 99 "Onyx"
Hope this was helpful information! Please leave a comment if you have another other questions.