Busybody Pinwheel Quilt in Blue
Here's to dreaming of breezy summer afternoons, popsicles, and pinwheels. There is something so whimsical and happy about the pinwheel shape – probably why it's a favorite shape in the quilting world. This quilt is called Busybody – a pinwheel quilt with something a little oomph. It reminds me of a tile floor – wouldn't a black and white version be wonderful?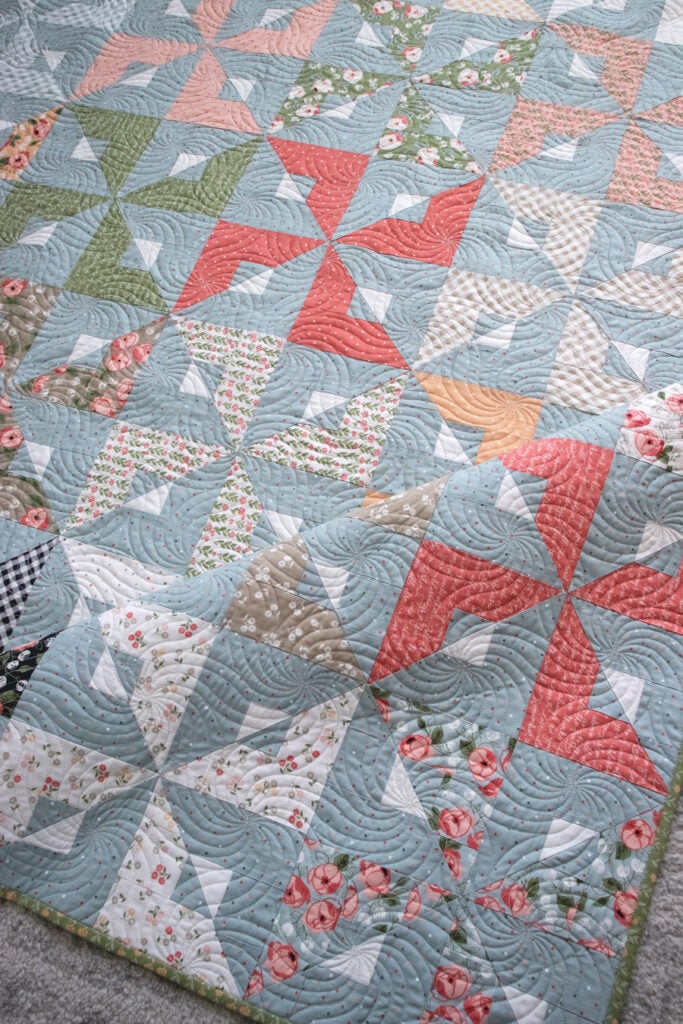 Fabric
Busybody is precut-friendly and is modeled here in Country Rose fabric. Make it with a Jelly Roll (precut 2-1/2″ strips) or Layer Cake (precut 10″ squares). In this version, I've used the smokey blue "Magic Dot" (SKU 5175-15) for the background and the cloud "Magic Dot" (SKU 5175-11) for the accent triangles. (For reference, this smokey blue color matches the blue in my Folktale collection.) To see a full materials list for this project, view the Busybody pattern details here.
Quilt Details:
I had never seen this pantograph before and absolutely love it. (This is why I love my long arm quilters so much – I always feel confident handing my quilt-tops over to them and letting them pick out what would look the best!) My good friend, Katie at Katie's Quilting Co knocked this one out of the park.
This is not the only color option so stay tuned for more Busybody mockups in the future. What do you think of the blue background on this one?