Gift Swap Quilt in Christmas Morning Fabric
Now that Christmas Morning fabric is in shops, I figured I should show you the Gift Swap quilt in these fabrics. Goodness, I didn't think initially that I would need to make another Gift Swap quilt, but I'm starting to seriously reconsider!
Gift Swap Quilt in Christmas Morning Fabric
The Gift Swap quilt is a mini-block version of my Nice List quilt. Nice List's finished block is 9-1/2″ x 9-1/2″ and can be made with a Layer Cake (i.e. precut 10″ squares). Gift Swap's finished blocks are half that size (4-1/2″ x 5-5/8″ including the bow) and can be made with 2 charm packs (84 squares 5″ x 5″), 11 fat quarters, or scraps. I went with a grey background for both quilts since Christmas Morning fabric has a lot of pretty lighter prints I didn't want to leave out. The mockup uses 2 charm packs. There were a couple grey prints I didn't want to use (they blend too closely with the background) so I added a fat quarter of the cranberry red "Comfort" print to replace a few of those.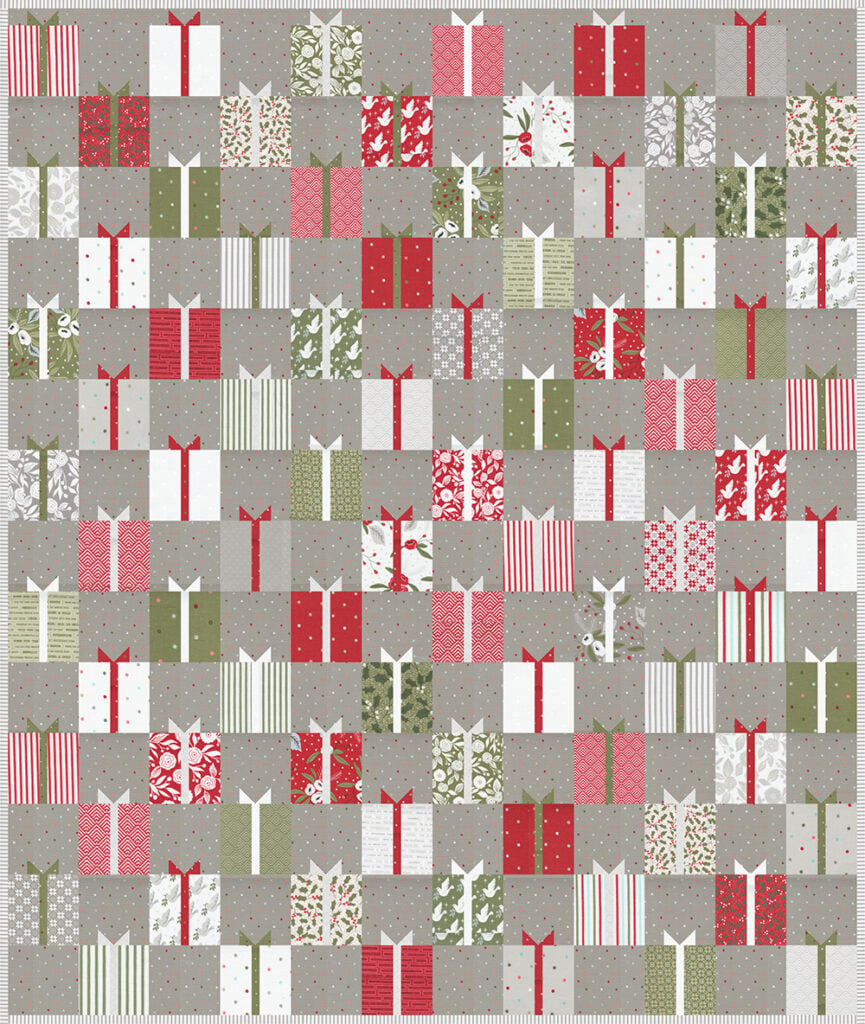 Materials Needed
I wanted to give a complete materials list of Christmas Morning fabric SKUs to make this exact version. You can provide this list to your local quilt shop to help put a kit together:
Finished block: 4-1/2″ x 5-5/8″
Finished quilt: 54-1/2″ x 65-1/4″
2 charm packs of Christmas Morning fabric (you can use 11 fat quarters for a less-scrappy look)
(4) fat quarters for assorted bow prints (SKUs #5146-11 "Comfort" in "Snow," #5147-21 "Magic Dot" in "Snow," #5147-15 "Magic Dot" in "Pine," and #5147-16 "Magic Dot" in "Cranberry")
2-1/8 yards background fabric (SKU #5147-13 "Magic Dot" in "Dove")
3/4 yard binding fabric (SKU #5148-14 "Yuletide Stripe" in "Dove")
4-1/2 yards backing fabric (I would recommend one of the grey prints like #5140-13 "Snow Blossoms" in "Dove" or #5140-12 "Lovey Dovey" in "Silver.")
63″ x 74″ batting
For another mockup idea, here's how it looks with a darker background – Moda Bella Solid "Charcoal."
The Original Gift Swap
Check out the first Gift Swap quilt I made using Rifle Paper Co's Holiday Classics collection. I don't know about you but I love seeing how different a quilt can look in different collections. This is a good example of how it looks with a light background. Full details for this version is available here.
Which version do you like best in Christmas Morning fabric? Let me know in a comment below!
---
Like this post? Drop your email in the box below to get new post notifications via email.