June's $5 Pattern: Shuffle
I'm still piecing new quilts in Love Note fabric… next up is the Shuffle pinwheel quilt! It also happens to be the new $5 pattern quilting pattern for June 2021.
June $5 Quilting Pattern
Love Note Fabric
I'm piecing this wonky pinwheel quilt using 2 charm packs of Love Note fabric (due to arrive November 2021). It is recommended to use 2 charm packs of the same collection… Of course, you can mix collections if you desire–it will merely result in mixed-print pinwheel blocks. If you don't have charm packs on hand, you can make your own using what is in your stash. (Collect 42 matching pairs of 5″ squares total from scraps or 11 fat quarters.)
I'll be piecing the blue version first. For the white block background fabric, I'm using the white-on-white "Lovey Dot" heart print (SKU 5155-21) + the bluish "Herringbone" print (SKU 5154-12) for the quilt background + the tea rose "Distressed Stripe" print for the binding.
One more thing: On the materials list, I've listed an optional fat quarter as a "charm alternative." This is a great way to skip using any charm print that matches the background or is otherwise undesired. Perhaps you'd like to add in more of a certain print/color to the balance of a quilt overall. No matter the reason, this single fat quarter will yield 12 charm squares or = 6 matching pairs. I'm using a fat quarter of the "Lovey Dot" print in "Tea Rose" pink to replace a couple in the one I'm piecing.
Oh and I also mocked up the quilt with the "Herringbone" print in "Cloud" color (SKU 5154-11).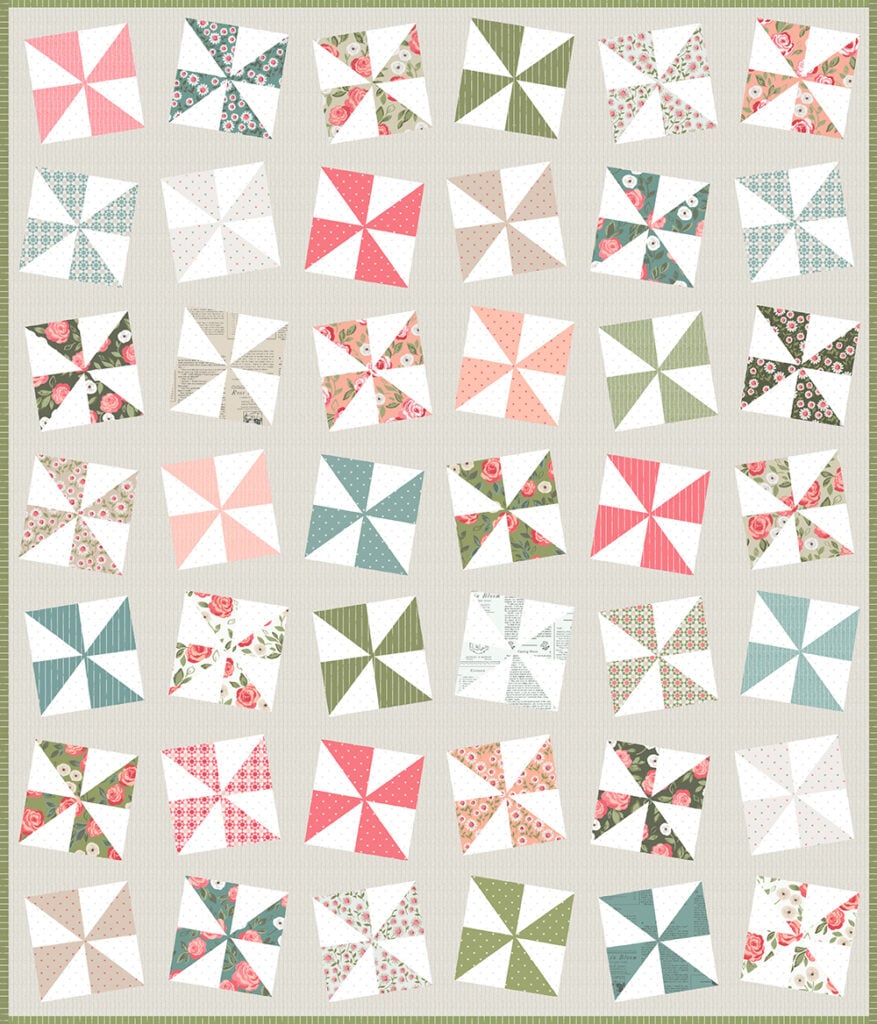 Partial Seams Technique
The Shuffle quilt's skill level lies somewhere between beginner and intermediate. The pinwheels are made with a half-square triangle method which is considered a beginner method. The wonky pinwheels get their off-kilter look by sewing triangle units around the perimeter using a partial seam technique. (This is not as scary as it sounds, trust me! In fact, I think it's extra fun because of how 'different' these blocks are to make.) Here's the gist of what sewing with partial seams looks like for this block:
After the pinwheel blocks are assembled, bring 1 triangle unit RST (right sides together) with 1 pinwheel block. Aligning raw edges on the left side, begin stitching–stopping to leave the last 2″ of the pinwheel block unsewn. Press the partially stitched portion of the block.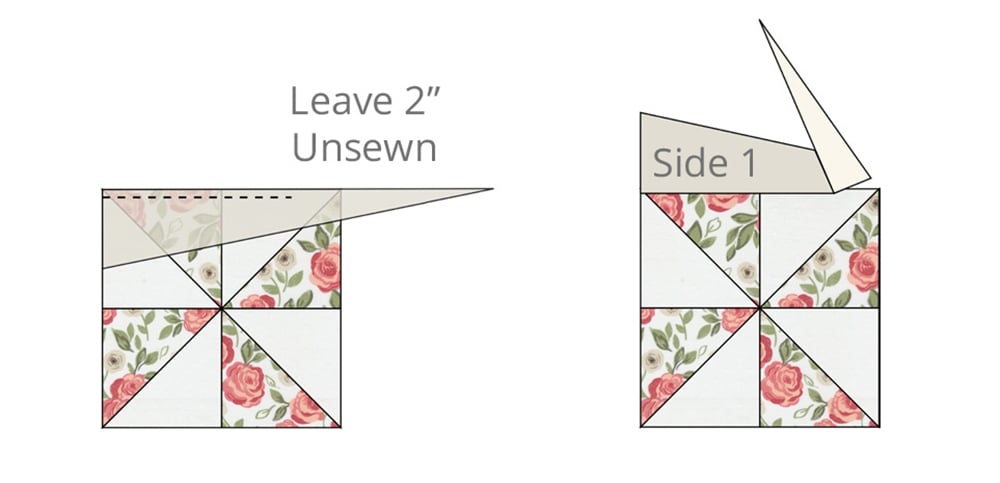 Rotate the block clockwise and add the next triangle ("Side 2"), sewing all the way across. Press. Repeat (i.e. rotate clockwise, add the next triangle, and press) until you are back to the beginning ("Side 1"). Now you can finish stitching the first triangle all the way across! From there, square up the block to get rid of the little tails. Pretty neat, huh!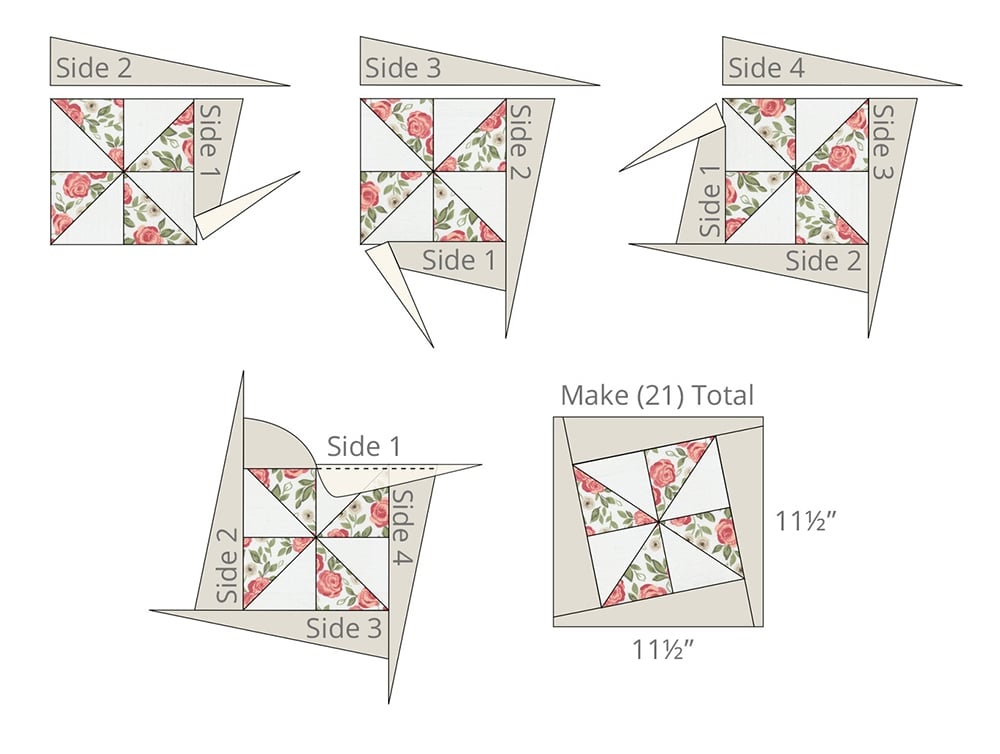 You'll make (21) blocks that lean to the left as demonstrated above + (21) blocks that lean to the right (in a similar fashion, as directed by the pattern). I hope this helpful information, please let me know if you have any questions in the comments below.
What do you like must about this shuffle pinwheel quilting pattern? Let me know in a comment below!
---
Like this post? Drop your email in the box below to get new post notifications via email.