Made with Love (Heart Quilts + Sewing Projects)
Love is always a reason to celebrate.
With Valentine's Day just around the corner, I'm pulling all the heart quilts out of the cabinet for a turn in the sun. Here is a little about each of them (and where to find the pattern).
Heartthrob Jelly Roll Quilt
This is Heartthrob. It's made with 9 fat quarters + 1 Jelly Roll (40 precut strips measuring 2.5″ x WOF). If you don't already have a Jelly Roll precut laying around, you can make your own from yardage or scraps you already have in your stash. The Heartthrob pattern is found in my book: Jelly Filled – 18 Quilts from 2 1/2″ Strips. (Quilting by Marion Bott; pantograph is Sand Dollars by Mike Fountain.)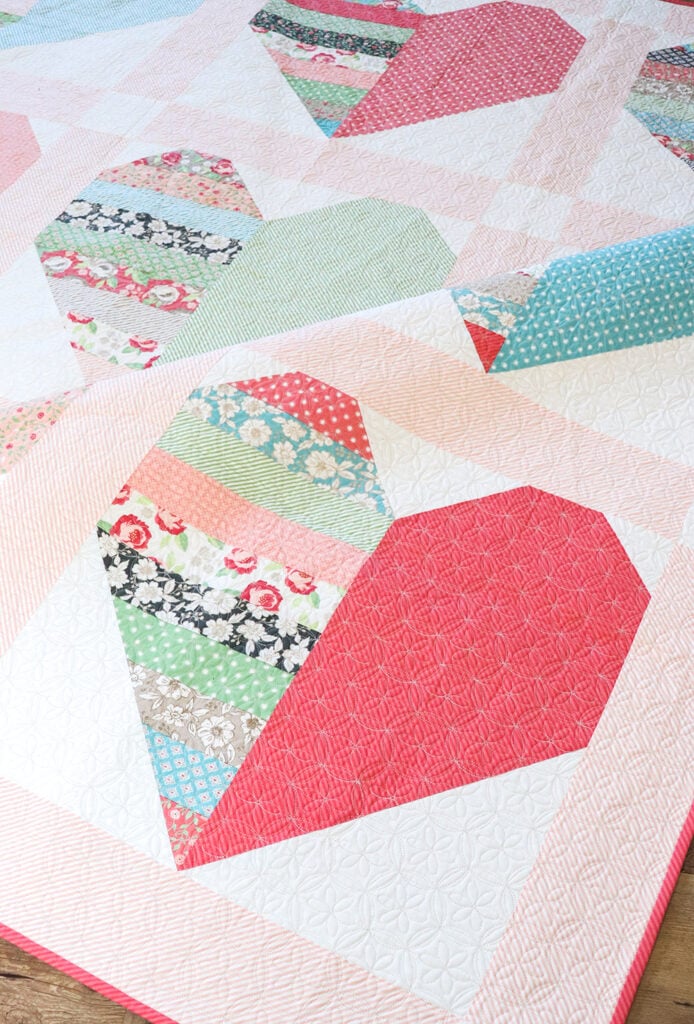 The Heartthrob quilt above is made from my Bloomington collection from Moda Fabrics; the version below uses Garden Variety.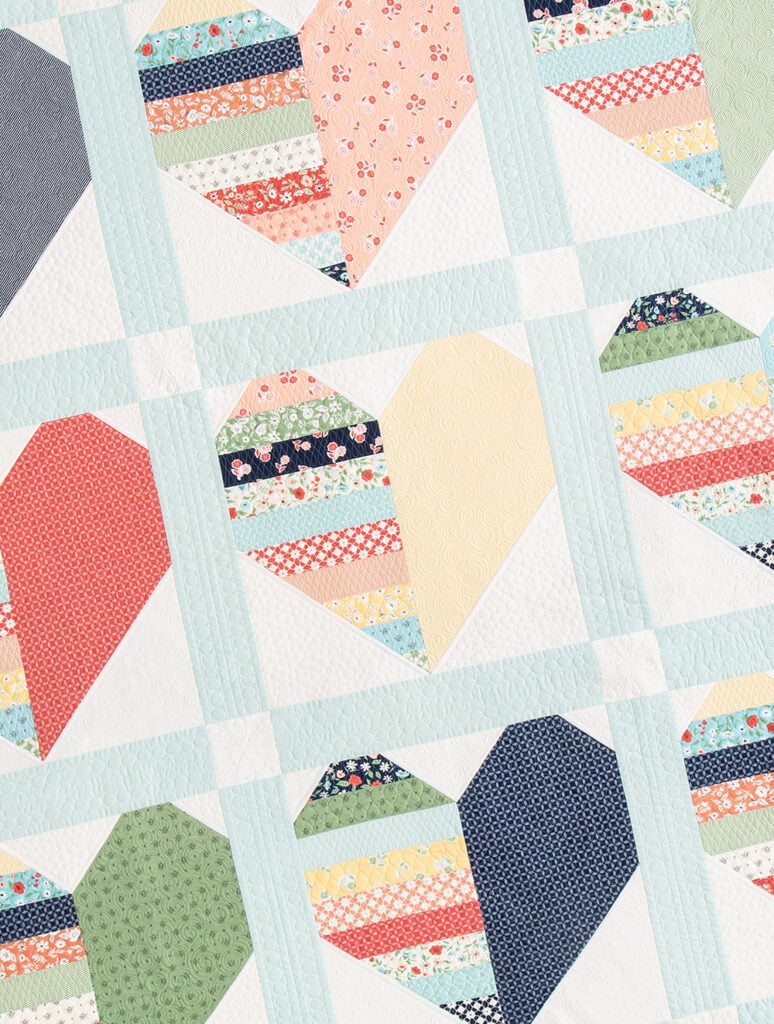 Open Heart Fat Quarter or Fat Eighth Quilt
Next up, we have the Open Heart quilt. This one can be made with 30 fat eighths or 15 fat quarter depending on how much variety/level of scrappiness you are going for. Both versions are made with Olive's Flower Market fabric. The version below uses Moda Crossweave in Charcoal for the background. (Sidebar – if using Crossweave, I always recommend prewashing since it shrinks a lot more than the regular cotton prints. This means you will also want to buy extra yardage.)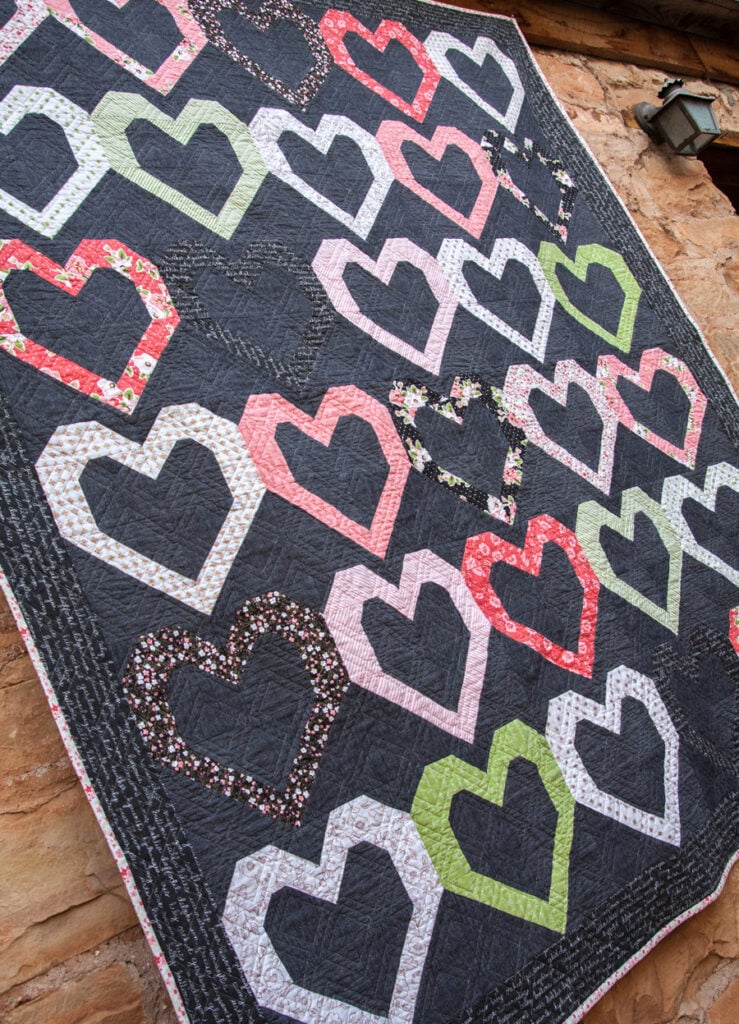 The version below uses Moda Bella 9900 98 "White Bleached" solid as the background.
Mini Open Heart Pin Cushion
This last project isn't a quilt but it sure makes a fun, quick project. This is the Mini Open Heart Pin Cushion pattern and is made with 1 mini charm (precut 2.5″ squares). In fact, 1 mini charm pack (plus a little white background fabric) will yield enough to make 3 pin cushions. This makes a pretty sweet gift for your sewing friends & family. That sweet little heart patchwork block finishes at 4″ x 4″, for reference.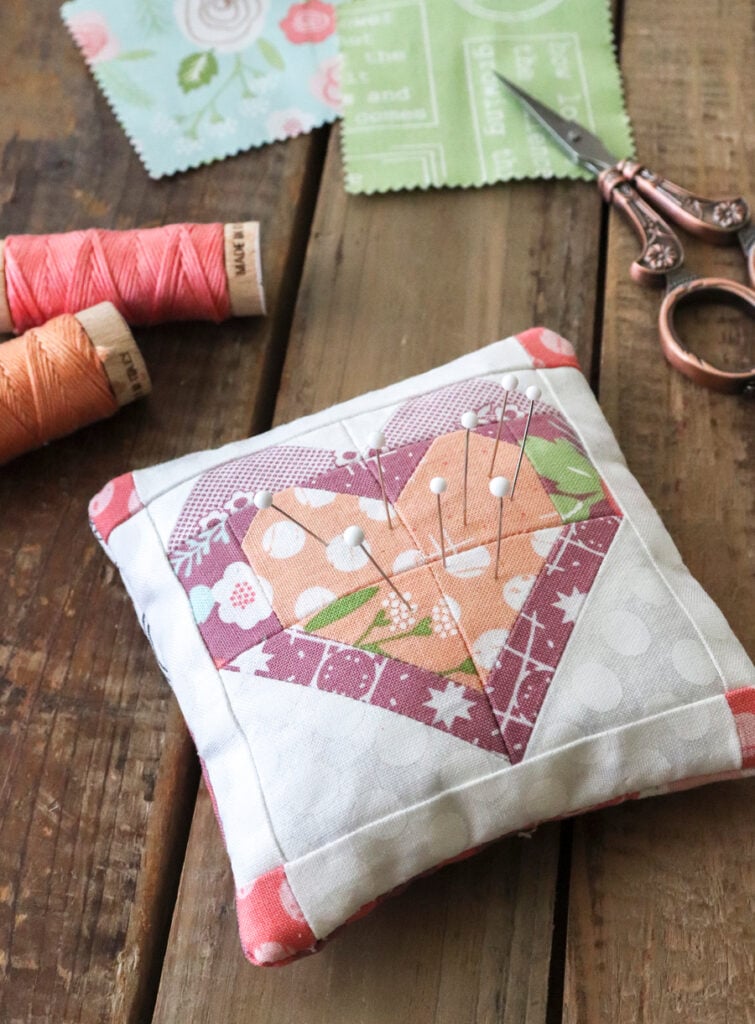 Of course, if you don't have the time to make the pin cushions, you can gift the pattern with mini charm pack (and some sweets) like I did. Who wouldn't love getting a valentine like that?
---
Like this post? Drop your email in the box below to get new post notifications via email.