Moda Love Blog Tour + free pattern
Hey there! Today is my turn on the Moda Love Blog Tour and I'm thrilled to have you here. If you're visiting for the first time, I'm Vanessa Goertzen of Lella Boutique and am a new designer for Moda. My first collection Into the Woods shipped to shops last month and I couldn't be more thrilled to be a part of the Moda family!
Speaking of family, I'm quite fond of mine! I'm mother to two spunky children named Olive and Lorenzo. These sweeties keep me running in circles all day, but I would not have it any other way.
Since the Moda Love Blog Tour is all about LOVE, I'm answering a few questions about my LOVE of quilting:
When did you start quilting and what was your first project? My mom taught me to sew at a young age, but it wasn't until I was 15 that I really took an interest in quilting. One afternoon, I discovered her working on a pixelated sunflower quilt. It was so cheery and wonderful that I just had to make one. Of course, I wanted to add my own special touch, so I designed some smaller pixelated flower blocks to incorporate into a border. I was having a great time making it all up as I went along, adding sashing (of various widths) and corner blocks as I pleased… Of course, nothing really lined up quite as I had envisioned but I think the saving grace was a sweet poem I embroidered into the border about sunflowers and their quest for light. Despite its many imperfections, the quilt has always been a meaningful reminder to seek the good things in life.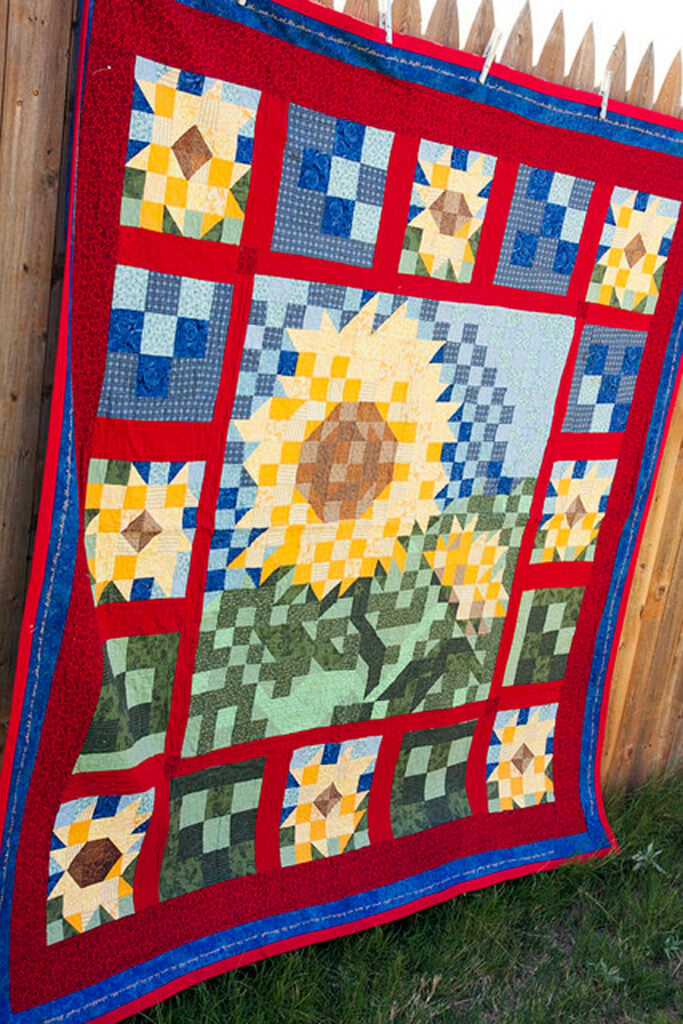 What is the best part of your design process? I love the challenge of coming up with something new by letting the fabric do the talking. Each collection speaks to me in a different way and I love exploring new possibilities that each one brings. Playing with fabric every day is the best job in the whole world.
What fuels you to create? Because I do much of my work after everyone has gone to bed, sweets literally fuel my creativity in the wee hours of morning. Some of my favorites are Twizzlers, Swedish Fish, and Riesens.
(something gummy-ish + something chocolate = the proper balance)
At Quilt Market, we Moda designers were given the opportunity to share some of our favorite tips and tricks in the Moda Lab. Watch below as I share my favorite technique to transform a Layer Cake® into half-square triangles:THE MODA LAB
This method of making half-square triangles comes in especially handy when piecing my new Figgy Pudding fat quarter quilt pattern.
THE MODA LOVE LAYER CAKE PATTERN
The Moda designers were also given this Moda Love quilt pattern and tasked with making it using our latest lines. Here's mine, and the beautiful bread basket pantograph quilting was done by Abby Latimer of Latimer Lane Quilting.
I wanted a little bit of a scrappy look to mine so I departed from the pattern slightly… I took 12 Into the Woods Layer Cake® squares, sub-cut them into 5″ squares first, sewed them into four-patches, and THEN plugged them into the pattern.
TheModa Love quilt pattern instructions include 3 versions so you can use a layer cake, charm pack, or a mini charm pack. I made all three sizes and I think the mini charm version is my favorite! Isn't she sweet?
And here is the Moda Love charm pack version (I played around with the inverse design):
It's fun to see all the other Moda designers' fabrics plugged into this pattern! Now what, you've all been waiting for…
THE GIVEAWAY!
A fat quarter bundle of Into the Woods is up for grabs! Just leave (one) comment telling me what your favorite bedtime story is.
But that's not all! I'm also offering a 20% discount on all patterns in my shop when the promo code MODALOVE is used at checkout.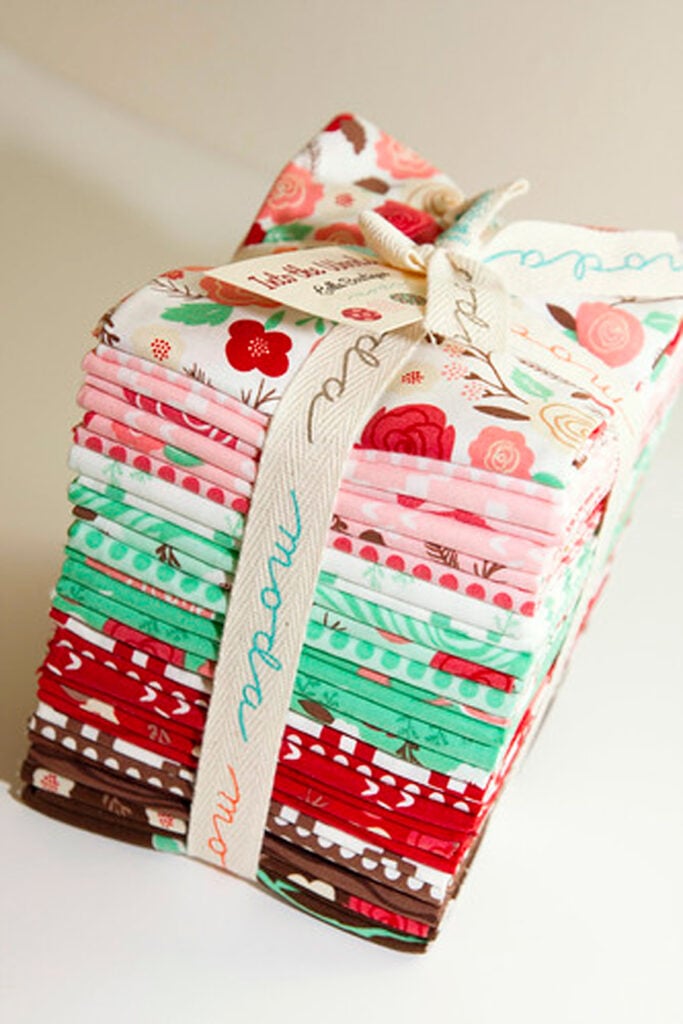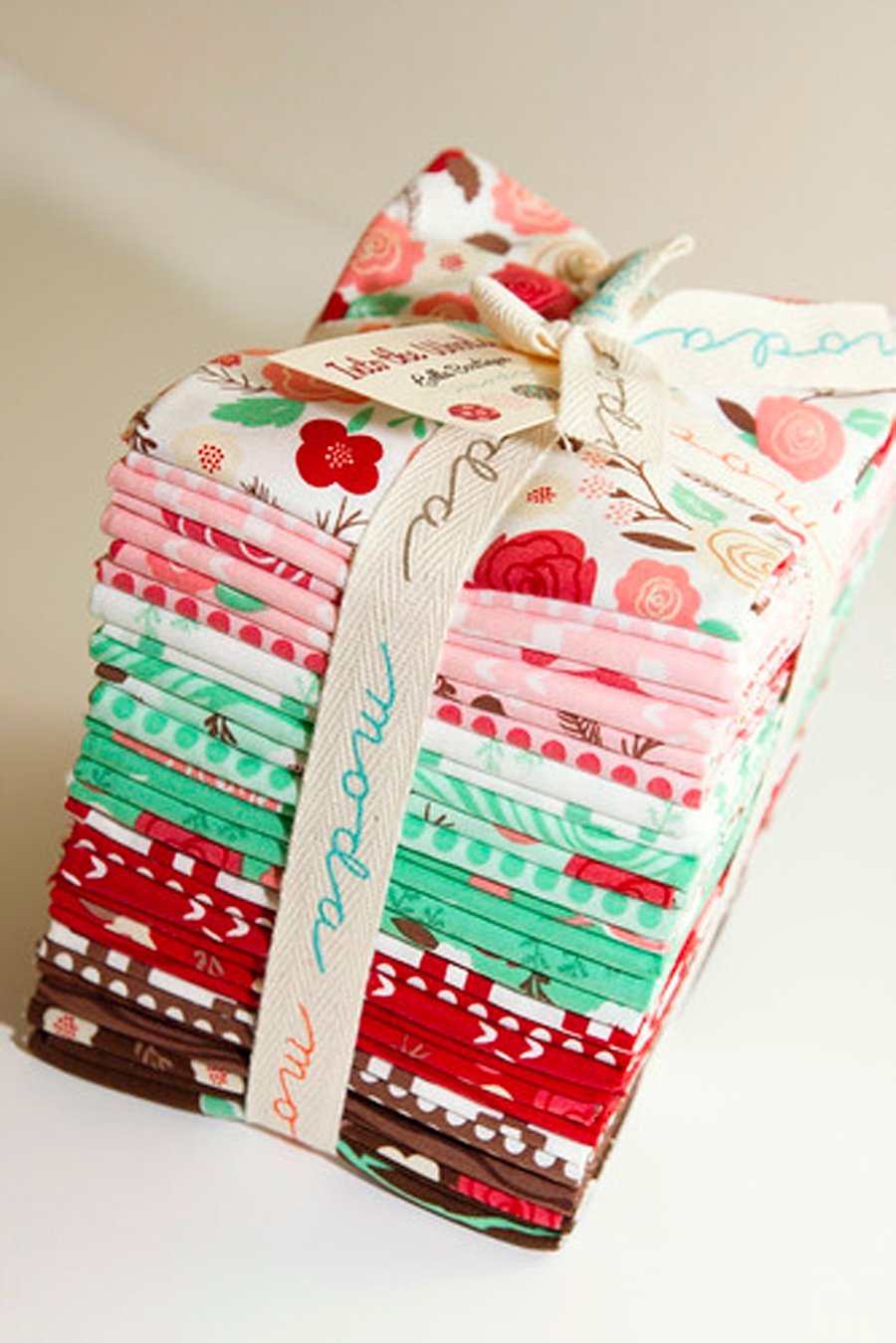 Winners for the giveaways will be announced 09/13/2014. Be sure to check out the full Moda Love Blog Tour schedule for other great giveaways, Moda Love quilts, and Moda Lab videos! Today check out the new posts today for Malka Dubrawsky, Blackbird Designs, and Lauren + Jessi Jung. Thanks for stopping by!