New Quilts in Bloomington Fabric
Ooh la la! Bloomington fabric is shipping to shops soon (April) and I just realized I never got around to doing my usual blog post introducing the coordinating patterns. Time to get up close and personal with all the new projects featuring this sweet upcoming collection from Moda Fabrics.
So… I have a thing for black and white tile floors and it's made its way into my quilting. There are two versions of this design–all charcoals and a more colorful scrappy version. Both use a solid charcoal color as the alternating blocks (Moda Bella Solid #9900 283 "Lead") and the skinny bias stripe print for the little diamond accents.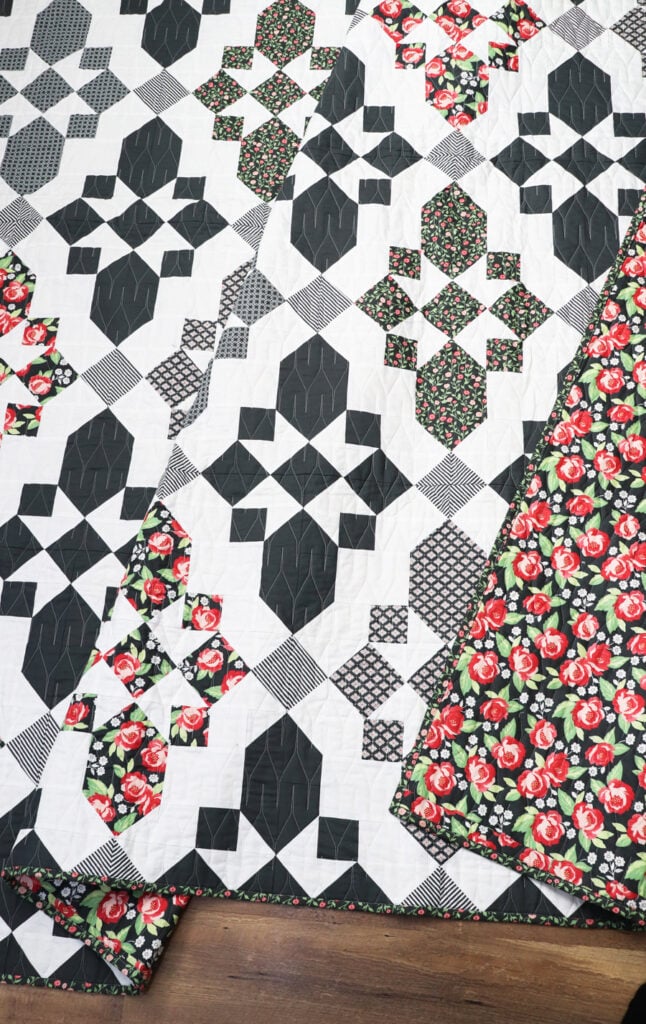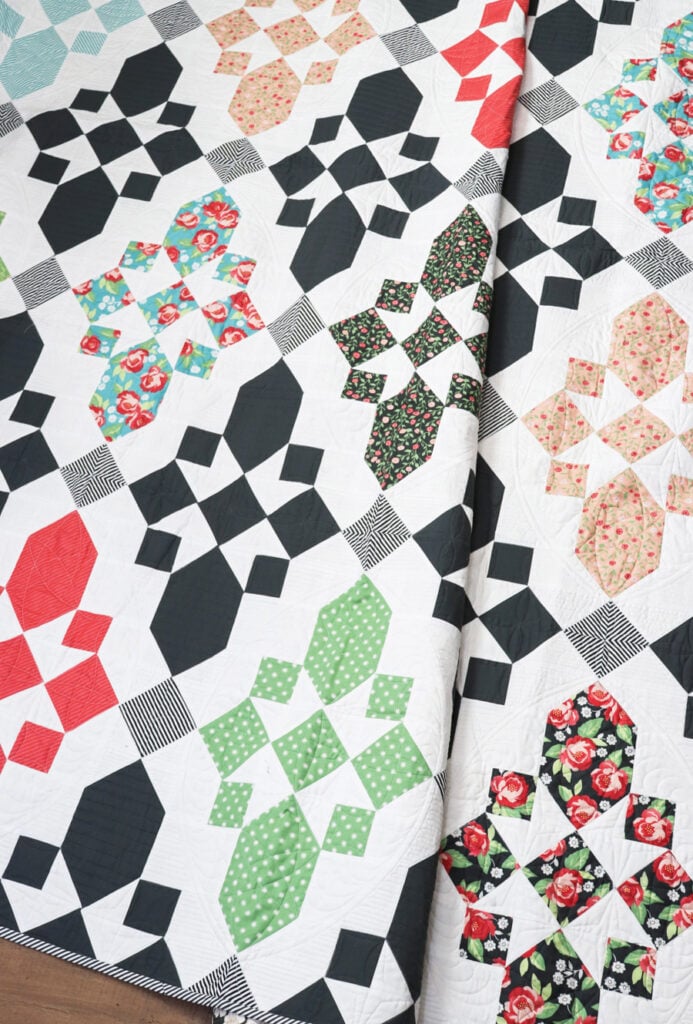 Quilting for both of the Cathedral quilts is by Natalia Bonner on these. Her brain for custom quilting is unreal. More of the charcoal bias stripe for the binding.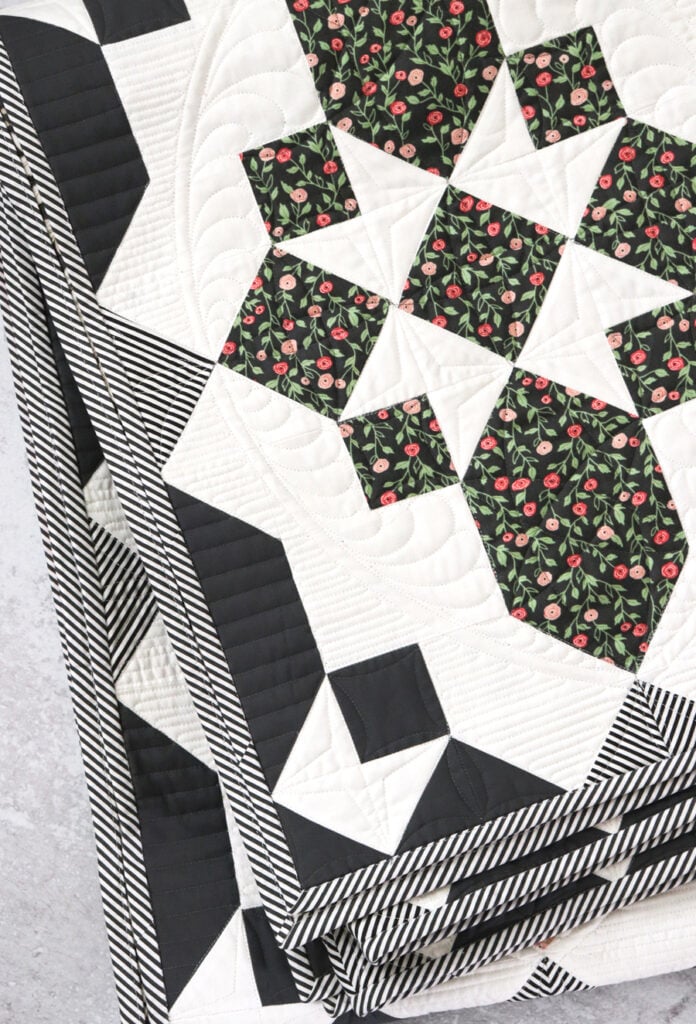 I was really on a tile kick–this one is fashioned after Moroccan tile pattern. Make it with (1) Layer Cake (42 squares 10″ x 10″) plus whatever accent colors you'd like to frame the block and alternate in between. Quilting by Marion Bott.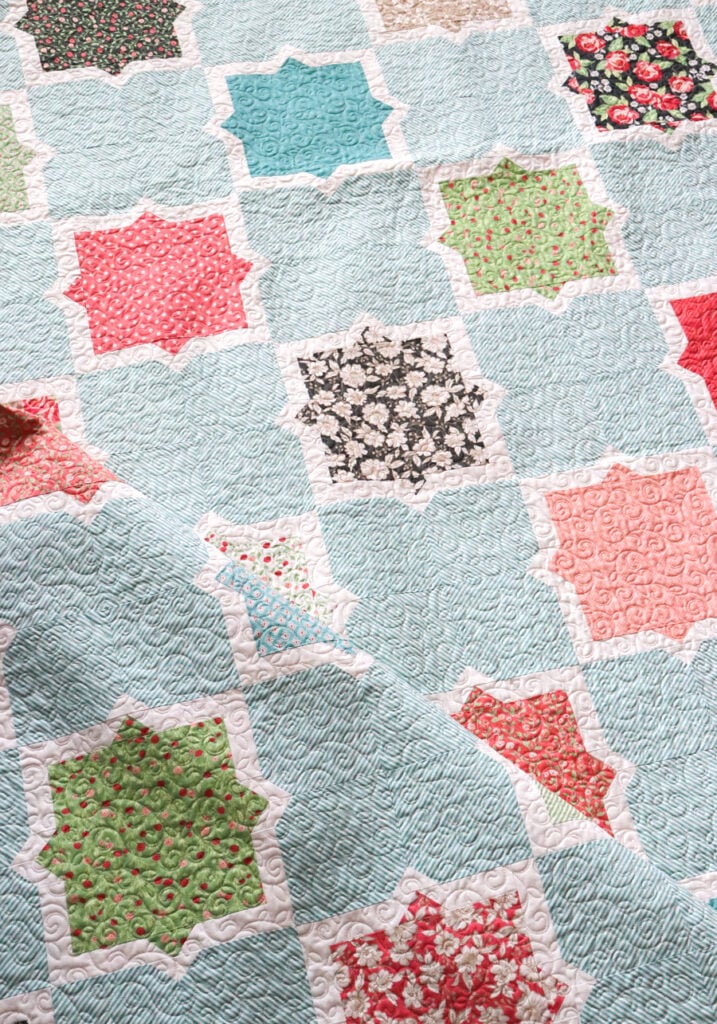 Who doesn't love a scrappy herringbone quilt? Here's my take on the traditional pattern, made with (1) Honeybun (42 strips cut 1.5″ x WOF) + fat quarters for the larger parallelogram blocks. This one was pieced and quilted by Kaitlyn Howell. The teal background (a print within the collection) gives it such a spunky vibe!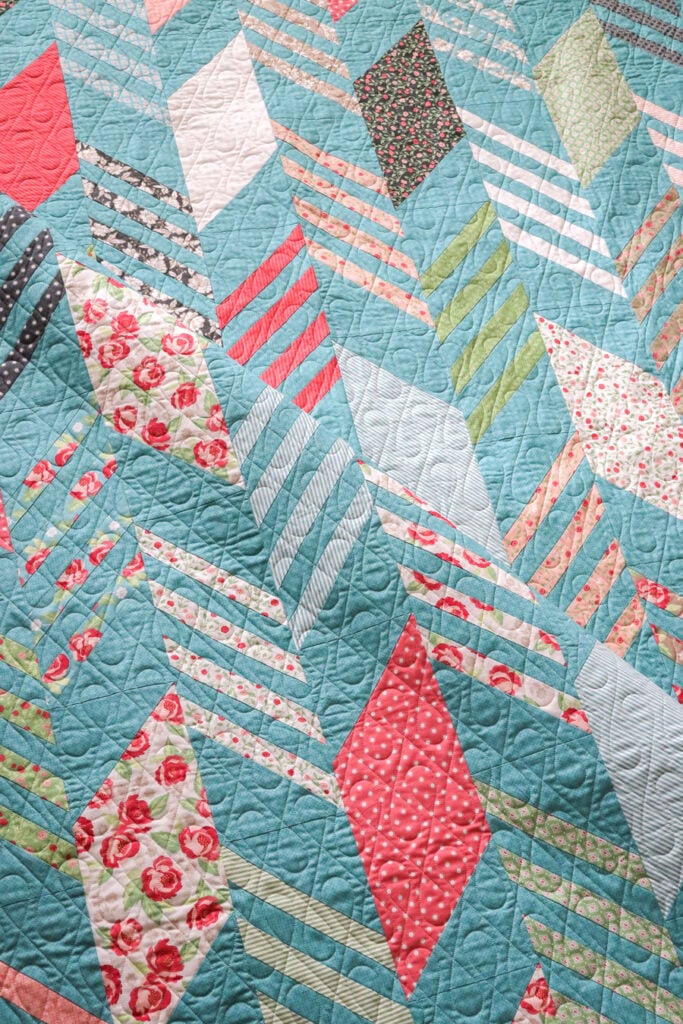 Because Modern Herringbone is made of parallelogram shapes (a template is included to help you cut them), it requires the very piecing technique you would use for piecing triangles or diamonds. Trust me, it's much easier (and more fun) than it might sound. In fact, I've created a little video w/ a few pointers on my Instagram @lellaboutique under the "Modern Herringbone" story highlight.
Here's another one using a more traditional light background (BasicGrey's Grunge in Vanilla). I pieced it and this yummy swirly quilting is by Juri and Ciera.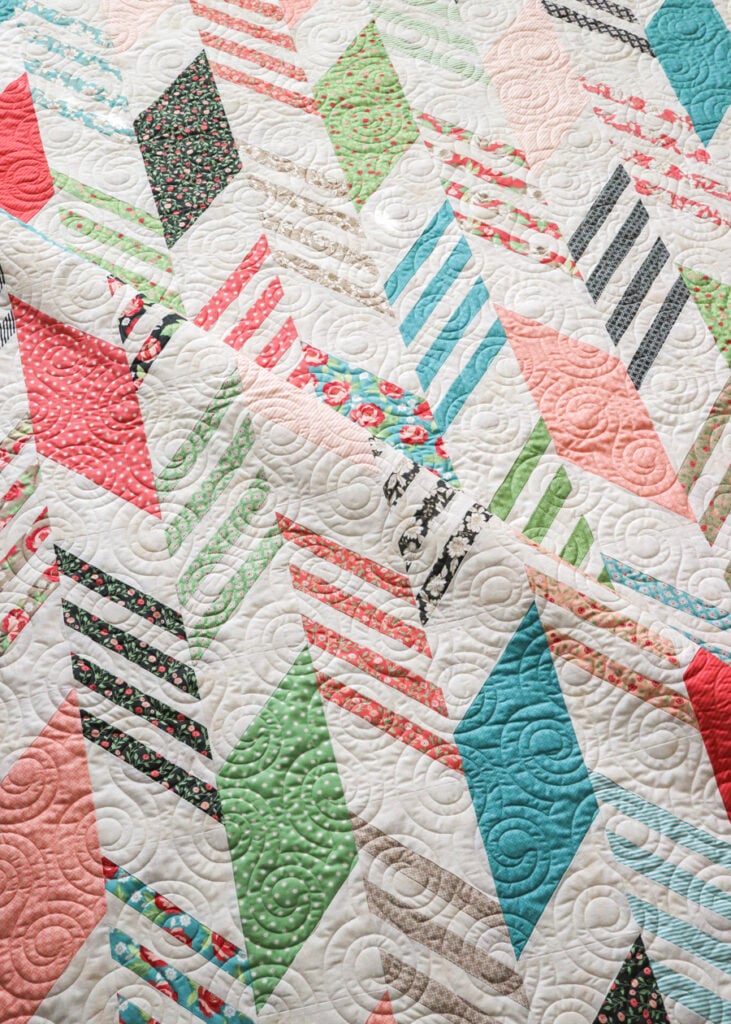 I couldn't resist making one of the Heartthrob quilts from the new Jelly Filled book in Bloomington fabric. Sherri McConnell pieced this one for me (have I mentioned how I lucked out in the friend department??) and Marion Bott quilted it. (Pantograph is "Sand Dollars" by Mike Fountain.)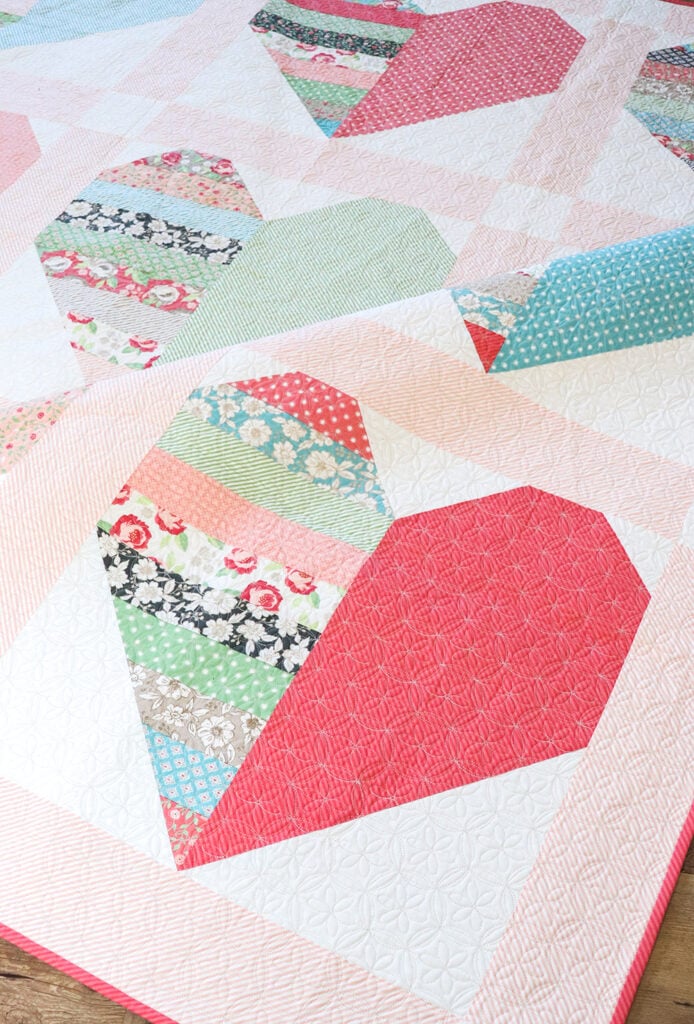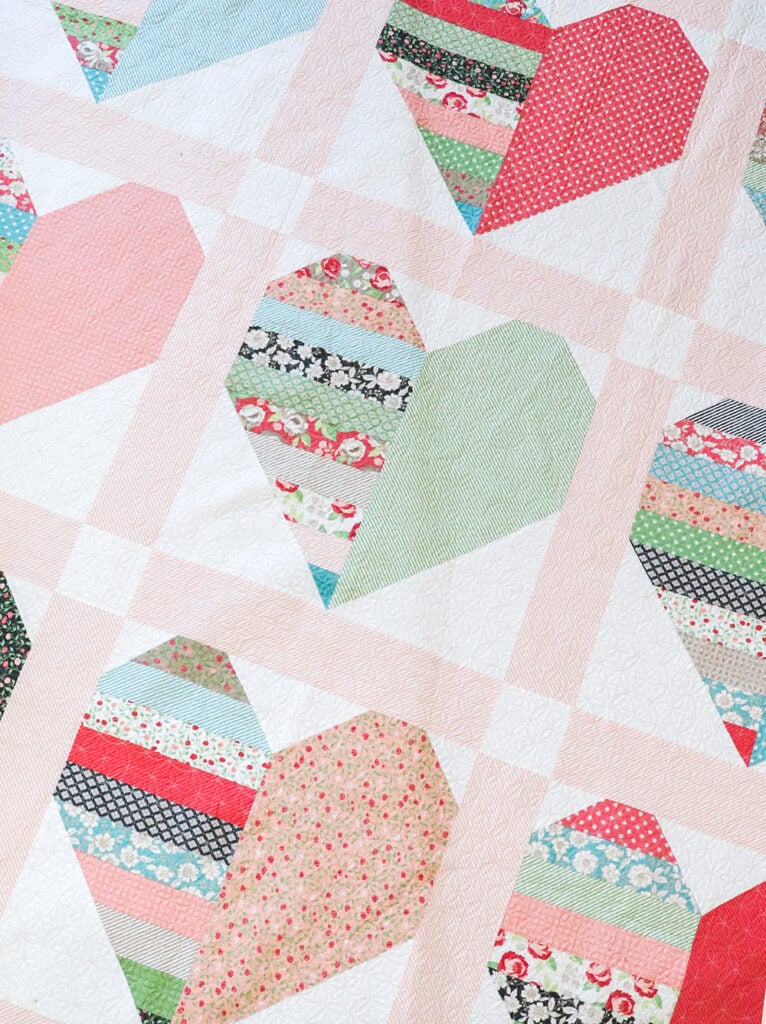 This time around, Moda gave me a few coated prints in the Bloomington collection. Coated prints are cotton prints coated with a laminate layer. This means they are easy to clean, more durable than quilting cottons, and perfect for bags. I came up with this fun little hanging travel bag pattern. The Kiss & Makeup pattern is available in the shop, here's a little peek…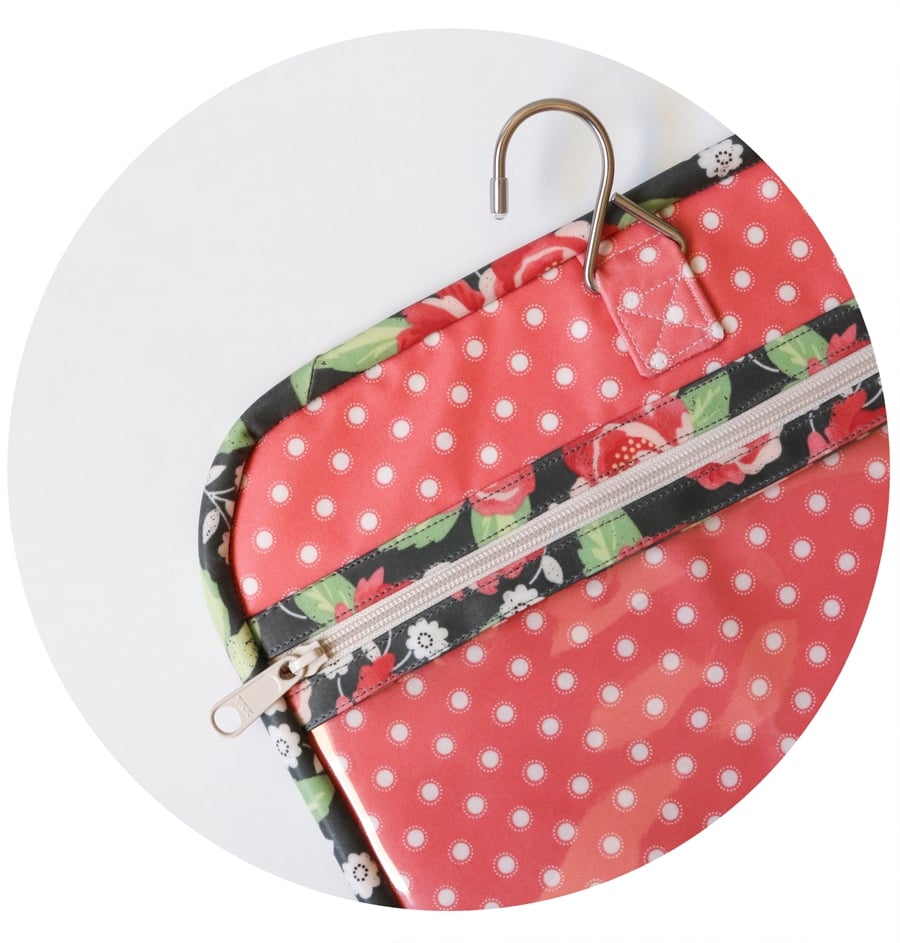 I will create a separate blog post soon to talk about tips + tricks for working with my coated prints, as well as some general advice about constructing this bag. Of course, you can use anything you'd like to make this bag–regular cotton prints, canvas, etc. This 12-page pattern includes detailed instructions with photograph step outs to help you along every step of the way. I hope you love it as much as I do.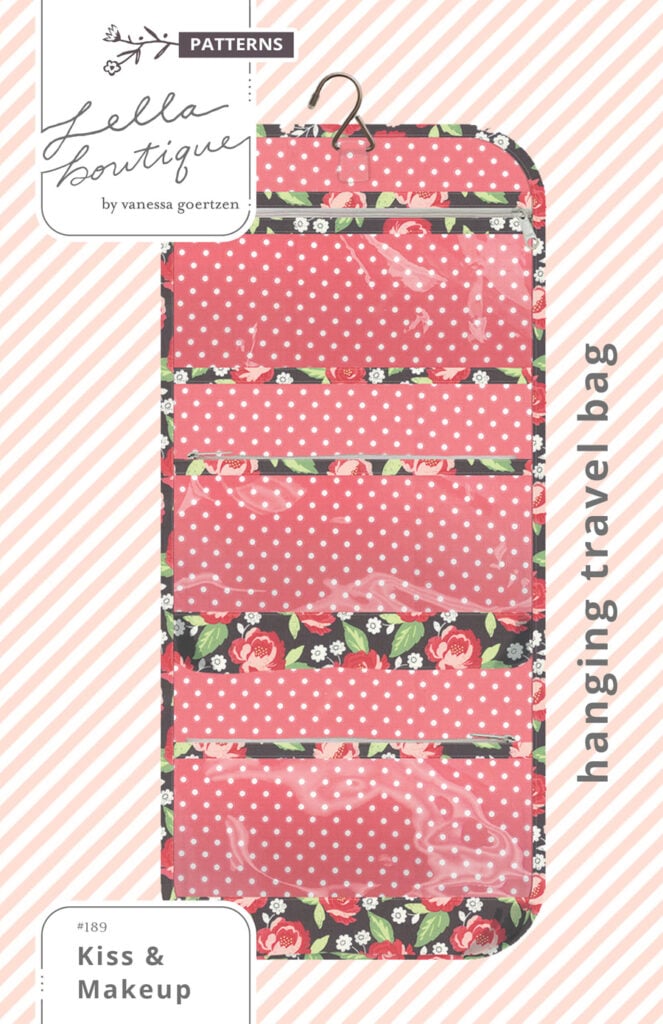 And that's all for now. Bloomington fabric will be here before you know it. Stay tuned in the coming months for brand new fabric and a whole new batch of patterns!
---
Like this post? Drop your email in the box below to get new post notifications via email.