Charm School – 18 Quilts from 5″ Squares
I still remember the day I first came across Moda charm packs. It was almost exactly seven years ago; I remember it well because I had just found out that the sweet little bun-in-my-oven was, in fact, a "she." To celebrate, I drove straight from the doctor's office to the quilt shop to pick out fat quarters for my baby girl's quilt. As I was getting ready to check out, I stumbled upon those beautiful little precut stacks of 5" squares. I had no idea what I would do with them but I could not resist buying a few, just to see what I could make.
I found that playing with 5" squares was such fun–and that there were endless possibilities with what I could do with them. I used them like building blocks and discovered a whole new world of creativity. I'm happy I finally get to share my love of these 5" squares with you in my new book Charm School–18 Quilts From 5" Squares. (It's due in shops March 1 2017 but I've heard people have already been able to get copies from Amazon.com.)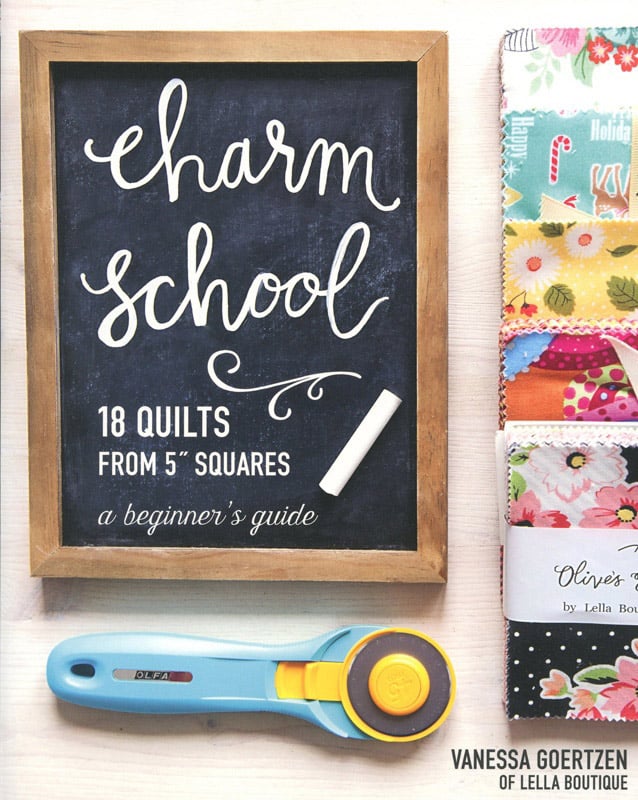 Even though the precut charm squares were inspiration for my book, it is easy to make other fabric substitutions 🙂 All 18 projects include instructions to use not only precut charm squares, but also fat quarters, scraps, and more!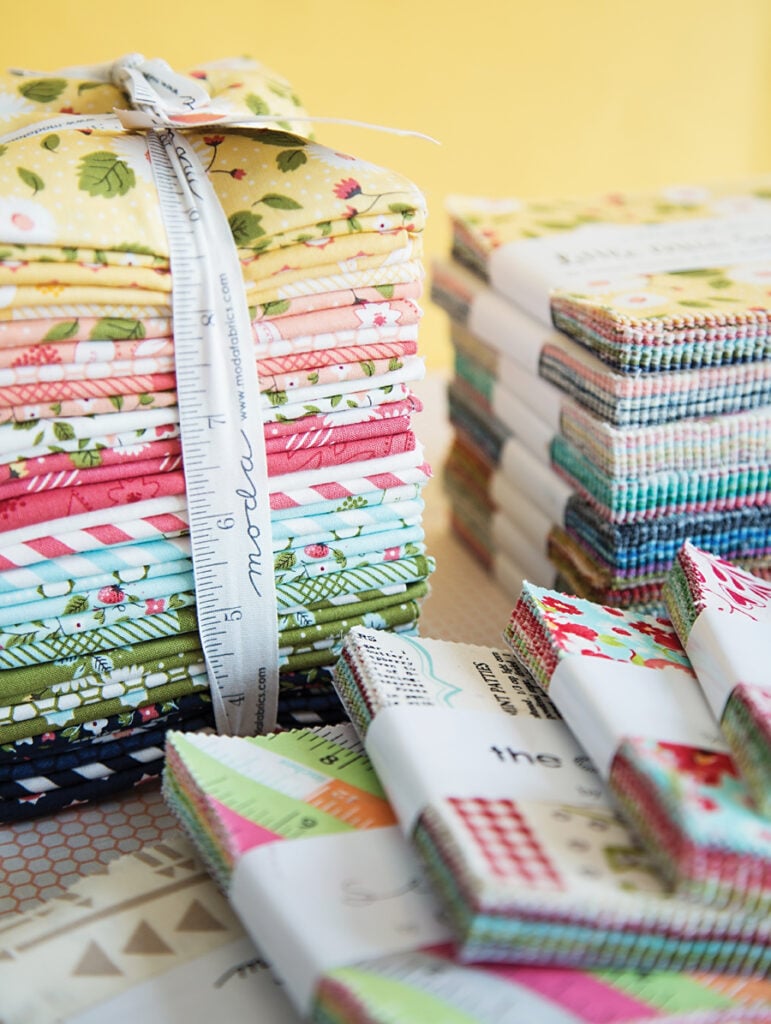 The Charm School book is intended to be more than just a collection of patterns–each chapter contains a schoolhouse "lesson" or technique to apply to the 5" squares. Start with the 5" squares as they are, and gradually learn how to make simple alterations.
The thing I love about simple quilts is the opportunity to let beautiful fabric do the talking. Of course, it doesn't get any simpler than a basic block quilt–my Modern Basic quilt is a project anyone can tackle. By keeping those 5" squares as is, there is an opportunity to really play around with fabric choice, fabric placement, and the finishing touches to make a bold statement. (Check out that crazy-fabulous custom quilting by Natalia Bonner!)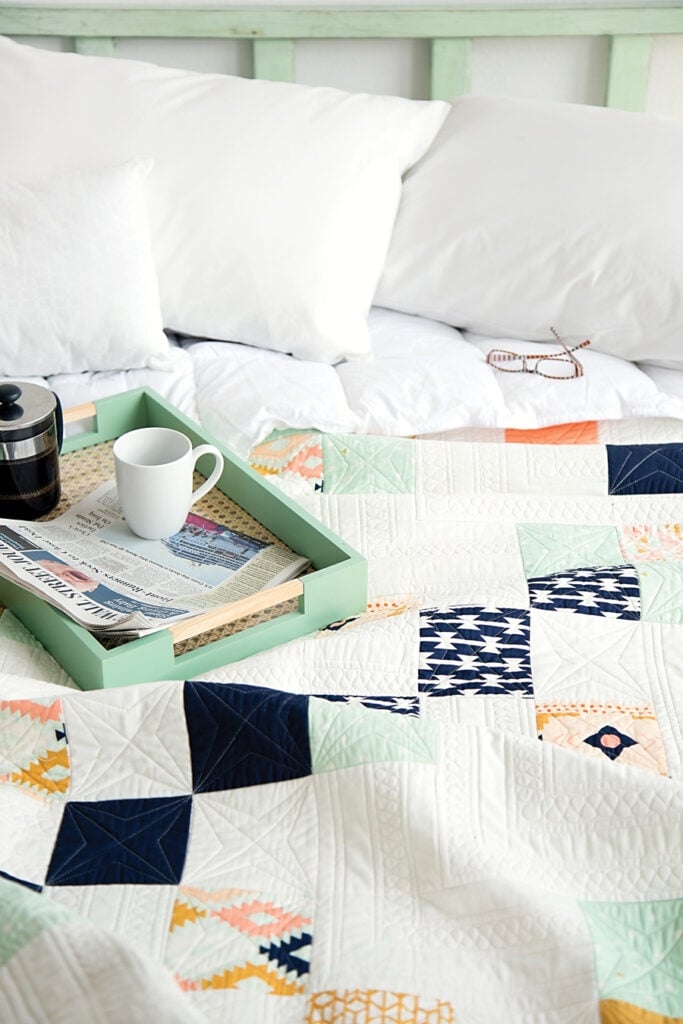 It was a fun challenge to see what sort of things I could dream up with the most basic of shapes. My Snowfall quilt below was made with just squares and rectangles! Fabric is Evergreen by BasicGrey for Moda Fabrics. Quilted by Abby Latimer.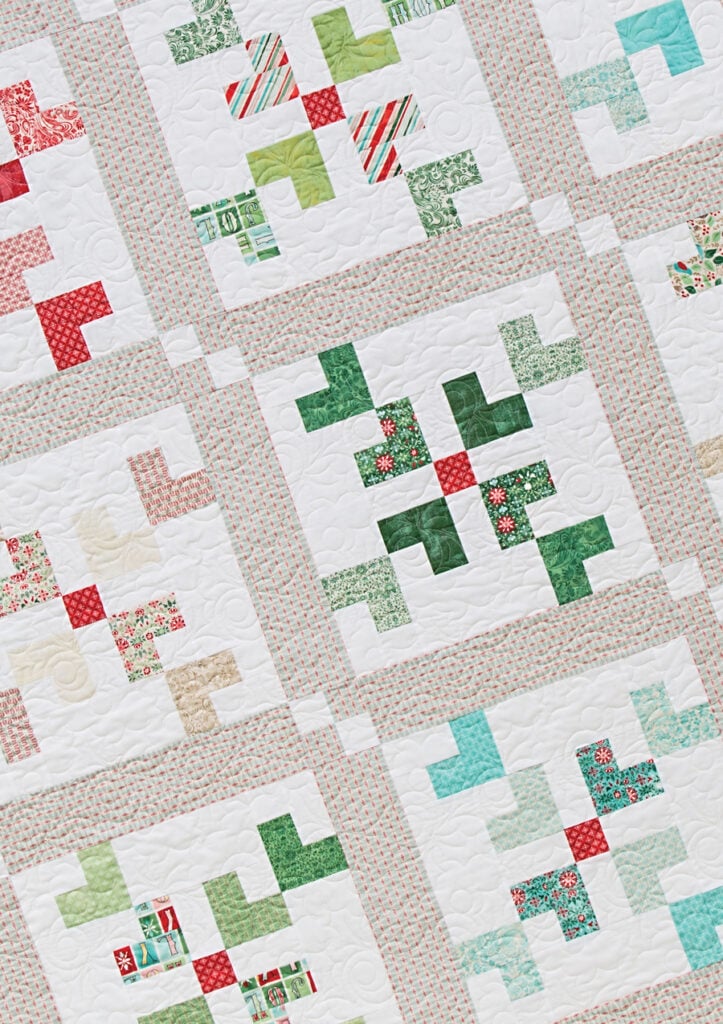 Gradually, we add triangle shapes to our designs. In Scrap Happy (below) triangles are incorporated to form charming little sawtooth stars in the sashing. Fabric is Farmhouse by Joanna Figueroa. Quilting by Abby Latimer.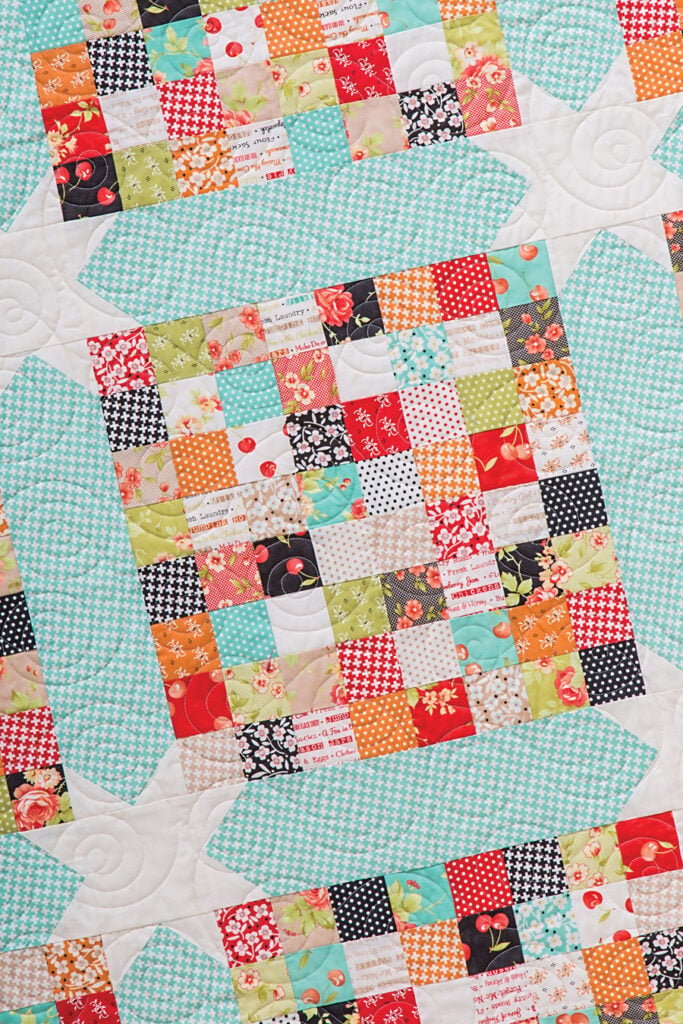 Using the same easy corner triangle method, we see a whole new world of possibilities opens up with quilter basics like snowball blocks and flying geese!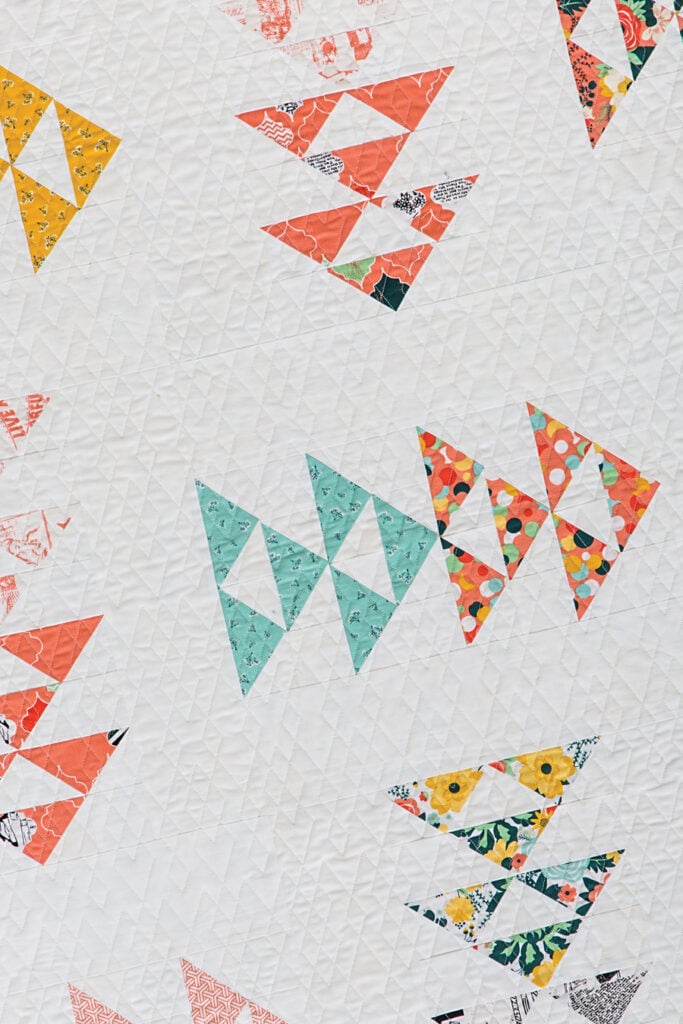 Eventually, this easy corner triangle technique can help us build up to some pretty impressive block designs–Madame Butterfly being a prime example. (I've adapted my Social Butterfly Mini quilt into a full quilt pattern and made it charm-friendly 🙂 Woohoo!)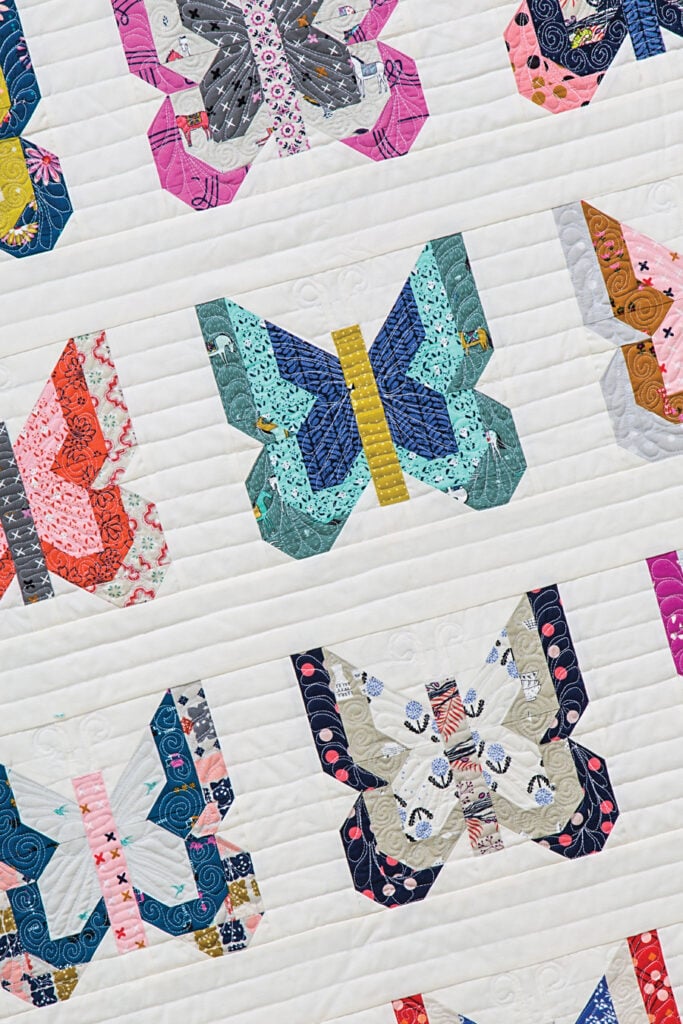 In another chapter, we examine how to make individual triangle units called half-square triangles. I share my favorite two methods to get them from 5" squares, as well as my secret to getting them flawless every time.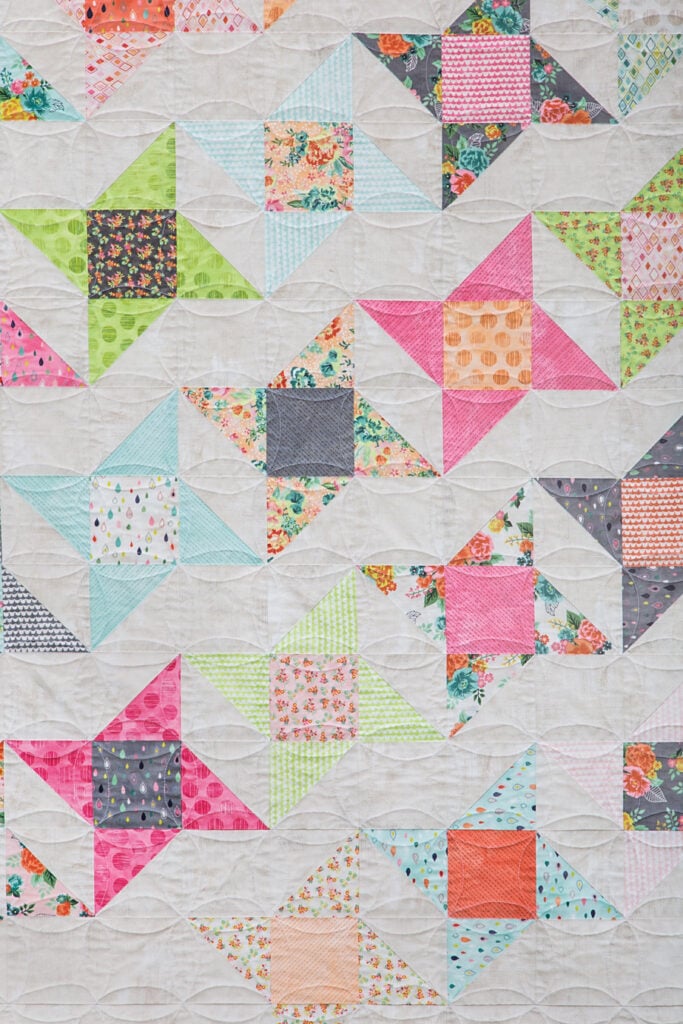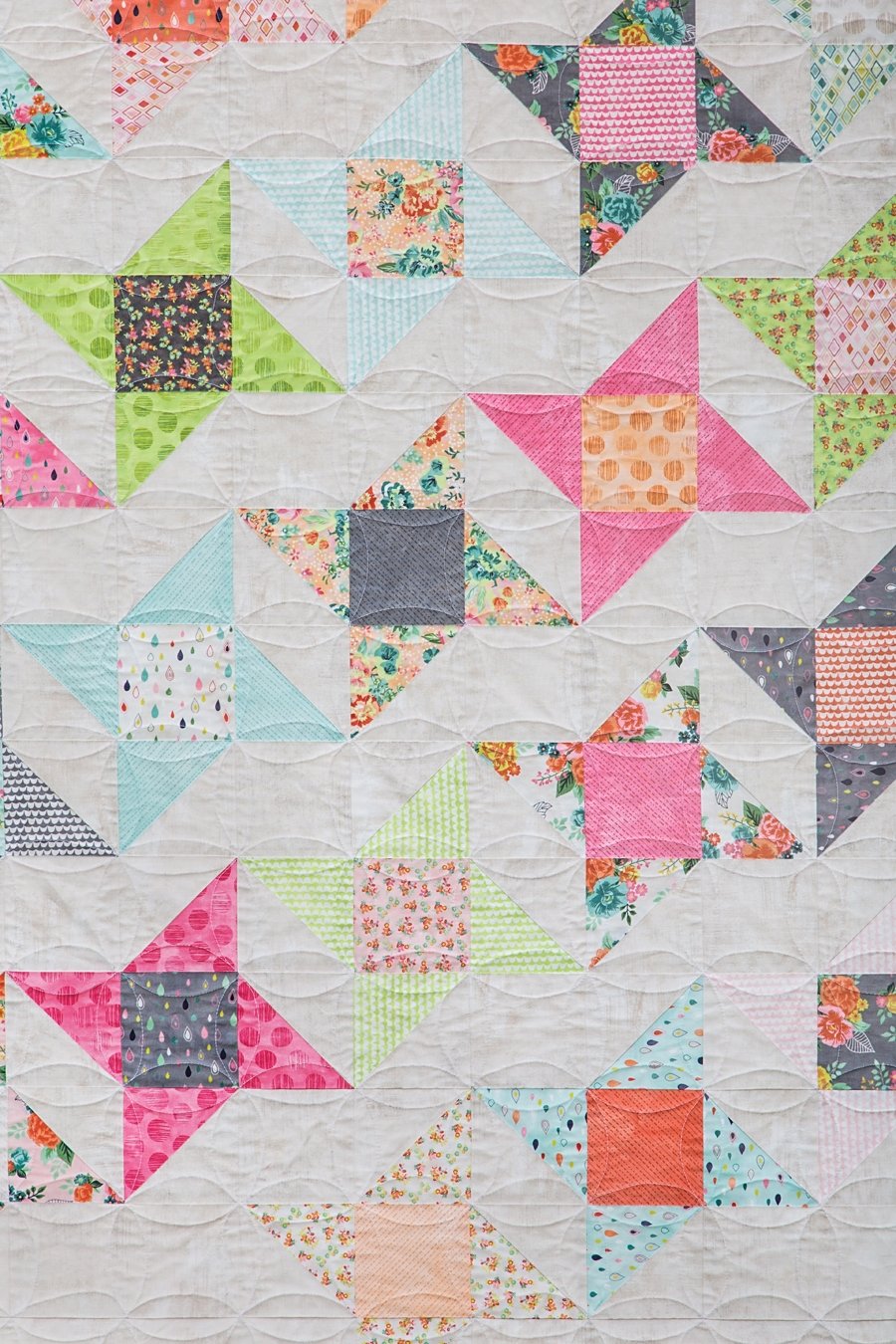 And of course, half-square triangles lead to quarter-square triangles…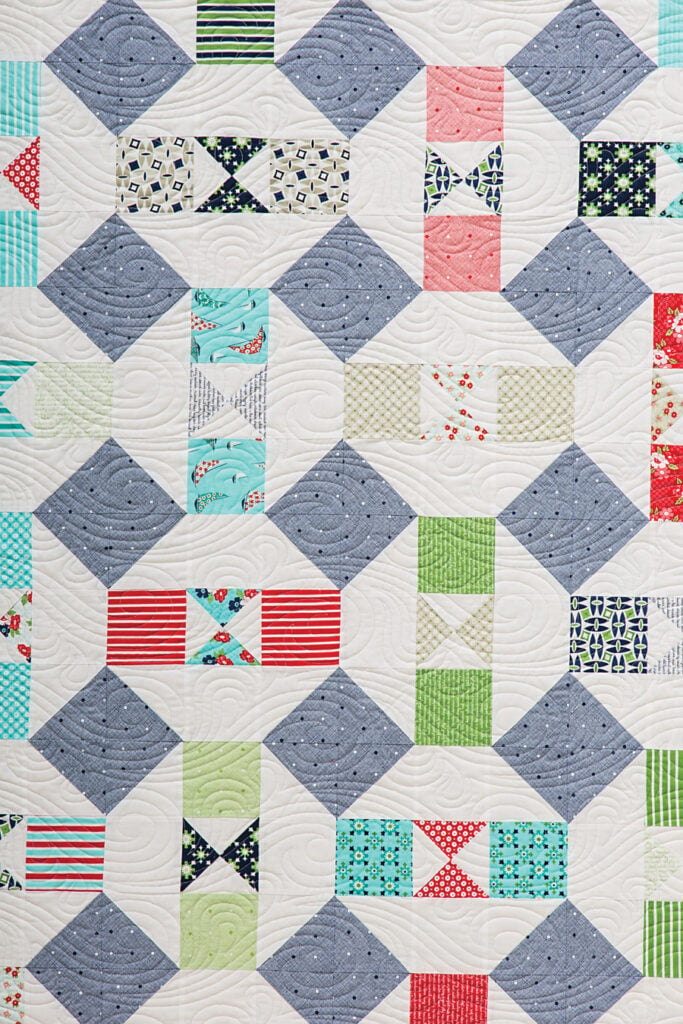 And finally, we delve into some wonky cuts to mix things up a bit.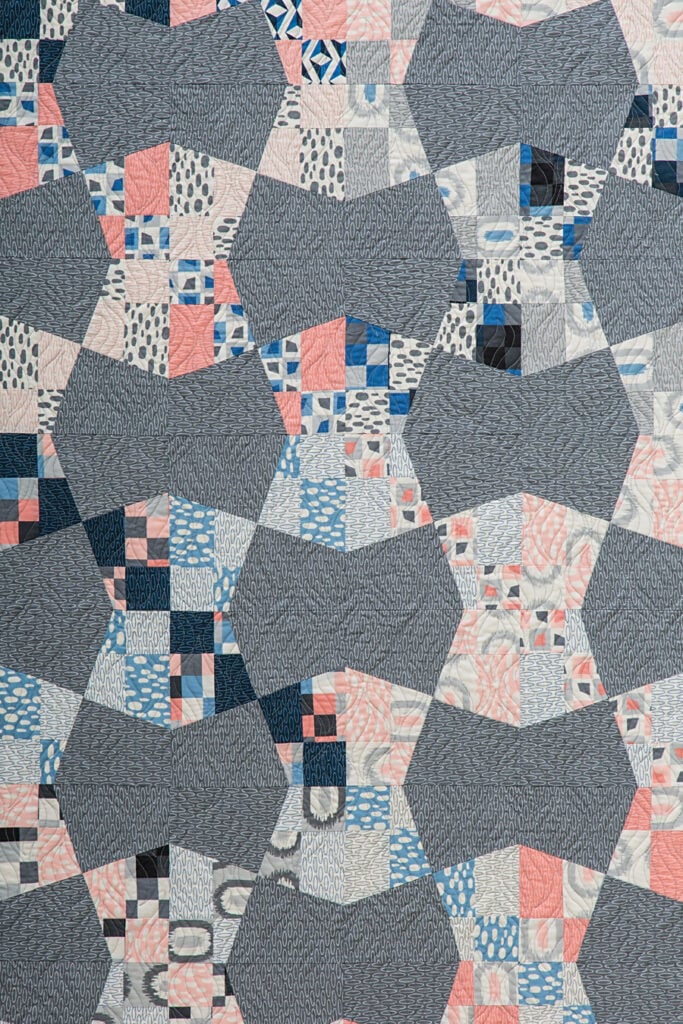 I hope you've enjoyed this peek. Of course, these are just a few of the quilts–the book contains 18 design totals–I hope you'll pick up a copy to see the rest. You can see all of the Charm School quilts in the product listing here.
As you may imagine, a book is a huge undertaking. I could not have done it without the amazing team at C&T Publishing, my amazing quilters (thank you Abby and Natalia!), or Susan Vaughan who was my second pair of eyes in the editing phase. Thank you for listening to my ideas and giving them wings. And of course, a big thanks to my mom for being an invaluable sounding board and wrangler of children amidst crazy deadlines.
---
Like this post? Drop your email in the box below to get new post notifications via email.