Sweet Land Quilt in Old Glory Fabric
Hooray for a quilt inspired by the land that we love… this "Sweet Land" quilt builds upon the "Sweet Land of Liberty" quilt panel and frames it with a simple patchwork border made from a Layer Cake (precut 10″ squares). The panel and fabric are from my upcoming Old Glory fabric collection arriving to shops Feb 2024.
---
Pattern Tidbits
To make "Sweet Land," you will need a Sweet Land of Liberty quilt panel from the Old Glory collection when it arrives to shops in February. In the past, my quilt panels are individually packaged for sale. We tried something a little different this time – printing the panel as regular yardage on a bolt. (A 1-yd cut off the bolt yields a panel size of 36″ x 44″.)
When you get your panel, it will have a solid navy border printed around it. As the pattern instructions will tell you – we will be trimming off this navy border, trimming the panel to 33-1/2″ x 39-1/2″ before adding a new border. It may seem like a weird step (why not keep the original border?) but there are a couple reasons behind this. For one, this helps give a buffer to any human imperfections in the cutting of your panel off the bolt. Second reason – in order to frame the panel with 6″ finished patchwork blocks (and have them fit right) we have to make sure everybody's framed panel is all the same size starting out. Hope that helps there. The patchwork blocks couldn't be easier and would be great for a beginner wanting to try an easy sampler type project.
---
Quilt Details: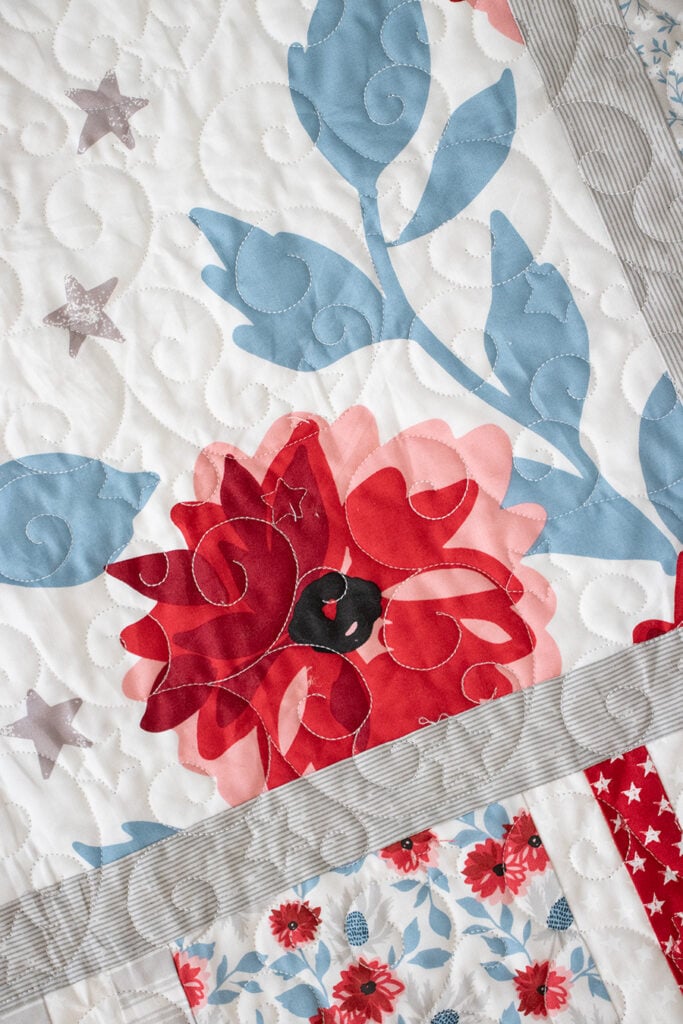 If you are hoping for a "Sweet Land" kit, please check in with your favorite local or online shop to have them order supplies now. If you have any other questions about this project, please drop a comment below. Happy Friday!
---
Like this post? Drop your email in the box below to get new post notifications via email.