$5 in November – Hustle & Bustle Quilt Pattern
I just got back home from fall Quilt Market in Houston and have been swamped playing catch up! I was there to preview Christmas Eve fabric for its arrival May 2023. More about that soon – I will do a more proper "recap" about quilt market, I promise! But first – an intro to November 2022's $5 quilt pattern. I couldn't help mocking it up in Christmas Eve fabric…
---
Hustle & Bustle Gift Quilt
This month's $5 pattern is a throwback to 2018 to a pattern called Hustle & Bustle. It's a fun little gift quilt made with mostly fat quarters. It was designed as part of my Little Tree fabric collection but is looking so sweet in Christmas Eve fabric (coming May 2023).
---
Materials Needed
Here's a list of what you'd need to make this quilt in Christmas Eve fabric (arriving May 2023). Share this list with your local or online shop so they can order supplies for you now. Please note – I combined / simplified some of the yardages as shown in the mockups:
(8) fat quarters for large gift boxes (SKUs #5181-13, #5181-16, #5182-14, #5183-16, #5187-12, #5187-13, #5187-15, and #5187-16)
(4) fat quarters for small gift boxes (SKUs #5180-15, #5180-16, #5181-12, and #5183-12)
(4) fat eighths for large gift ribbons (I used 1/2 yard SKU #5187-11 instead to combine / simplify)
(4) fat eighths for large gift bows (SKUs #5187-11, 5187-12, 5187-15, and 5187-16)
½ yard accent fabric for small gift ribbons (more SKU #5187-11)
2 yards background / border fabric (SKU 5187-11 -OR- Moda Bella Solid 9900 284 "Charcoal")
⅔ yard binding fabric (SKUs 5186-16 -OR- 5186-13)
4½ yards backing (pick your favorite print here!)
80'' x 80'' batting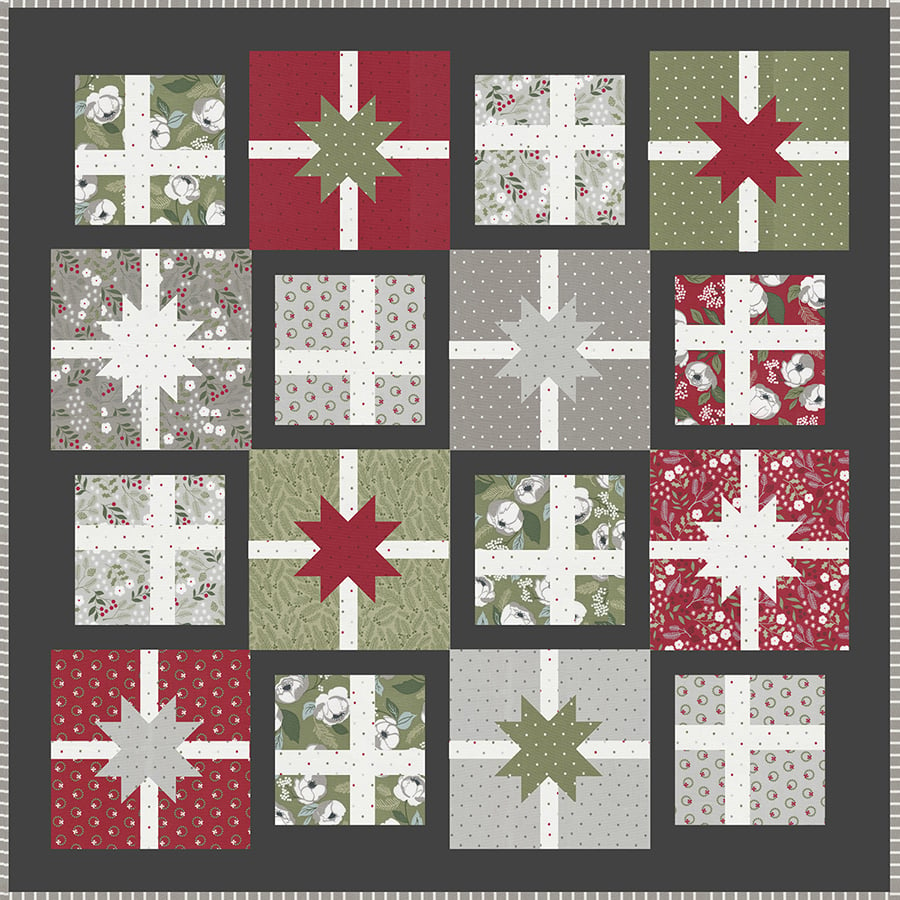 It's a rare thing for me to say – but I've never actually made the Hustle & Bustle quilt. It may be time, what do you think? And how on earth do I choose between the white or charcoal background?!