Baby Boy DIY Texture Book
If you know me at all by now, you know that I love scrap projects. Check out this fun DIY texture book I made for Olive's little friend down the street!
To make the basic fabric book, you will need (6) rectangles 8″ x 18″ in assorted colors for the pages + (12) squares 7″ x 7″ of batting. (I keep a cotton/poly or bamboo blend around).
STEP ONE: Fold each fabric rectangle in half and iron the crease in place. This "divider" will help us arrange and center our shapes on each half. Later, it will help us center a batting square behind each page, and finally, serve as a marker to bind the book together. The other option would be to use a Frixion pen to mark the line.
In order to include a variety of textures, round up any appropriate scraps and embellishments you might want to use. If the variety at home is sparse, take a trip to your local craft store and check out what they have to offer. Just keep in mind safety when choosing products. Do not use anything that will come loose or can be pulled off by a child as that can create a choking hazard.
STEP TWO: This baby book requires a bit of organization and planning ahead. Lay out your 8″ x 18″ fabric rectangles in a column and place page markers as indicated.
STEP THREE: Sketch your design on paper so you can decide what will fill the pages of your book. I've jumped ahead to the finished book to show you examples of what I came up with. My shapes are complex and detailed–but yours don't need to be like this if you don't want to put in all that work. A simple shape book with circles, squares, and triangles, letters, numbers, etc. could be cute too!
STEP FOUR: After your initial sketch is finished, you will need to create a paper pattern of the full-scale shapes so you can trace them onto the textured materials. The free baby boy template I created is available here.
I always use a lite HeatnBond iron-adhesive to create fusible shapes that will adhere them to the fabric pages. I find that adding HeatnBond lite makes the shapes work easier and always looks great! See the full tutorial on how to work with HeatnBond lite to create fusible shapes here.
I've also added lots of letters to personalize my book. To add letters, see my fabric letter tutorial here.)
STEP FIVE: Once you've created all your shapes, peel off the paper from the back side of each shape./letter. Arrange them onto the pages and iron them in place following HeatnBond lite instructions. Once a page is complete, center a batting square behind each "page" (centered) and pin in place. Stitch all letters and shapes in place by top-stitching around the shape's perimeter just in from the edge.
STEP SIX: Once each page is stitched in place, take the first two rectangles in your column.
To prepare them to be sewn together, bring them batting-sides together, keeping the pages oriented so the top-sides remain together. Align the raw edges and pin in place. DISCLAIMER: I used buttons on my pirate ship but cannot recommend using them as they pose a potential choking hazard.
Stitch around the perimeter using 1/2″ seam allowance.
STEP SEVEN: Take the next two page rectangles in the column and sew them together using the same steps. Repeat a third time with the bottom two page rectangles. Next, make a new column with the following pages facing up: (1 & 10); (3 & 8); and (5 & 6).
STEP EIGHT: Stack the pagesso that pages 1 & 10 are on the bottom, 3 & 8 in the middle, and 5 & 6 on the top. (I've staggered the layers below to demonstrate.)
Line up the edges and pin in place. (Before you sew, feel free to close the book and preview to check that everything is in the right order.) See the ironed crease? It marks where we need to sew the book together.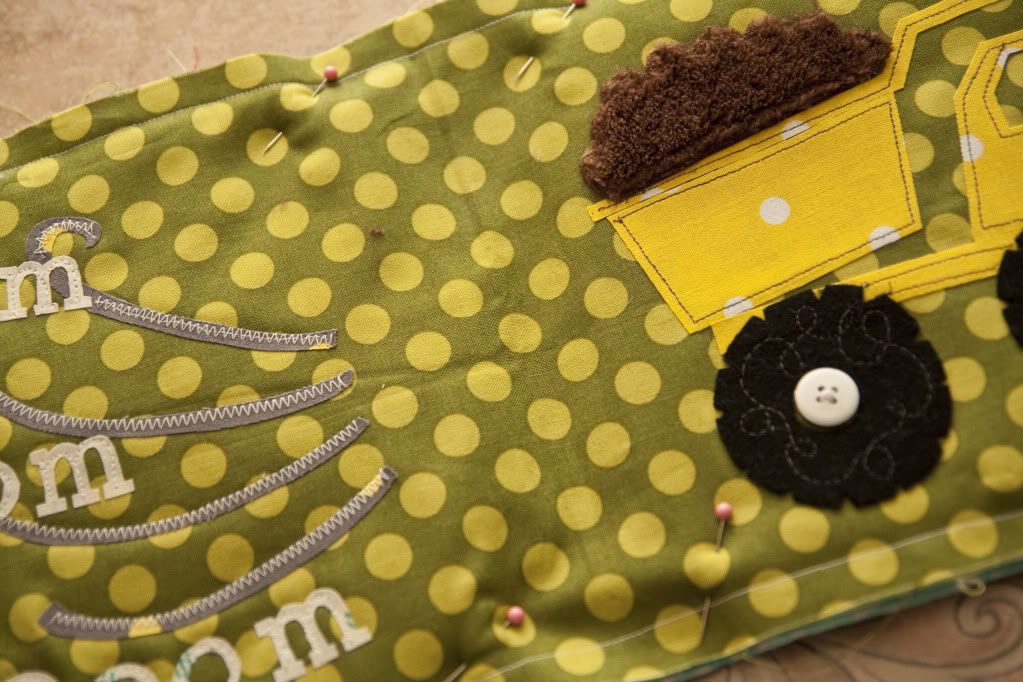 STEP NINE: Sew along the marked line/crease from (top) perimeter seam to the (bottom) perimeter seam. I used a zig-zag stitch.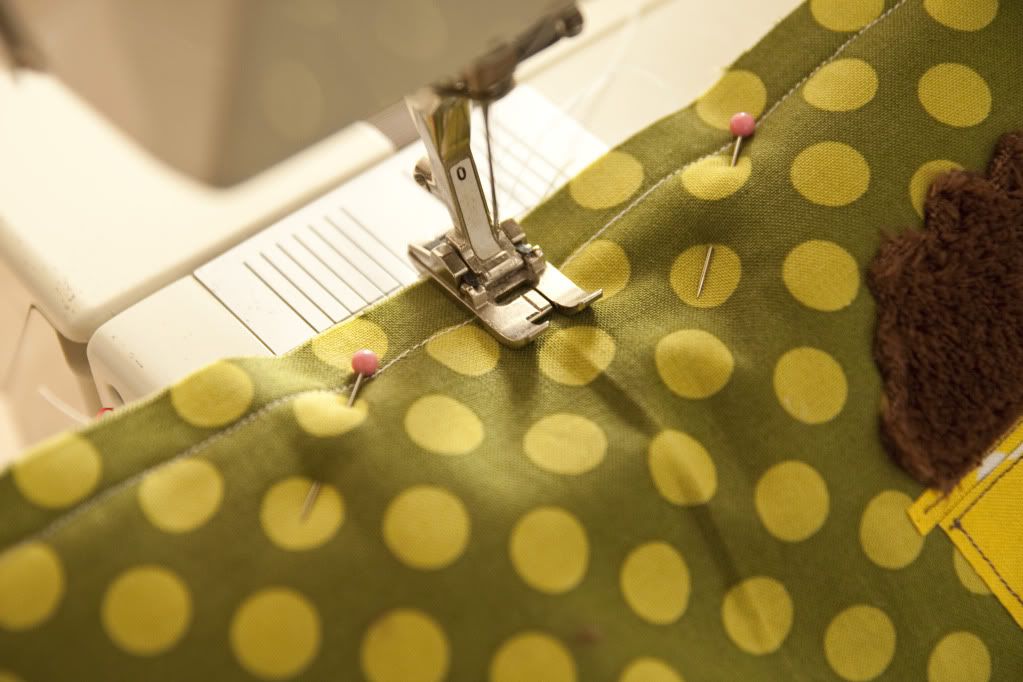 STEP TEN: Clip the edges up to the seam allowance (on all pages) and throw the book in the wash to fray.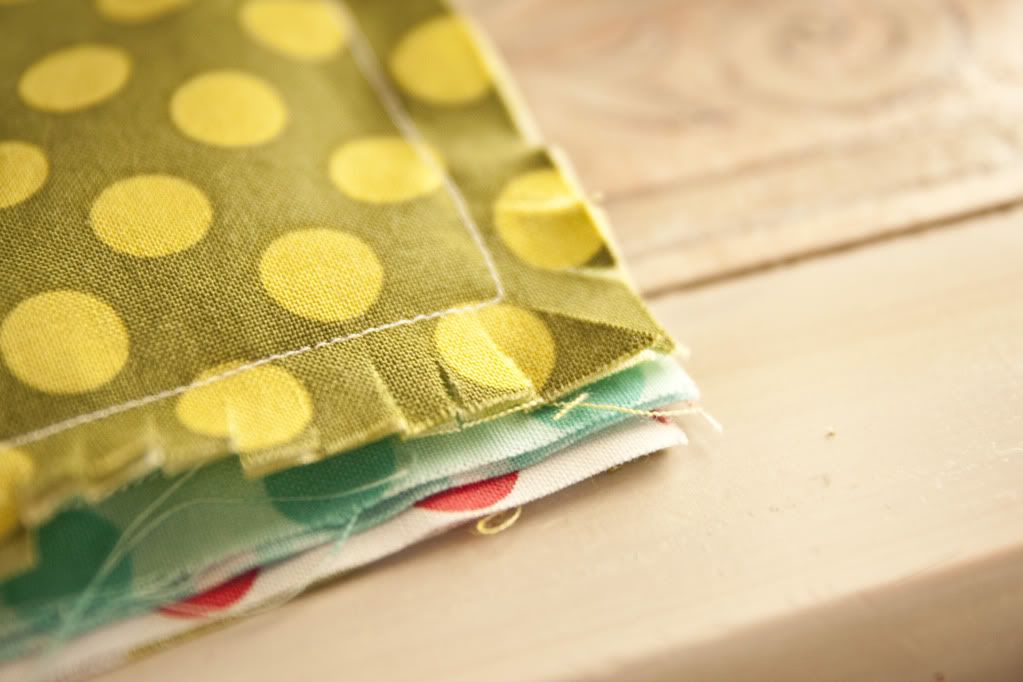 The fraying adds another cool level of texture to the book!
I love how this DIY texture book turned out! I think my favorite is the dump truck with the soft dirt.
Do you have a favorite page?
---
Like this post? Drop your email in the box below to get new post notifications via email.