On the Farm: New Quilt Patterns
Time for the new quilt patterns in my newest fabric collection, Farmer's Daughter. To celebrate, I'm offering a 20% discount in my shop for the rest of May 2017 using the promo code QUILTMARKET at checkout. I'll be out of town this week attending International Quilt Market in St. Louis, so paper pattern orders will ship when I get home 5/22/17.
I've had houses on the brain lately (just bought my first house ever). Apparently it's made its way into my quilting! Now house blocks are nothing new in quilting, so the fun challenge for me was to see how I could put my own spin on a traditional idea. Here's what I came up with, and of course the custom quilting by Natalia Bonner always really makes the design come to life.
This is a great pattern for a confident beginner or intermediate skill level and uses 21 fat eighths. Moda is offering this as one of its beautiful collectible boxed kits so keep an eye out for those! Home Again finishes at 64 1/2" x 68 1/2". The quilt pattern is available in my shop in PDF or paper.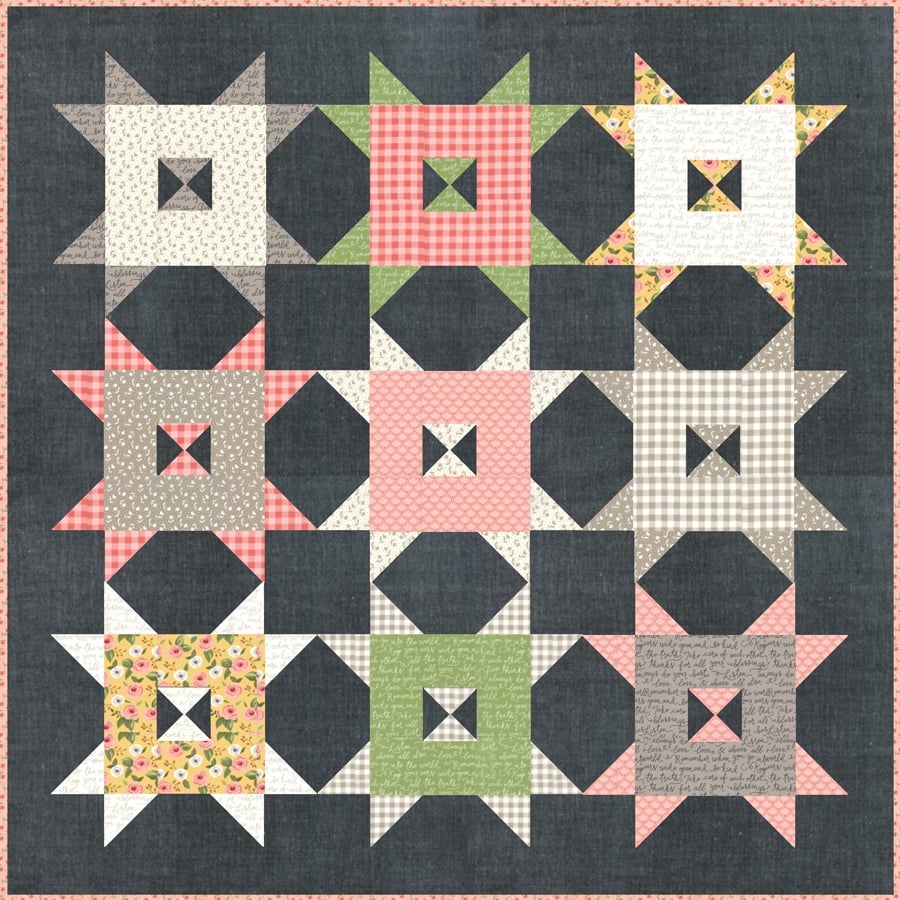 When I think of a farmhouse-style of decorating, I think of simplicity. The Barn Style quilt is a fat quarter quilt and I've mocked up two color options playing with the background fabrics and border selections. The first one uses Moda Crossweave in black for both the background and border. Just a quick word about crossweave, it shrinks a lot! I always recommend purchasing an extra 1/4 yard of and prewashing it before you cut. It adds such a wonderful texture to quilts, just be sure to keep that in the back of your mind if you decide to use it. (I've also included this info on the pattern.)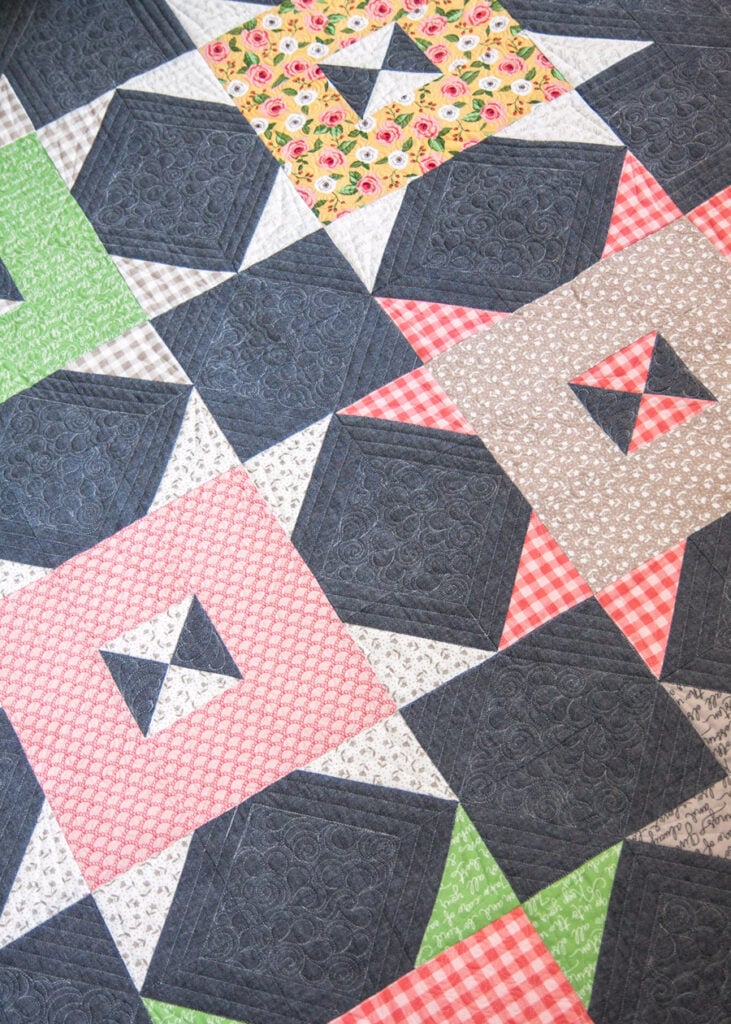 I had Natalia Bonner custom quilt this one as well! She always adds such interesting secondary designs and fills all that background space with beautiful flourishes and detail. Such eye candy!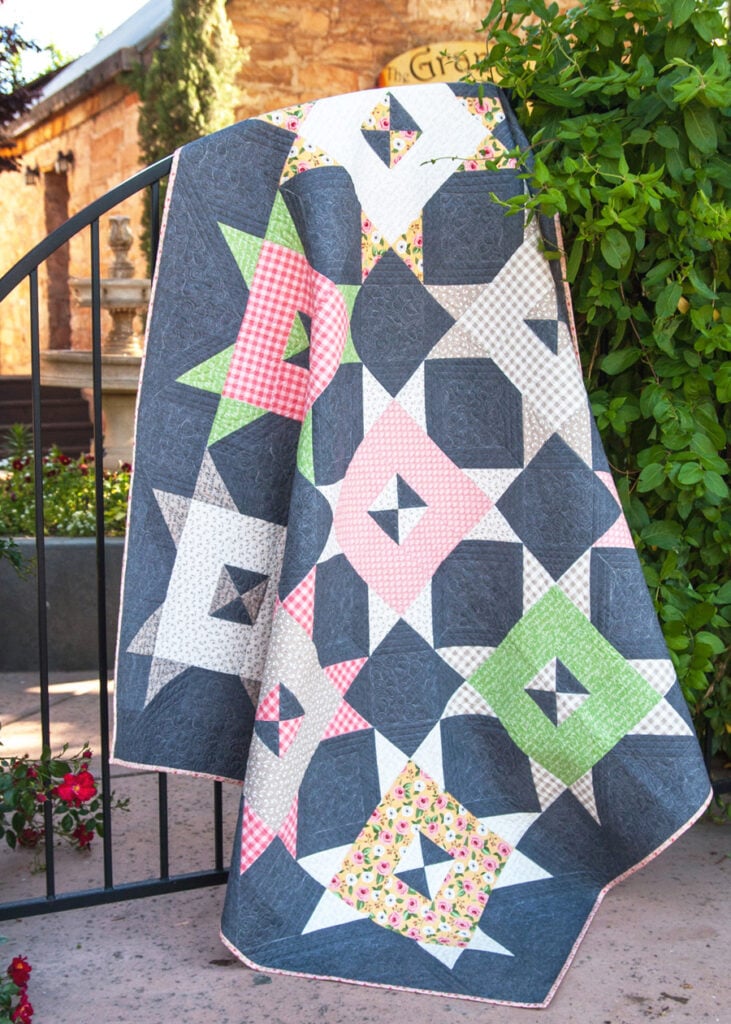 If you'd like a more traditional look with a light background and contrasting border, I've got you covered! It's really amazing how different the quilt can look with these simple changes! Find the pattern in my shop here in PDF or paper in the shop.
Kaitlyn at Knot and Thread Design quilted this one and I just adore the texture the quilting adds to the quilt. Such a great complement to the design!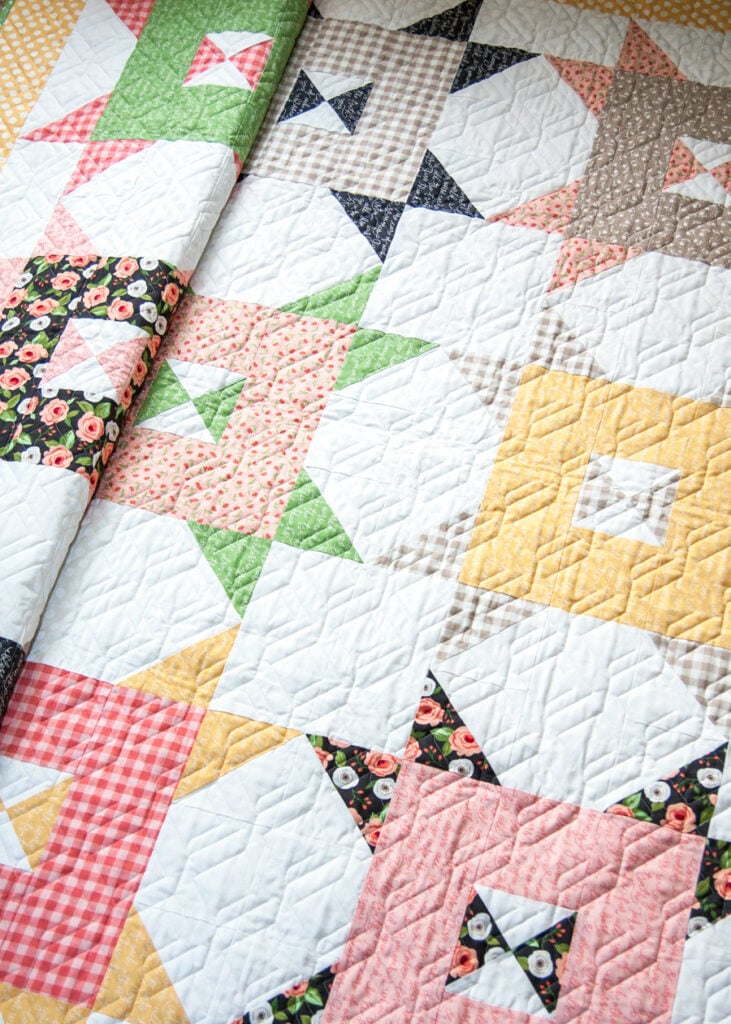 KITH & KIN
I love a scrappy feeling quilt and this one reminds me of a picture gallery on a wall so I decided to name it Kith & Kin–meaning "friends and family."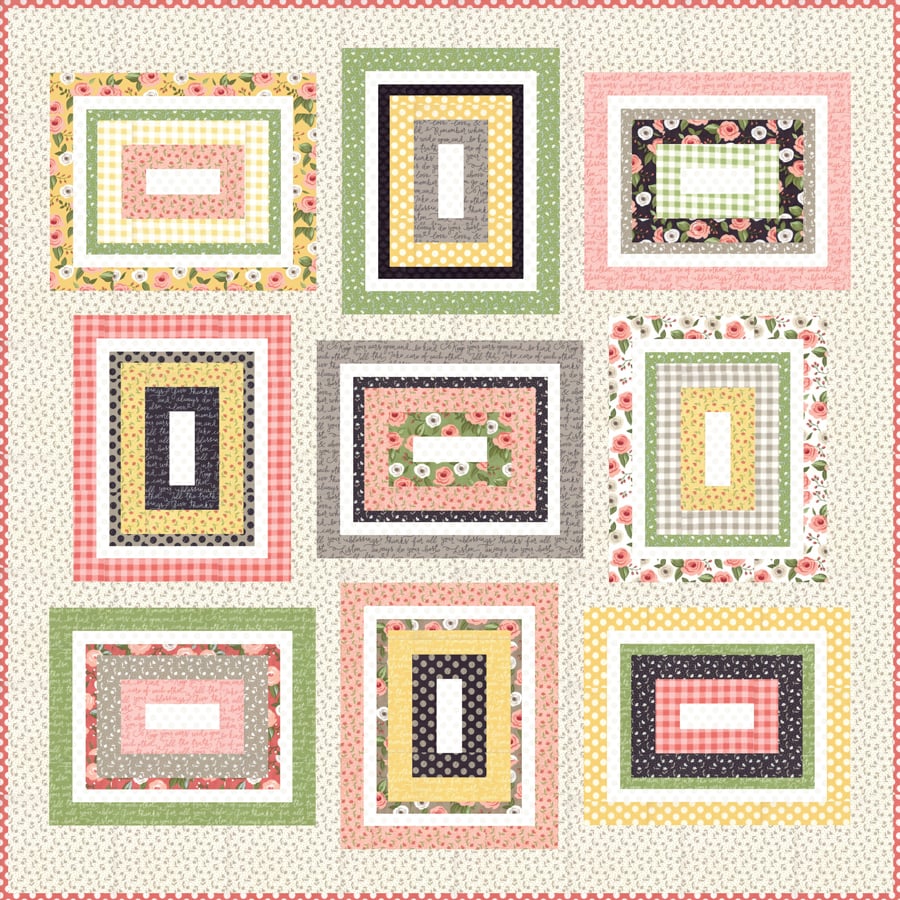 Instead of a white background, I've used one of my favorite dainty floral prints from Farmer's Daughter to give it a vintage sort of feel. Make it up with Jelly Roll strips + 9 fat quarters (for the outer frames).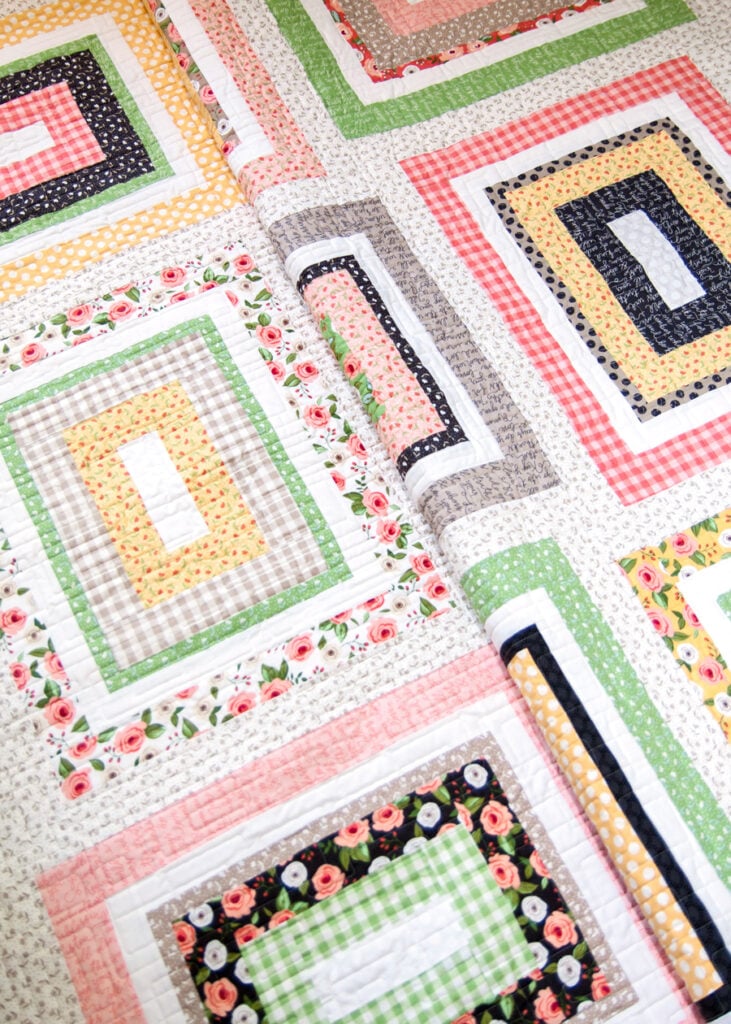 Natalia Bonner quilted this one using an all over design of overlapping rectangles. Find it in the shop in PDF or paper.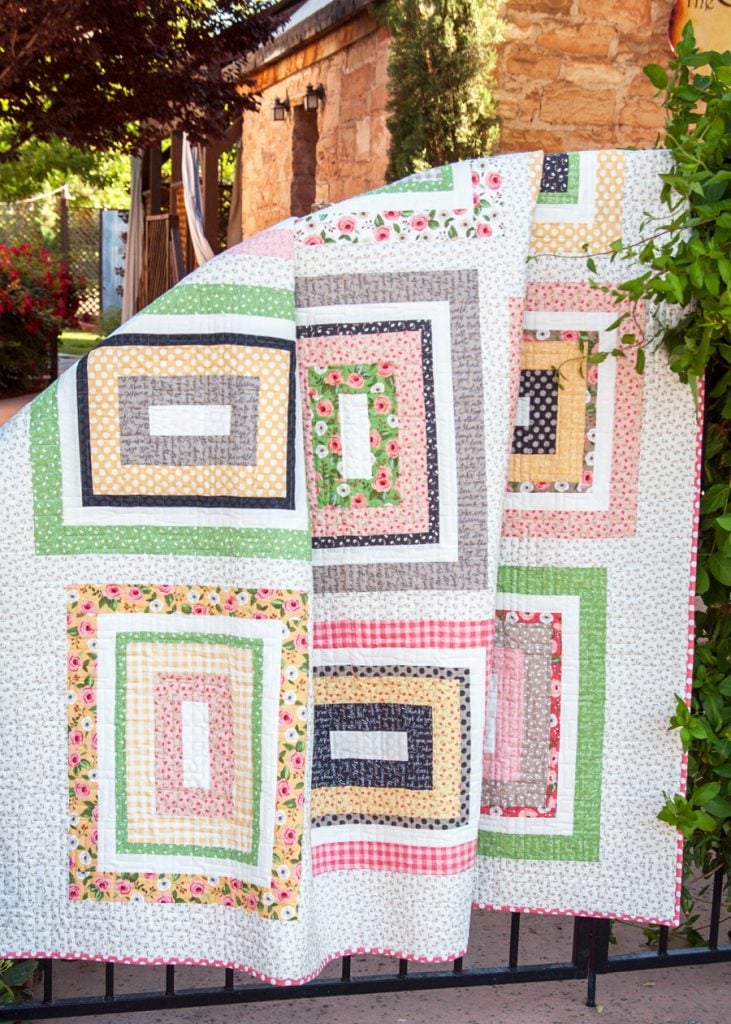 This pattern design is from my new Charm School book but made with 3 charm packs of the new Farmer's Daughter fabric. I learned from making the Home Again quilt that the BasicGrey Grunge in Mint looks really great mixed in with this group so I've used it as the background fabric in this one. Lovely clamshell quilting by Kaitlyn Howell of Knot and Thread Design.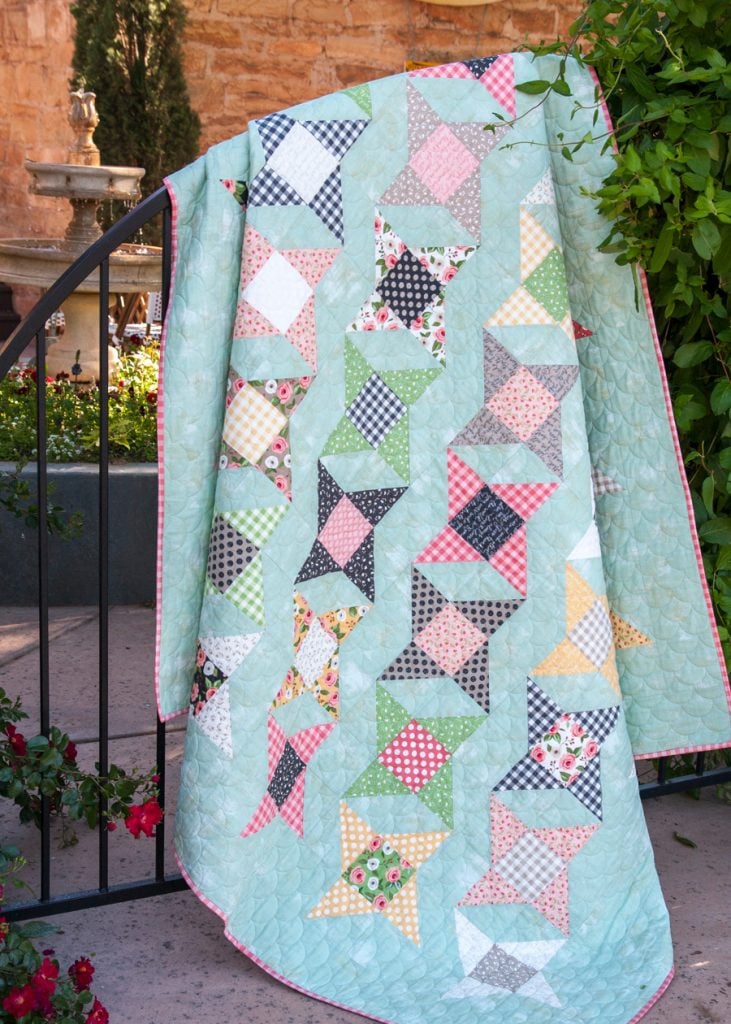 One of the other popular patterns from the Charm School book is the Chandelier quilt so I couldn't resist making one up in Farmer's Daughter as well. Both of these patterns are beginner friendly!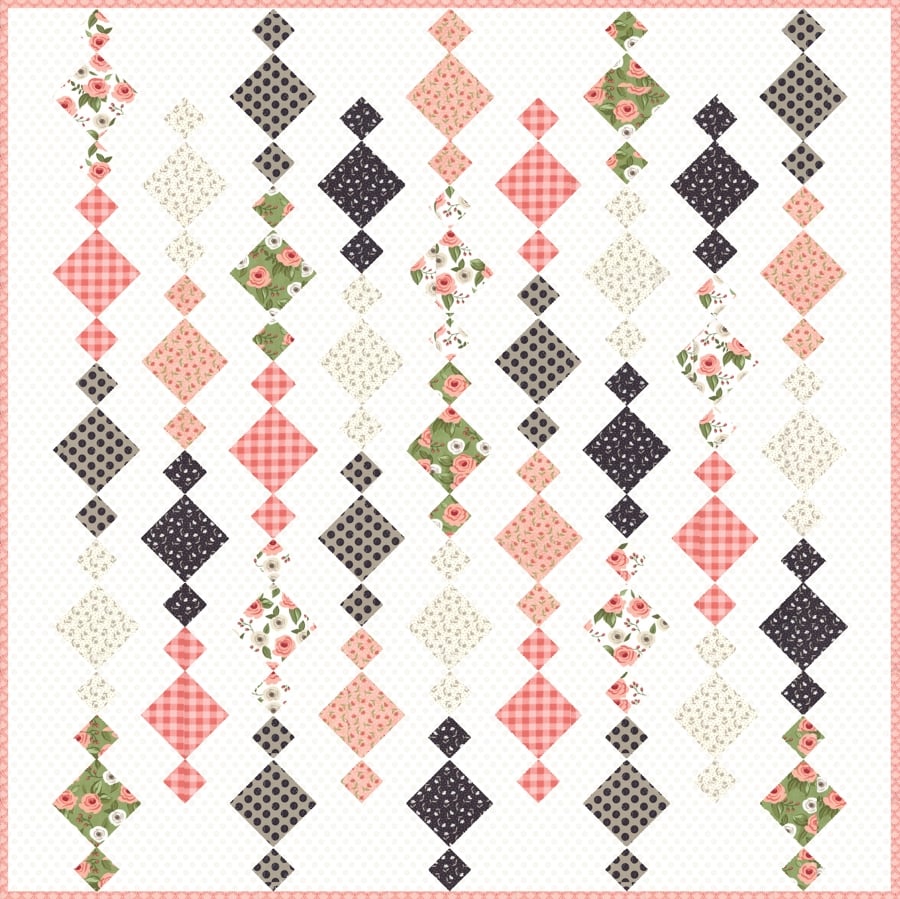 Here's how it turned out!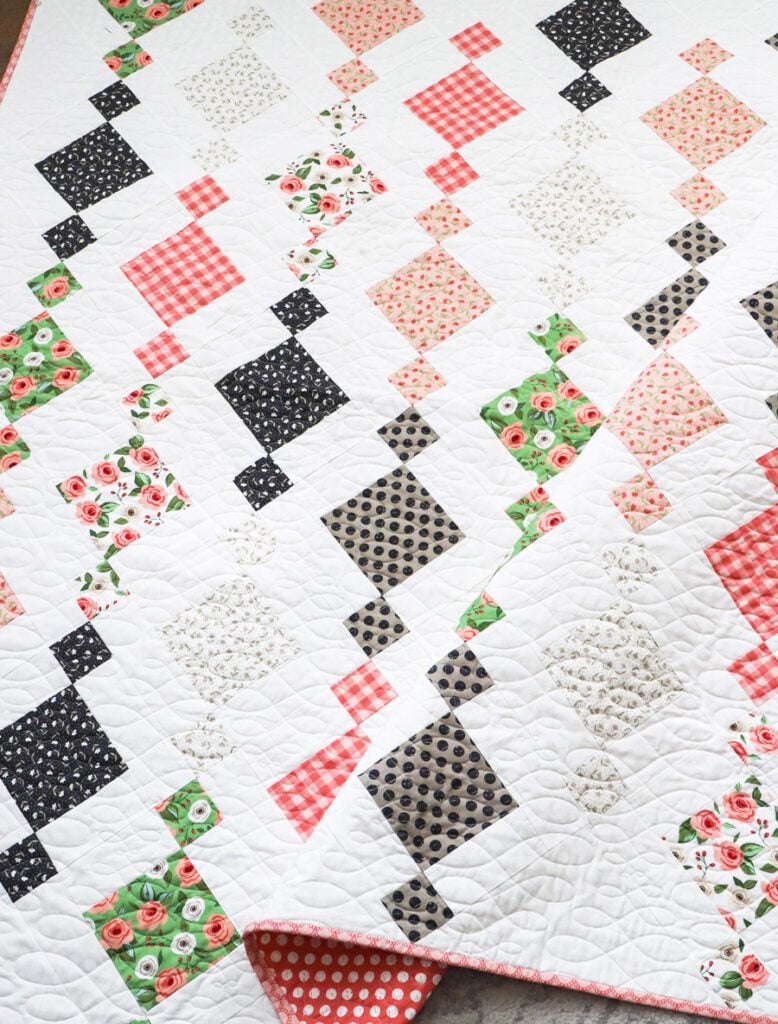 I do have a few autographed copies of Charm School in my shop along with the new patterns. Don't forget 20% discount on all products in my store in May 2017 using the promo code QUILTMARKET at checkout.