Patterns Full of Sunshine
It's been a crazy couple of months sewing up my samples for quilt market but it sure feels good to finally show you the new patterns. I've designed 4 new quilts using Little Miss Sunshine fabric–and although the fabric doesn't ship until April, you can find all the new patterns in my shop right away!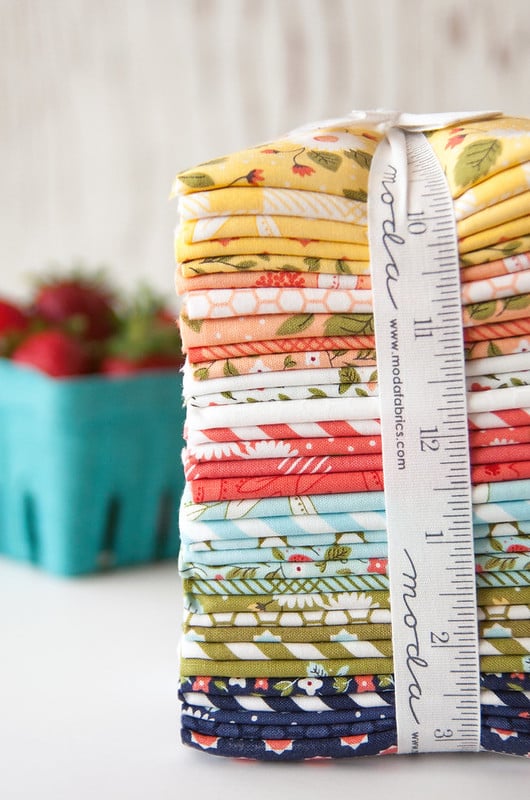 Little Miss Sunshine seeks the good in any situation–her mama calls it "looking on the bright side." Within each Bright Side block you'll find the image of sunshine made from negative space. To make it, you'll need 9 half-yard cuts. Finished block is 21″ x 21″, finished quilt is 70″ x 70″.
Bright Side was quilted by Abby Latimer using a diagonal plaid pantograph. I'm so happy she recommend this design, I'm pretty smitten with it. Abby always gives such great advice and her work really speaks for itself.
Little Miss Sunshine likes to kick her heels up every Saturday night at her small-town dance hall. The scrappy pinwheel blocks of Di So Do seem to dance together in this quilt to create the illusion of a busy dance floor view from overhead.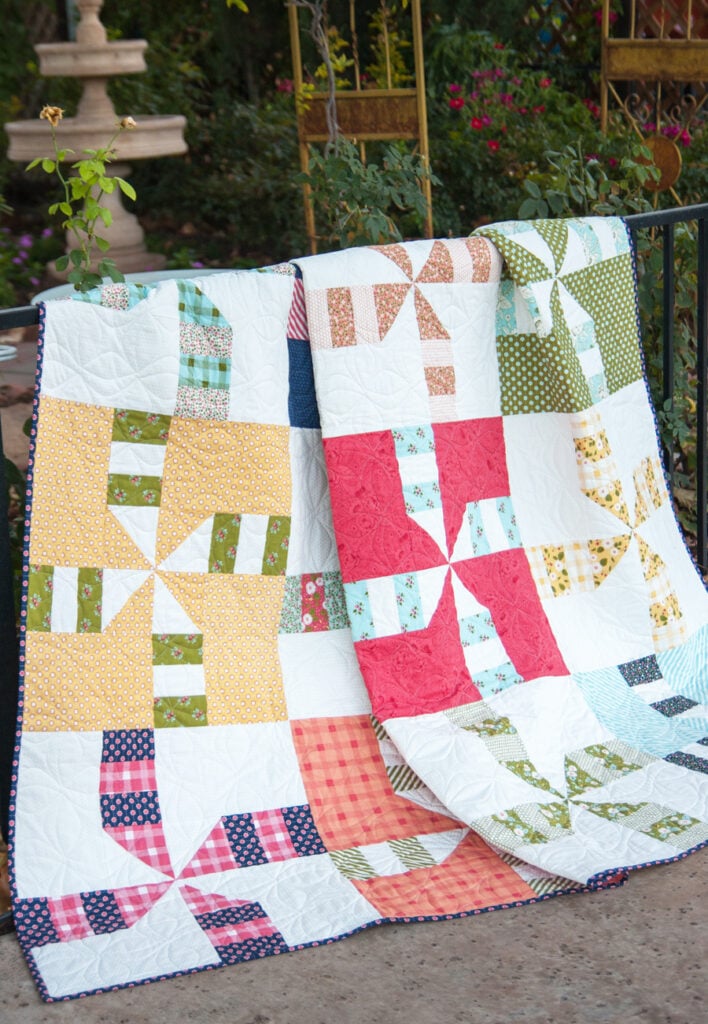 To make Do Si do, you will need 8 fat quarters + 24 fat eighths. Finished block is 20″ x 20″, finished quilt is 80″ x 80″.
Abby quilted Do Si Do using a bread basket pantograph–which just happens to be one of my favorites!
Little Miss Sunshine spends her mornings tending to her flower garden. She cannot choose a favorite flower, can you? Cottage Blossoms is made from 1 Layer Cake®(36 precut squares 10″ x 10″ squares). From there, you will designate:
12 squares for the flower petals
12 squares for the flower centers
12 squares for the stem/leaves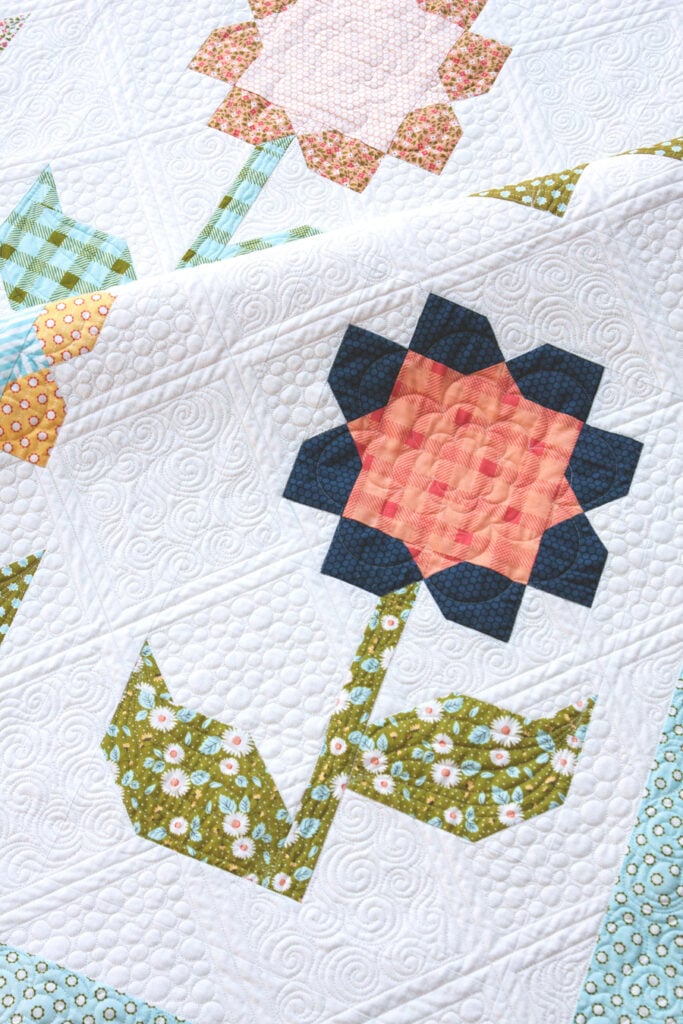 If you don't want to use a Layer Cake®, no problem. Just pick 10 fat quarters instead–6 for the flower petals/centers, and 4 for the stem/leaves. (The quilt pattern includes instructions to make it both ways.) Finished block is 17 x 23 1/2″, finished quilt is 77″ x 81 1/2″. Custom quilting by Natalia Bonner. (Her talent is insane.)
Little Miss Sunshine has plenty of spunk–and so does this last quilt called June Bug. I designed it to be a charm pack quilt, but the blocks can actually be from a Layer Cake or 11 fat quarters.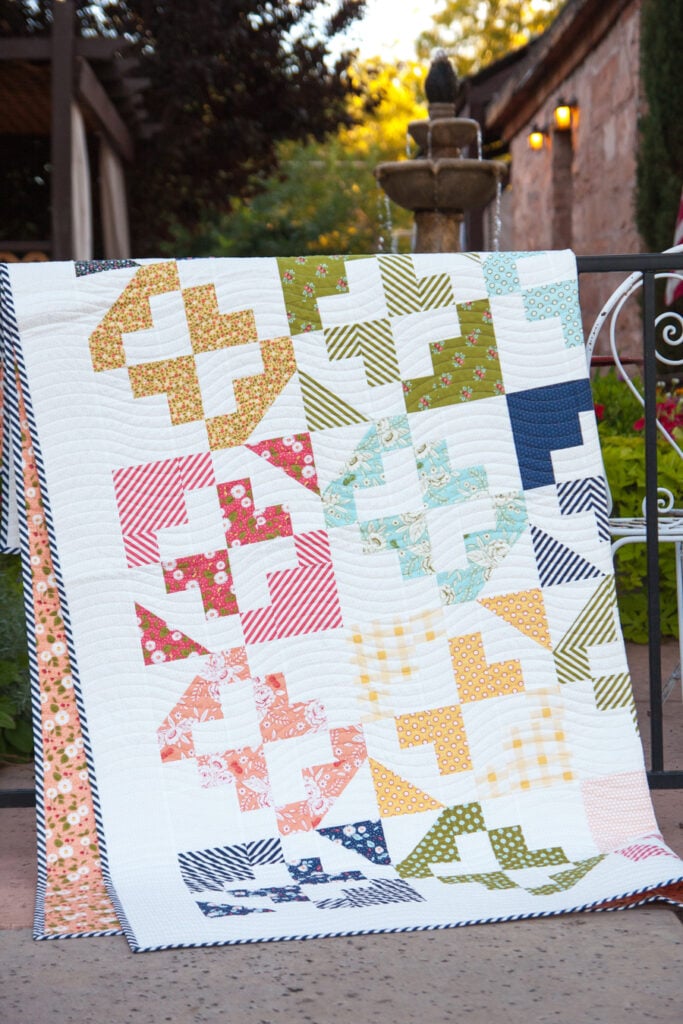 Abby quilted this one too and used a simple wave pantograph. It's amazing how the simplicity really makes the design pop even more. Finished block is 12″ x 12″, finished quilt is 68 1/2″ x 68 1/2″.
So there you have it. All new patterns are in the shop in PDF or printed booklet formats. Go check it out and save 20% using the promo code QUILTMARKET during October. (Orders with paper patterns will ship when I return from quilt market on October 27th.) Paper pattern orders will ship as soon as I return from quilt market 10/27/15. Thank you for stopping by.