Starstruck Quilt
Last month, I got to spend some real quality-time with Momo's newest line with Moda: Avant-Garden. I always adore Momo; the quirky designs + unexpected color schemes always make my heart skip a beat.
When I first laid eyes upon this collection, I just knew it was destined for a super simple quilt design that would really let the big and bold designs shine. One layer cake later, the Starstruck quilt was born.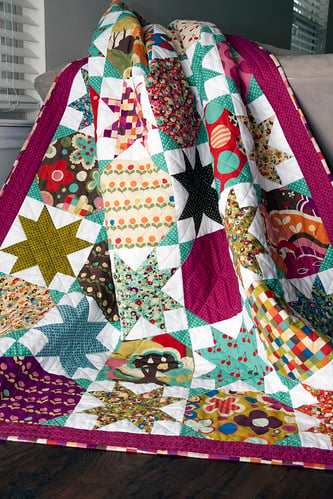 Starstruck is made of snowball blocks and sawtooth stars. Because the snowball blocks are so large it is a great way to showcase the big, bold beautiful prints of a fabric collection. Make it with 1 Layer Cake (precut squares 10″ x 10″) or make your own using what you have in your stash.
Can we talk about the cherry print? I may need a bolt or two. Adorable.
Also, the selvage. I die.
It will still be several months before you can get your hands on Avant-Garden fabric (July 2014), but the Starstruck quilt pattern is available in the shop as a PDF or printed booklet. This is one of my new favorite patterns because of how quick and easy it was to make!
It seems like everything I've been working on lately has been a secret so I'm glad to finally show you something. It's just the beginning of many things to be revealed!