June Bug Layer Cake Quilt in Love Note Fabric
The countdown is on – just a little over a week untiul I can show you brand new fabric! Until then, let's swoon a little over this quilt I just finished binding. It's the June Bug quilt – an older design that recently got a new look in Love Note fabric. These colors are making my heart skip a beat!
A Word About June Bug
Never underestimate simple designs – they can often be the most impactful eye candy! June Bug is one of these and is made with a simple combination of half-square triangles + squares + rectangles. There are 2 different blocks to make; as you can see, one is the inverse of the other and the orientation is alternated. I would consider this to belong in the beginner skill level category. Make it with a Layer Cake (precut 10″ squares) or 13 fat quarters. The hardest part may be picking a favorite print for a border!
Materials List
Finished block: 12″ x 12″
Finished quilt: 68½" x 68½"
• 1 Layer Cake (38 squares 10″ x 10″) of Love Note fabric
• 2¼ yards background fabric (SKU 5155-21 "Lovey Dots" in Cloud color)
• 1¼ yards border fabric (SKU 5154-12 "Herringbone" in Dusty Sky blue color)
• 4½ yards backing fabric (SKU 5151-12 "Sweet Daisy" in Dusty Sky blue color)
• ⅝ yard binding fabric (SKU 5153-14 "Distressed Stripes" in Grass green color)
• 78" x 78" batting
Quilt Details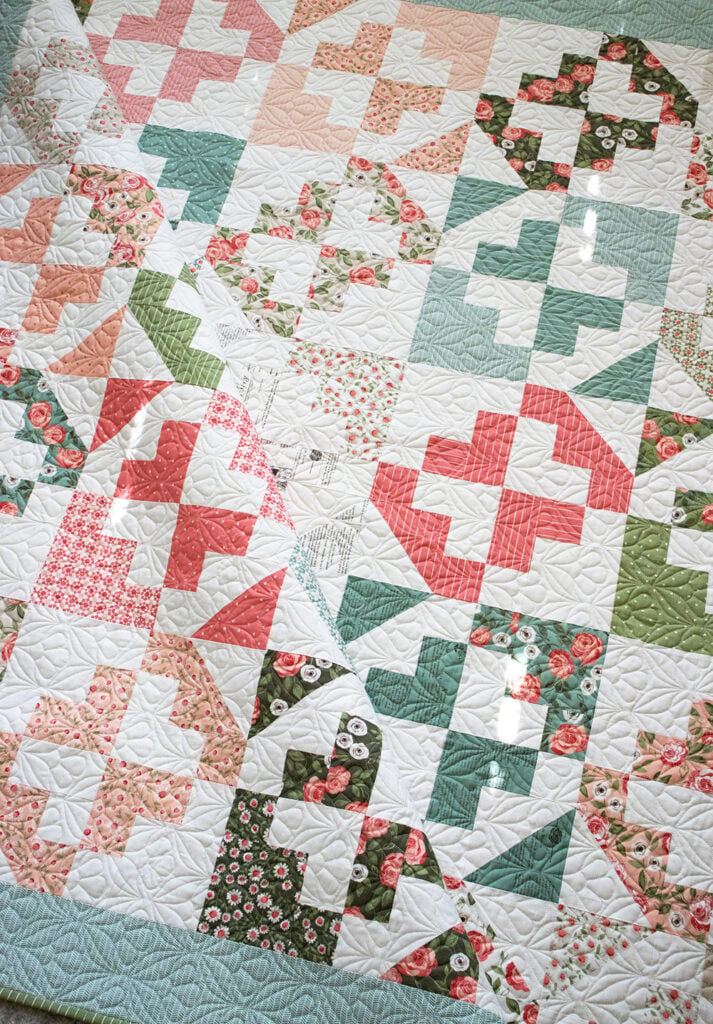 I've got something fun in store next week, keep your eye out on Instagram and Facebook for more info.
---
Like this post? Drop your email in the box below to get new post notifications via email.