Butterfly Patch Quilt Along
Lollipop Garden fabric is finally in stores, so it's the perfect time for a little quilt along. Who's up for stitching this little butterfly patch quilt?
This is Butterfly Patch, and boy is she fun to make! I think you'll be pleasantly surprised with how quick and simply this one comes together. It measures 60" x 60" and is made with a Layer Cake. If you'd like to make it bigger, you can always add a nice thick border! Come to think of it, if I make double the sampler blocks (using 2 Layer Cakes or 83 squares 10" x 10"), I could totally add extra blocks around the perimeter to form a fun patchwork border. (It would end up being 72" x 72".) Yep, that settles it. That's what I'm going to do for mine!
First things first–you'll need a copy of the Butterfly Patch pattern. I've made it the $5 Pattern of the Month just for the occasion. I'll keep it on sale for the duration of the quilt along– which will be now until 6/30/19. You can snag a copy in my shop here (PDF and paper copies available).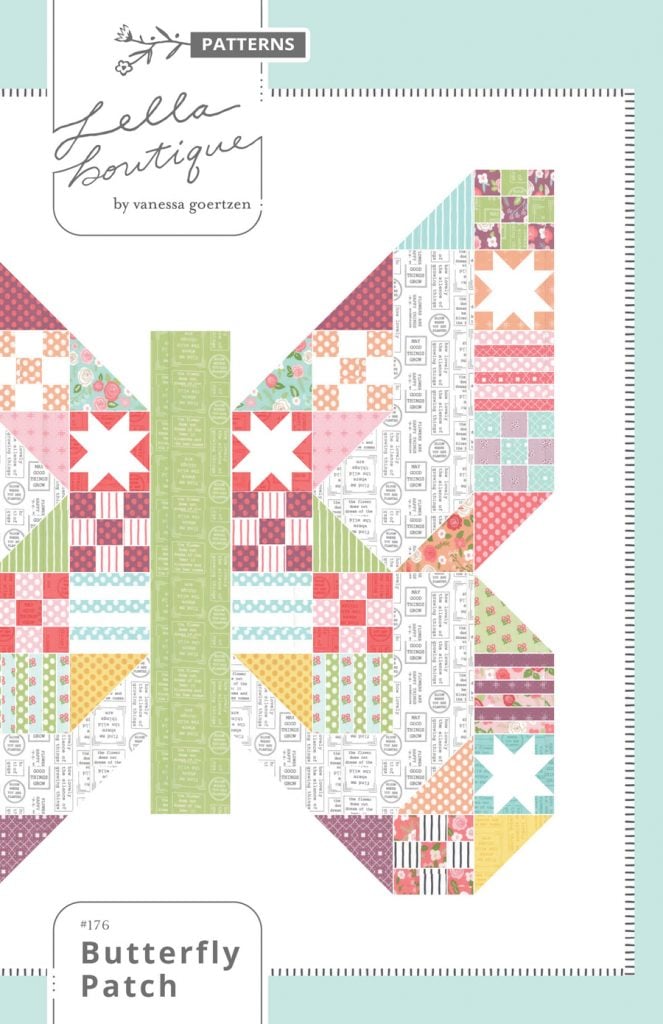 I've lined up fantastic prizes to keep you motivated, so here's how it will all work:
1. Follow along on Instagram @lellaboutique or Facebook (Lella Boutique). Sign up for notifications so you don't miss anything.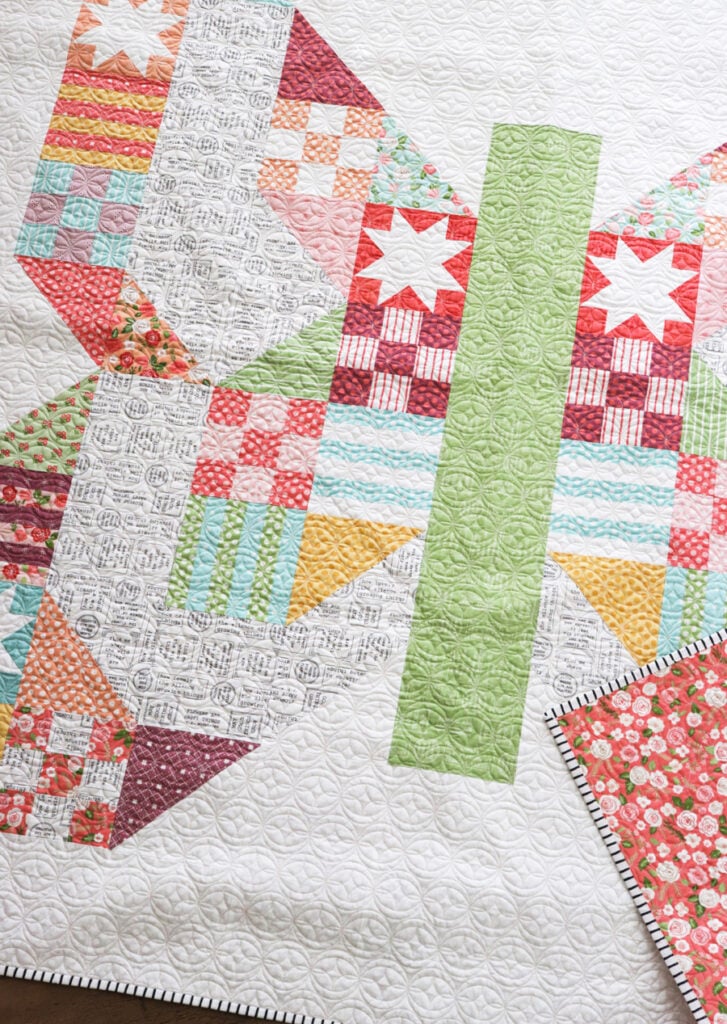 2. Post your progress. This quilt along is divided into four stages of quilt construction: Fabric Selection, Cutting, Block Piecing, and Quilt-Top Assembly. Each stage is two weeks long to give everyone a reasonable amount of time to get each photo posted. You can work ahead of the crowd if you'd like–but don't forget to take pictures along the way so you can post them at the appropriate times. Oh and don't forget to use the hashtag #ButterflyPatchQAL for each entry. Here is the schedule:
FABRIC SELECTION (May 1-15): Post a photo of the Butterfly Patch pattern + the fabrics you plan to use.
CUTTING (May 16-31): Take a photo of your cutting process.
BLOCK ASSEMBLY (June 1-15): Take a photo of any block(s) you've made.
QUILT-TOP ASSEMBLY: (June 16-30): Take a photo of your finished quilt-tops.
3. Prizes! My goodness, you are going to love our sponsors! A big thanks to Allison at AB Quilting Studio, Fairfield World, Fat Quarter Shop, and Moda Fabrics. Here's how to find them on Instagram & Facebook:
Allison @abquiltingstudio INSTAGRAM FACEBOOK
Fairfield @fairfieldworld INSTAGRAM FACEBOOK
Fat Quarter Shop @fatquartershop INSTAGRAM FACEBOOK
Moda Fabrics @modafabrics INSTAGRAM FACEBOOK
Since it's May 1st, begin posting photos of your pattern + fabric choice. The prize up for grabs is $50 to Fat Quarter Shop! To be eligible, make sure you are following Fat Quarter Shop on IG or Facebook. Your post must also include the hashtag #ButterflyPatchQAL. (Private accts are not visible to me, so feel free to send me a screenshot of your post.)