My Funky Valentines: Free Stuffed Heart Pattern
It's baaaaack… (Do any of you remember my free "My Funky Valentines" pattern? I published this free stuffed heart pattern circa 2012. It used to live as a download on Patternspot – but vanished with the site years ago. (I lost the original file.) Long story short – I finally got around to recreating the pattern. Just uploaded it to the shop in time for Valentine's Day – where it will continue to live as a free download.
---
The Free Stuffed Heart Pattern
Instructions for My Funky Valentines include a couple different heart template sizes. You can make layered hearts like I did on the cover version – or play around and make them as simple or ornate as you'd like! The assembly is simple no matter what you decide to do.
I made a few on Tuesday featuring Love Note fabric and each of them is totally different and special in their own way. I made a patchwork version (using 1.5″ strips), a simple print version (with a strip of pom-pom trim added), and one with a slanted pocket to hold a little love note.
To add embellishments (like the pom-pom trim): Always top-stitch the desired embellishment to the front fabric layer of the Large Heart first. (Keep an eye out to make sure embellishments are at least 1/4″ in from the raw edge so they don't get caught in the seam later when sewing the heart halves together.)
To add a pocket: Take an 8″ square and fold it in half, right-sides facing out. Lay the Large Heart template onto the folded fabric, just above the raw edges, and trace the bottom half of the Large Heart template. (I tilted mine for an angled look.) Trim. (At this point, I also top-stitched some cute measuring twill ribbon along the top "folded edge" of the pocket to add something a little extra. Pom-pom trim would have been really cute here as well.) Increase the machine's stitch length and "baste" stitch the angled pocket onto the front fabric layer of the Large Heart 1/8″ away from the edge.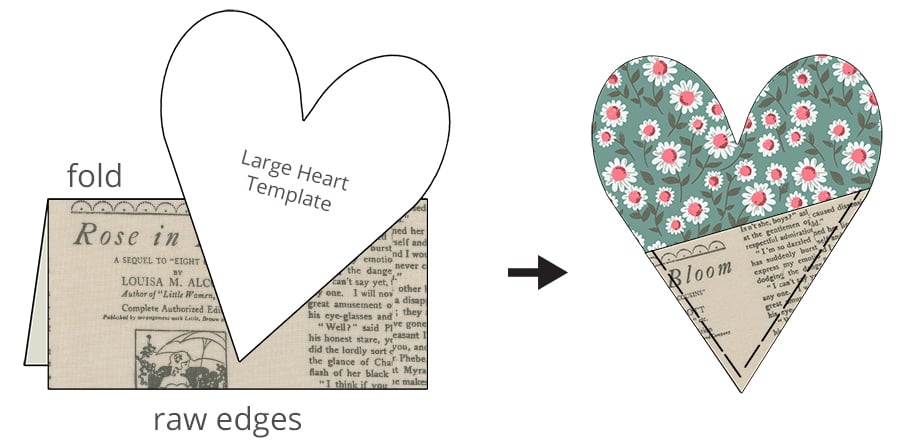 There's always a favorite in every batch, the pocket one is definitely mine this time around.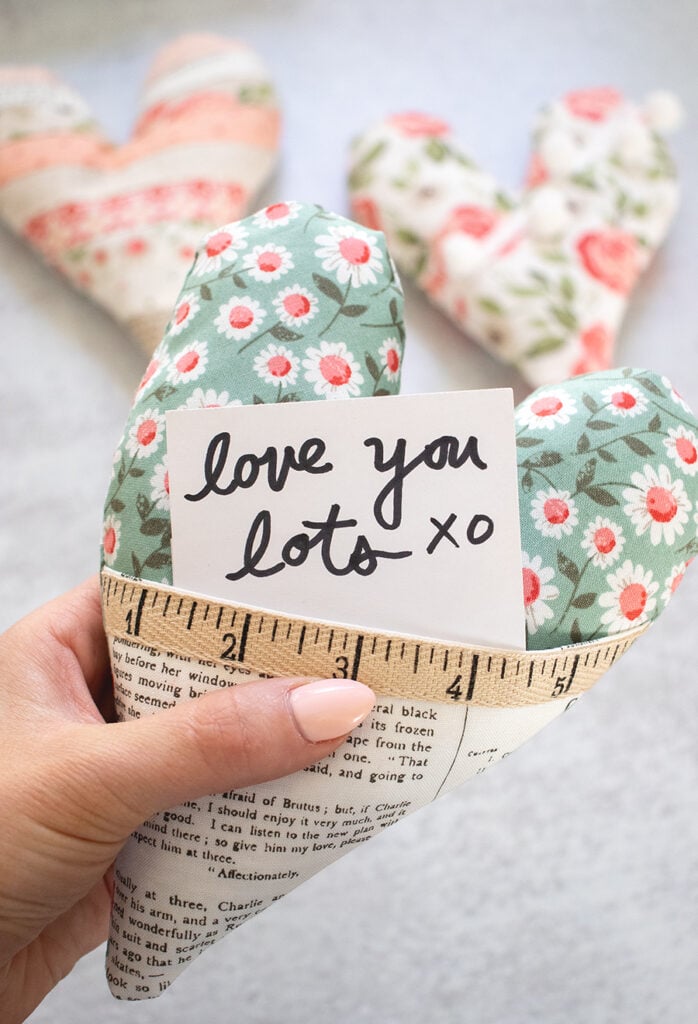 The Originals
The original hearts are made in Ruby fabric by Bonnie & Camille for Moda Fabrics and feature "layered" hearts. While that darling Ruby fabric is long out of stock, there are so many beautiful current collections that will make a batch of pretty stuffed hearts in.
---
Spread the Love
Whip up a batch today and share them with those you love! Just download the FREE stuffed heart pattern here and get stitching! There are a million things you can do with them. Display them in a cute basket, make a banner with them, or hand them out as valentines. My kids and I like to hide them around the house for each other to find. If you make some, I'd love to see them! Share on social media using the hashtag #myfunkyvalentines #lellaboutique and #handmadeheartaday.
---
Like this post? Drop your email in the box below to get new post notifications via email.