Moda Blockheads 4 (Block 21)
New block day is here and this one offers a fun new challenge for Moda Blockheads 4 free block of the week. Block 21 is "Shiny Bauble" by Janet Clare. (Love this fellow Moda designer across the pond!) Be sure to check out her blog today to download the free pattern and get tips and tricks to making this one.
Block 21 "Shiny Bauble"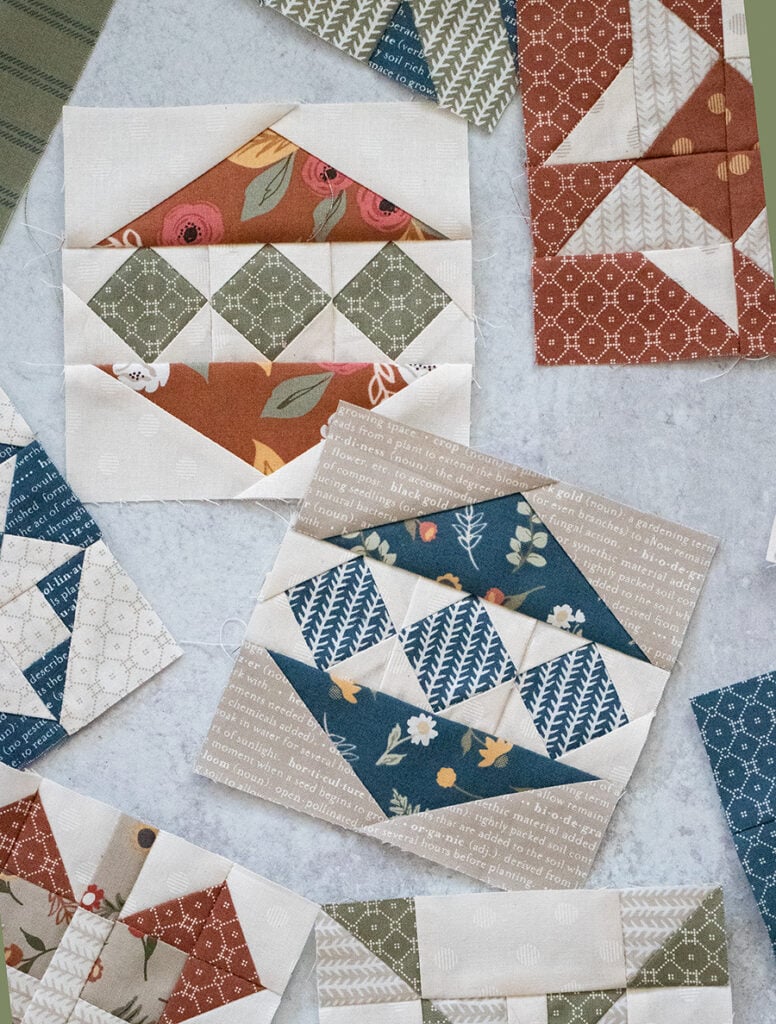 This one's a little different… it involves foundation paper piecing (FPP) mixed with traditional piecing. Have you used this technique before? If you're new to it, I hope you'll give it a try. I avoided FPP for the longest time but learned when I took a class from Melissa of My Fabric Relish. I was super happy and surprised at how fun it was. I felt very accomplished and would love to spend more time doing FPP.
My biggest tip on making this block is to use the "Add a Quarter Plus" ruler. Its purpose is twofold. The tapered end makes it easy to fold the paper pieces against, and the other end rests on folded paper edge 1/4″ away for easy trimming. I'm honestly not sure how people do FPP without it! If you'd like to see a demo on using this ruler, I did a quick reel on piecing block 21 on IG here but have a more in-depth tutorial on FPP in an IG reel here.
Fabrics
The first group of blocks is made in Flower Pot fabric. I'm not sure I should have used unidirectional prints just because it's hard to get them aligned straight (but I love them anyway).
The other block is made in Love Note fabric. I started laying out my blocks to play around with layout and realized I really want to go heavy on the pinks and greens.
Quilt Along
For more information about Moda Blockheads 4 free block of the week, visit my original blog post here. At the bottom, you'll find a running archive of blocks released thus far. You can also join the Moda Blockheads Facebook group to be the first to see new block releases and lots of inspiration – not to mention, post your own progress and interact with thousands of other quilters in this community.